Checking my search terms, I note with some concern that the Half-Dipper is receiving quite a lot of traffic from the Google search term "crusty jugglers". Is this a good sign?!
---
Many thanks to CB for kindly providing an entire
bing
of this attractive little tea - and for the stowaway prisoner [pictured]! This is what happens when technophiles package tea...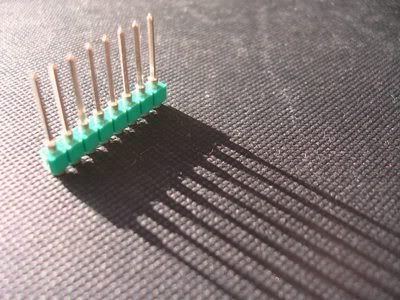 Surely some vital part of the Incredible Machine with which you work is now not functioning correctly?
Quite a bit has been written about this tea already. It formed part of a community tasting event last year, with notes from
Bearsbearsbears
, the
Davelcorp

Foundation
, and
Toki
at
The Mandarin's Tea
. They predominantly noted floral aspects, and it seemed to meet with a welcome reception. It was priced at around $10 when it was on sale at
Yunnan Sourcing
, making it relatively inexpensive.
To quote the product page, this claims "pollution-free" status, as "validated by the
ATI
Company of
Fujian
" - I'm uncertain how much that means. The leaves are supposedly single-region, from the
Lincang
area.
"Scottish Mountain" @ 100C in 10cl

shengpu

pot; ~7-8g leaf; 1 rinse
Dry leaf:
Small leaves, in small pieces. This looks rather old-fashioned, given the trend for big-leaf cakes of late. It has a lovely, sweet aroma with a hint of tobacco.
4s, 5s, 7s, 10s, 20s, 40s, 70s:

The soup is light orange, and a touch cloudy. It opens with a grassy, sweet
beidixiang
, and ends in a brown-sugar
lengxiang
.
The first impression is the fairly smooth texture. The character is quite "low" and pleasant, but it has a slightly acidic
ku
that keeps it interesting. While the character is reminiscent of flowers, it is more akin to the dark, low nature of chrysanthemums (which Lei likes to brew), rather than the bright floral aspects of some
gaoshan
wulong
.
Like CB, I find the
chaqi
to be quite significant: my neck and arms are flushed with warmth, and tingle noticeably.
This tea needs pushing on - it is quite understated, indicating a certain weakness in the leaf - perhaps due to their small, spring size. The aroma departs fairly quickly, after perhaps three infusions, but the gentle chrysanthemum notes continue until the sixth infusion, by which time it has collapsed into basic "tea" flavours.
Wet leaf:
Tiny spring leaves, which account for the requirement to brew heavily, I also find that it lacks a solid, decent base of flavour. What is present is enjoyable and fresh, and the decent quality of the leaf can be determined from the good texture, and the
chaqi
. The low price might tempt me into acquiring a few, if I come across them in future. It's a borderline call.
I get the feeling that I didn't achieve the best results possible with this leaf - do please share your brewing advice, if you have familiarity with this one.
Thanks again to CB for giving me the opportunity to taste this little fellow.