(Another archive post.)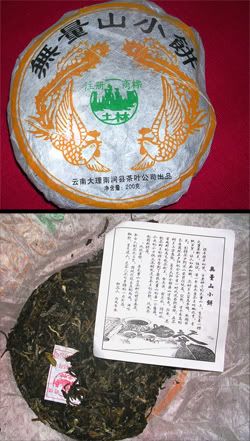 This is a
xiaobing
[small cake], again recommended by Scott of
Yunnan Sourcing
. The
Nanjian
Factory, one of the elders (founded 1983) started making
bingcha
in 1998, following a history of
Tuocha
manufacture, being located in
Xiaguan
territory.
The tea is apparently a mixture of 40%
Wuliangshan
leaves, and 60%
Mengku
-region
Lincang
, which the factory mentions is due to the lighter flavours of the small-leaf
Wuliang
. It is claimed that this is the traditional manner of making
Nanjian
cakes.
Dry leaf:
Dark, broken, and small - this is particularly green leaf, with a decent aroma of mushroom - it's attractive, though clearly a mixture.
The soup starts out particularly cloudy, and this isn't a clean tea. That's not necessarily a bad thing, but reminds me of Chen
Guang
-He Tang cakes.
This tea has a considerable quantity of
ku
, presumably delivered by the larger
Lincang
leaves. The sweet, low aroma corresponds with the generally thin set of low "tea" flavours.
Later infusions become truly, absurdly sweet - is this
Wuliang
terroire
? It is not a leaf with which I have much familiarity. What initial complexity existed courtesy of the low, bass flavours soon recedes to a simple "green" quality - with that correspondingly
acerbic
quality in the throat that one might expect.
Wet leaves:
Tiny, chopped, and exceedingly green.
Overall:
This tea is neither particularly friendly nor particularly noteworthy, except for its highly active
ku
. I remember considering this "aggressive" in my original tasting, and I stand by that observation.
Rather uninspiring, unfortunately enough. At a trifling $6, at least it makes no claims to high status.