Who sent me this? Own up!
It's delicious.
I think it was DL or MA... but it might have been DV. Forgive my ailing memory - it's been a while since I last enjoyed it, but I just noticed that there were no Half-Dipper notes for this little number. It's still available from
Houde
for $18/2oz, and should be fine all the way through 2008 courtesy of its roast.
This is a more "traditionally-roasted" wulong, as can be seen from the darkness of the bundles in the photograph above. They seem to sit more comfortably on the oft-delicate Asian stomach than some more green varieties of wulong, yet even my coarse old Saxon constitution finds the rounded roast of this tea to be warming and welcome on this bitterly inclement day.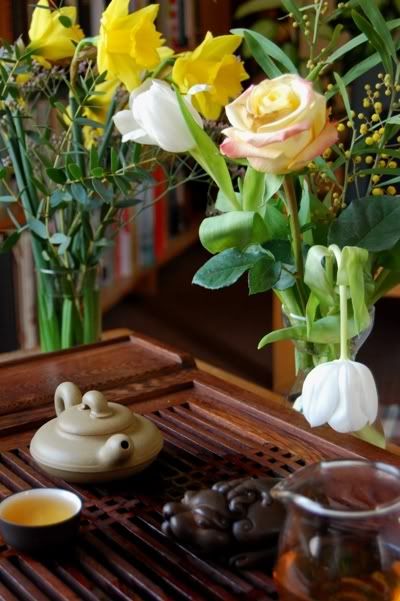 I don't drink enough nongxiang wulong.
Perhaps, like other heavily-processed teas, this is because it can be hard to find good examples. All too often, cheaper leaves hide behind the heavy processing. Lapsang souchong and shupu fall into this category, too.
(By the way, if you have any recommendations for a super-delicious lapsang, they would be gratefully received.)
It is a cold Saturday, and we drink this lovely little tea to the music from Hong Lou Meng [Dream of Red Mansions]. The "Foshou" is "Buddha's Hand", named after the Cthulu-flower often offered in Buddhist temples: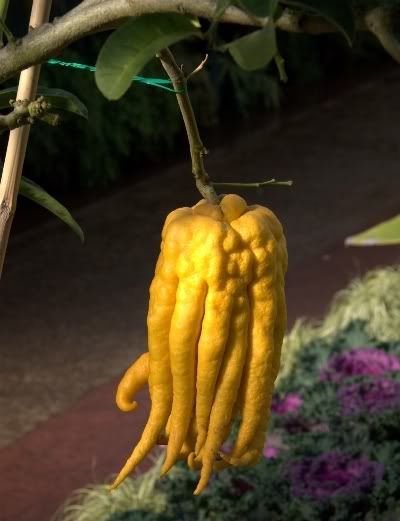 The soup is a rich orange, and yet has excellent clarity - it is pure glass. The burned honey aroma is very active in the nose, and lingers for whole minutes. "The scent lingers forever."
Satisfying flavours: a base of "tea", with a crisp roast that has not been overdone. The huigan is rich in its sweetness, the texture thick.
What an enjoyable, hand-picked treat. I find the nature of this tea to be particularly calming, and my heart slows noticeably, as if I had my feet in a bath of warm water.
It is a good tea, and I am thankful.