The shadow of impending Michaelmas term looms over everything, like the big flying saucers lurking over the White House in
Independence Day
. In true Gothic fashion, a storm batters the windows. These are dark days.
In celebration* following a recent interview for a teaching position, I return to a novel treat kindly provided by AL: a yancha bing.
*It seems that when a man reaches a certain age, he feels no jubilation at good news, merely relief.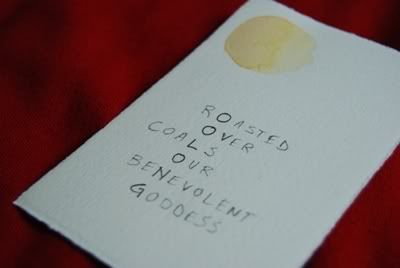 AL, creator of the delightful Seven Tea Moons (one shown above) has kindly provided a good-sized sample of a perfectly circular bing. As pictured below, the sample comes from the edge of the cake, which appears to have uniform thickness and a crisp circular circumference - this bing could teach Xiaguan a thing or two about compression!

The leaves have a macabre Gieger-esque slickness about them, fitting the Gothic mood rather well. The sample looks like part of a hideous relic recovered from an alien world or a Lovecraftian fantasy.

Happily, the brew doesn't taste extra-terrestrial. In fact, it's a rather rich raisin-like affair. Very clean and smooth, it is a welcome tonic to the End of Days which appears to be taking place outside the window.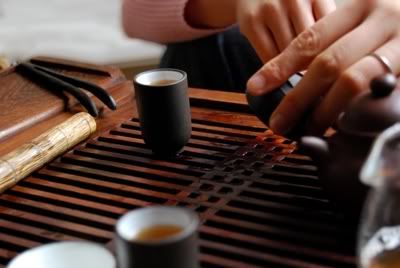 I don't encounter a great deal of yancha, though not by design. This was a welcome foray into a part of the teasphere that I don't habitually visit - thanks again, AL.
If the eldritch horrors from unimagineable aeons past drink teas like this, I could learn to
Cthulhu fhtagn
with the best of them.