The Chinese Lantern festival takes place 15 days into the (Chinese) New Year - perhaps fulfilling a similar role to what in some countries is referred to as Epiphany. The mechanics of the Lantern Festival (Yuanxiaojie) include pasting riddles onto lanterns and, unsurprisingly, eating special festival food. Chinese festivals are great excuses to eat.

Though we didn't have any yuanxiao (riceballs), we did have a lovely tea generously provided by Tan, of Malaysia.

Regular readers will recall that I have a soft spot for hand-selected cakes - a rather well-deserved soft spot, I like to think. If someone's gone to the labour of love required to make a cake themselves, I'm always happy with the result. This "Mengnuo Gucha" [Mengnuo Ancient Tea] brand is the product of a Kuala Lumpur tea seller, local to Tan. This is his Bulang variety.

Pictured below, the rather tightly-compressed sample, alognside an example of Tan's very clear handwriting. (Neophyte readers of Chinese, like me, really appreciate clear script! The alternatives are unintelligible.)

Interestingly enough, the leaves have a brown tinge - perhaps this doesn't come out clearly in the photograph. This often means that the character of the brew will be grainy, savoury, perhaps at the expense of bitterness and "trousers".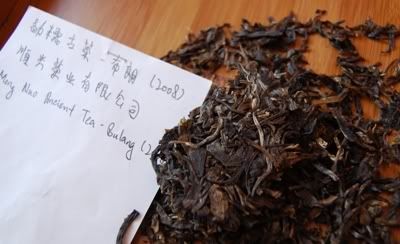 The soup, shown below, is straight yellow. As if on cue, the aroma opens with sweet grain-like scents. The aroma is strong, feeling particularly active on the tissue at the back of the nose, which I hope translates into a powerful tea. This initial aroma endures for a whole minute, before eventually folding over into a lengxiang [cooling-scent] of brown sugar.

Following the trend, the flavour is sweetness and grain, combined with a really pleasing note that reminds me of old, low leather.

I would have guessed Bulang: tons of chaqi, tons of vibrancy on the lips, and almost frightening levels of caffeine make this "hit like a truck", as Phyll Sheng once wrote of Bulang. It's a pleasant enough truck, though, probably filled with grain on its way to the distillery.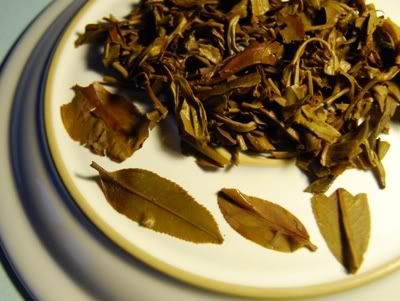 It is a gentle enough creature in terms of bitterness, and the huigan is humble, though it leaves some delicious grain-like scents fading in the nose.

Later infusions emphasise the sweetness, and it settles down into an enjoyable, stable brew. Filled with caffeine, admittedly, but stable.

Past the fifth infusion, hongcha notes become more apparent. When we examine the wet leaves afterwards, the red character can be seen around the edges of the leaves (pictured above), which accounts for the lack of bitterness. The leaves are of a lovely quality, however, being strong and healthy.

Mengnuo Gucha - I've no idea of the price, but I'm keen to try more after this pleasant introduction. Thanks again to Tan for a fine treat this Lantern festival.