I love summer - but I most love it when it's raining hard, and I'm cosy indoors. Distant thunder, the sound of rain hammering on the windows, and I'm nice and warm behind the tea-table.

Today, we're celebrating Lei's change of citizenship. At dinner with my family, the subject of Lei's pending British nationality came up.

I joked, "The average attractiveness of British citizens is about to increase!"

My brother countered, "Why, are you leaving?"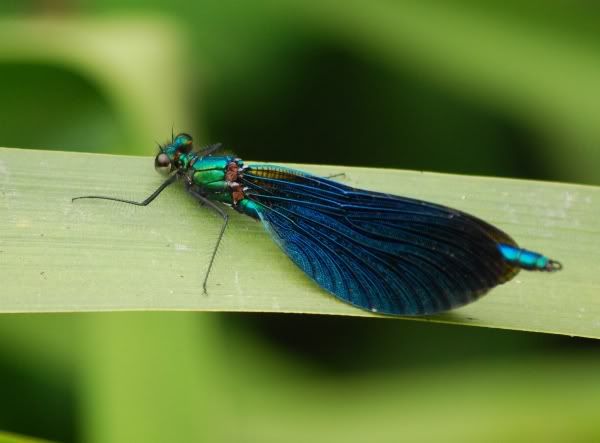 It's also my birthday. Let's break open another cake from Nadacha.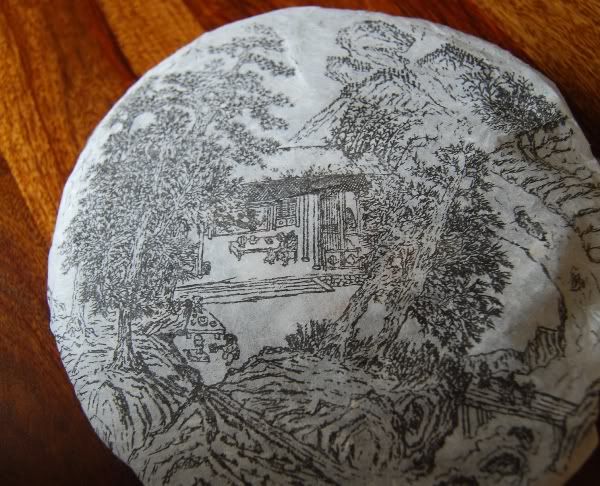 Nada had some very pleasant wrappers printed this year - you may remember its sister illustration, the mountain-top teahouse from the
2009 Naka
and the
2009 Yiwu Mahei
.
Nada writes that this tea is made from the same maocha source as his "
Cha Chan Yi Wei
" [Tea, Zen - Same Taste] cakes from last year. I think I remember reading on his blog that this was from a family venture, where they make their own cakes in the family home, including drying leaves on the roof!
He also writes that the leaves (pictured above) are from 200-year-old trees, and that it is actual qiaomu [chee-ow moo = tall tree, arbor]. It's a great rarity to find qiaomu maocha from a reputable source; to combine that with Nada's price (this cake was around $30) is a fantastic opportunity, I think.
As always, the proof of the pudding is in the tasting...
The leaves (shown above) are whole, and medium-sized. I love their fresh, floral aroma - this floral sweetness is something that I have come to associate with Nannuo tea. The compression is sociable: easily separable, but with good integrity.
The aroma is solid and very full. Even from the aroma of the dry leaves, the sheer
content
of this tea is obvious. There's a lot in it, whatever that might be.
Pure yellow soup (shown below) makes me happy. The sweet scents in the wenxiangbei [aroma cup] are so very long, they endure forever.
The body is green - very green. It has a lovely sweet-leather base, with enjoyable floral notes over the top. A long pause... then an aching huigan. Chunky.

An absence of roughness allows me to increase the amount of leaf that I use, and the body thickens even further.

One zillion infusions later, and I'm still drinking the same leaves. Endurance, freshness, character. A tip of my hat to Nada for making a charming tea.
---
Addendum
May, 2011
Beautiful mid-length leaves, with a sweet scent. Surprisingly, its character is already tending towards being very dark and powerful, almost like sultanas. Its kuwei remains, but it is changing into a citric tartness. It is a chunky tea, yet tending towards that difficult age of being neither young nor old in character. Enjoyable and dark.