The cake's name means "Spring of Youle", and the product page at Yunnan Sourcing states that the maocha came from Longpa Village [lit. "Dragon Fear"!]. At $32, this cake is less expensive than the $50 Guafengzhai, though the latter was, in my opinion, the star of the show by quite a margin.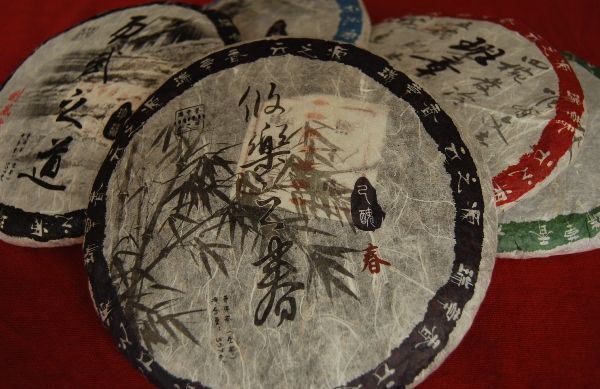 The medium-large leaves, pictured below, are covered in down, and are already quite dark. As with all of these super-fresh cakes, the aroma of green shengpu leaps from the foil sample-bag. A heavy fruitiness is buried in that scent.
As with the Guanfengzhai, the soup is a straight, encouraging yellow. It has a base of unusual watery sourness, which then ends sweetly - it is an odd combination, but not unpleasant. Beneath it all, a low, earthy, "tea"-like flavour, that mixes with the fruitiness and the sweetness.
"Lightly roasted, like barley tea", notes Lei, referring to the shaqing stage. "Very gentle."
The slightly overcooked sensation is noticeable in the tobacco-esque aftertaste. The quality of the original leaves is good, as it does not become at all rough. Over the infusions, the combination of sourness and fruitiness fade into a generic sweetness. Its degradation is graceful.
Less impressive than the Guafengzhai, I can't see myself buying more than the single cake of this that I did. The mixture of leaves shown above indicates that the processing was not even, and $30 is a bit of a stretch for a tea of this quality. Nonetheless, it has an interesting blend of characteristics that eventually settle down into a constantly sweet tea that lasts quite well.
(This was "beta" in our tea-tasting event.)
---
Addendum
August, 2013
This cake should have been called DRAGONFEAR. Such a wasted opportunity.
Pictured above, this cake has been residing in my "miscellaneous" stacks since I bought it, in 2009. As shown below, the cake remains untouched. However, much has changed.
The leaves have the strong scent of deep humidity: sweet, potent, and slightly mineral. While always dark, these leaves have become richer, and a little more brown-hued, as time has passed.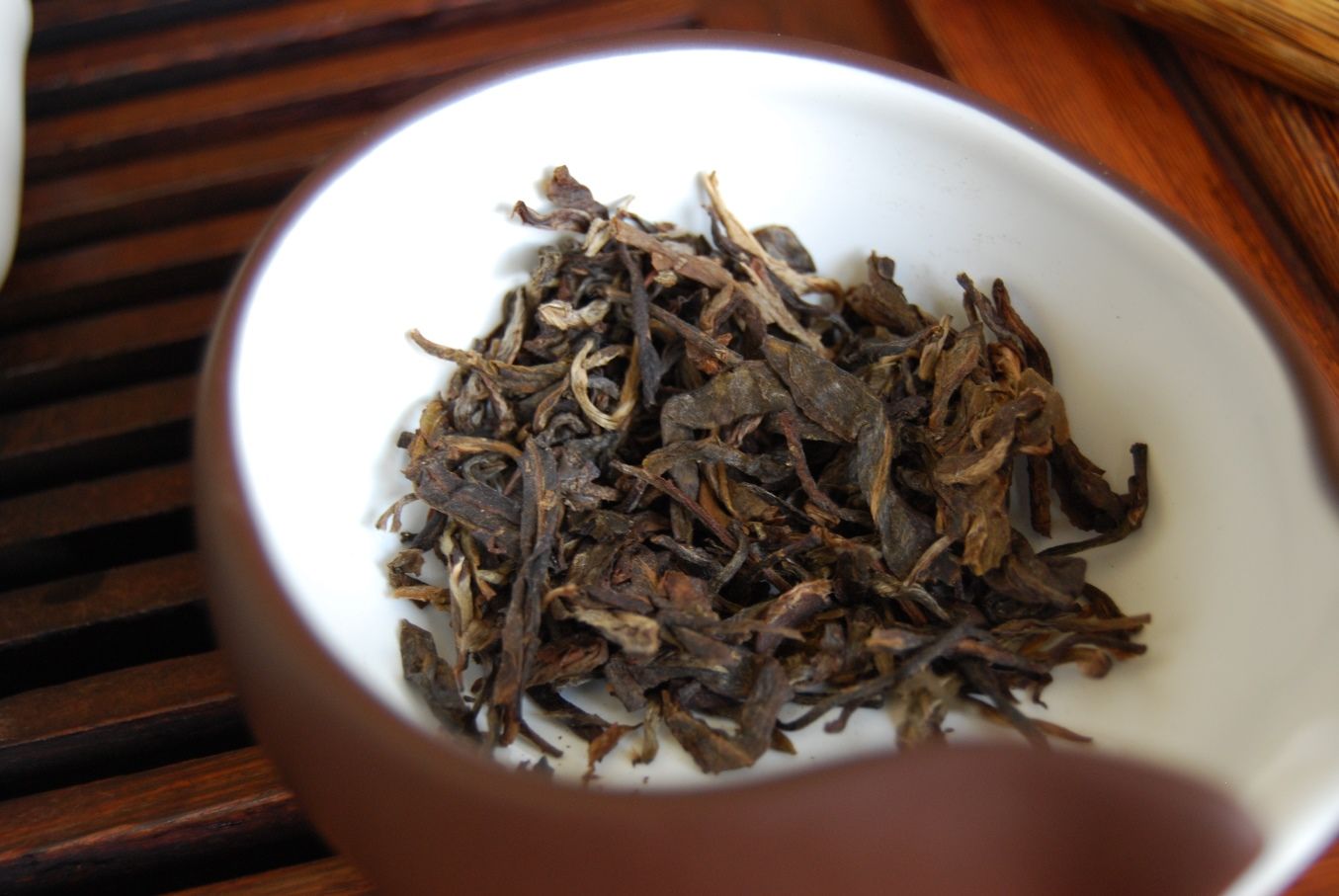 The character in the pinmingbei [tasting cup] is very positive: it is long and sweet, with a rich base of solid "tea" flavour much beloved by fans of Youleshan tea. The sourness that I found in its youth is gone. There is a tangy, sweet-straw finish and a solid cooling sensation. I am rather pleased to have a cake of this - my old notes suggest that I nearly decided not to buy it.
As the infusions pass, the tea settles into a long sweetness, without really fading noticeably until the session closes. What once was sour and strong is now sweet and straw-like. There is scope for further aging, as it remains tangy and punchy, but it was an enjoyable sampling of a cake that is in the middle of its "change".