I hope that you've been enjoying the new lay-out of the Half-Dipper. I've had notices from two readers that it's not displaying correctly for them, and so I'd very much appreciate it if you could please let me know if you've had any problems with the new scheme.
It should look like this: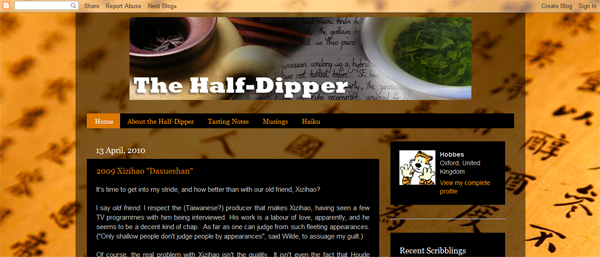 As always, clicking an image will allow you to see the full-sized version
...which it seems to do on the few computers on which I've tested it: three PCs, varying in age from (i) a crusty XP box, (ii) a decent Vista machine, (iii) a ninja Alienware "Windows 7" laptop. It also seems to display well under the Linux distribution "Suse", and the latest Mac OSX. However, I've only been using Firefox and Internet Explorer (versions 7 and 8) to test it.
Google Analytics tells me that there are all manner of browsers accessing this site, but that the most popular (by quite a margin) is Firefox. This is as it should be. Firefox is the "Fonz" of Internet browsers, while Internet Explorer / Safari are the Mr. and Mrs. Cunningham. Google Chrome is "Chachi". I heartily recommend that you upgrade to Firefox immediately, for your general browsing pleasure - installing "Adblock Plus" (a free plugin for Firefox) is also recommended, as it intelligently removes annoying on-line advertisements.
So: please do take a moment to complete the poll on the side-bar. Even if everything looks OK, that feedback would be very much appreciated. If you are having some display problems, then do please leave a comment to this thread (and please also tell me which browser and Operating System you're using).
Thanks muchly in advance.