Here's a tea that gives me hope - the hope that our young shengpu will turn into something lovely.
Houde named this "zhuan" [djoo-an] after the style of characters (seal script) used by Changtai on the wrapper.
However, nearly all Yichanghao cakes are like this. Its actual name is the equally uninspiring "Yiwu Qizi Bingcha".
Having bought this sample from
Houde
over two years ago, I thought it high time that I stopped neglecting it. The poor thing has been sat in its plastic wrapper for that entire period.
Good leaves, whole and dark, with a strong Yiwu aroma
I like Changtai. As long as you steer clear of the numbered recipes, their "premium" brands (though not terribly expensive, relative to other producers) can be very reliable. Perhaps that's just my preference for chunky, challenging pu'er - they're not particularly elegant, but they are big, bold, and they age nicely. Their Yichanghao brand is very reliable. Their Jifengyuan and Qianjiafeng [ch'ean jee'ah fung] brands are less familiar to me, but seem similarly decent based on my limited exposure to them.
The brew still has shades of yellow remaining in it, when first poured from the pot

This is, I think, the oldest Yichanghao that I have encountered. It's a delicious tea. Given the various other Yiwu cakes I've had from the same brand of younger age, I very much hope that they will age into something similar. It's not unreasonable to assume that the production has been fairly stable in terms of quality and processing, and so my hopes are quite high.
It just lasts forever, and won't give up. While still showing signs of youth, having a (very welcome) bitter twang in the finish, this has developed a heavy, wooden character that combines very well with its potent Yiwu straw-like sweetness.
It marches on and on, and I eventually run out of spring water before the leaves run out of strength.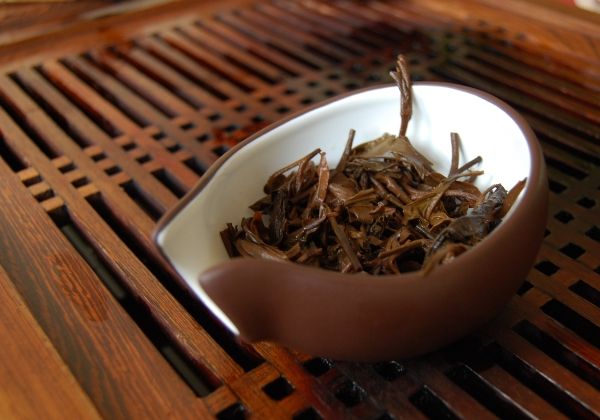 Homogeneous colouring indicates a lack of "interesting" blending or processing
Be of good cheer! Buy strong, properly raw shengpu and maybe it'll end up like this. Wouldn't that be something?
Ten years isn't so long in the grand scheme of things...