I went a little crazy in 2009, and bought the entire Douji single-mountain collection from a shop on Taobao*. I've still not tasted each cake, yet, and so this article attempts to redress the balance (a little).
*I may have mentioned before that the Taobao vendor took photographs of each cake next to a pretty little pot-plant, and the very same images were used at Puerh Shop to illustrate the cakes there!
So far, I've found the
2009 Banzhang
to be a very solid little cake - if not an amazing laoshu old tree] experience, then certainly one with plenty of authentic Banzhang character. The
2009 Jingmai
was a bit citric, and thinned out a touch too much, a touch too early. The
2009 Naka
(a sub-region of Mengsong) was a chunky, aggressive blend that I rather liked.
The Yiwu is back on home territory for Douji's producer, the Yiwu Zhengshan Tea Co. I hope for great things.
Immediately, I am reminded of the Houdini-like artistry required to access a Douji cake. The labels on the back of the wrapper (pictured above) are useful for cataloguing one's tea, but a complete pain in the derriere to remove without damaging the paper. Go slowly!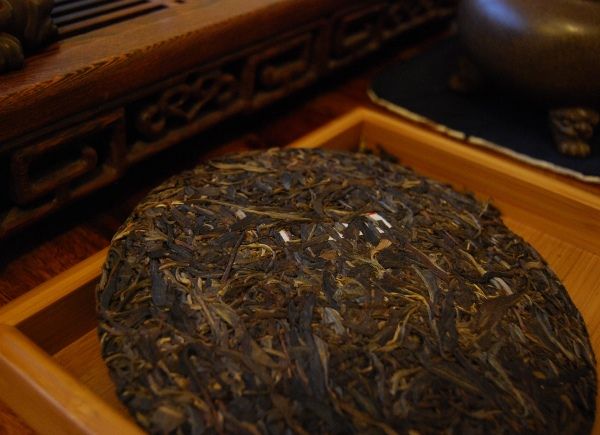 It is second in expense only to the Banzhang cake, which is de rigueur for pricing scales. As always, the wrapper claims that it is "dashu" [big tree], but the majority of their mainstream cakes are, unsurprisingly, blended with a significant proportion of bush leaves. Douji usually do a decent job with the blend, however, which is what elevates them over many of their rivals, in my estimation.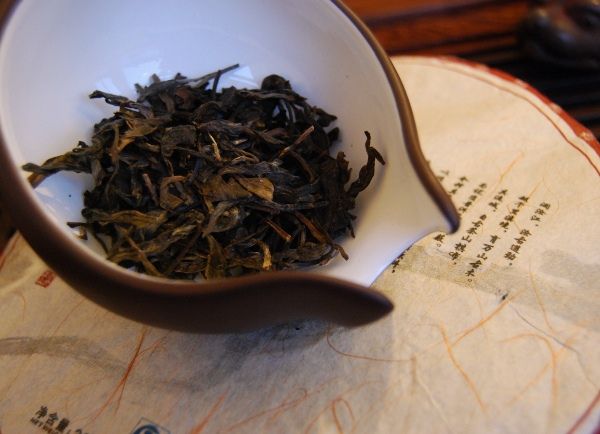 The bing is an aromatic and attractive little minx, made from good, downy leaves. Douji cakes are often very appealing to the eye.
A very long aroma of sweet, darkened sugars. Its endurance gives me hope. Sweet straw on the tongue; rich tobacco in the nose and throat - very decent.
A mild vibrancy and a light cooling sensation suggest that at least some laoshu leaves have been included, and in a quantity sufficient to influence the overall character. Certainly, there exists a detectable contribution from plantation leaves (which are muddy and flat), but this is not a dominant component.
Not a fat, powerful tea, nor particularly viscous, but decent - limited by its plantation base, but with good leaves enough to make it an enjoyable session. I conclude that this it is definitely not worth buying more. I add a few more leaves to increase its "oomph".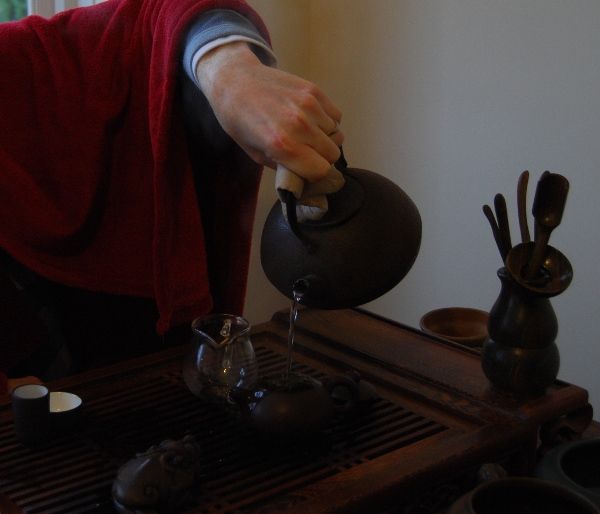 The wet leaves are fairly appealing, and show that they have been handled well by the producers. What redness exists appears to be intermittent and unintentional, rather than the "wulong"-like red edges, or entirely red leaves, that one sometimes sees appearing in a blend in order to add complexity.

Decent, but not overwhelming. Douji cakes are usually near the top of the mainstream division.