This time of year is somewhat special - the new season's pu'ercha starts to become available. Hello, new tea. Goodbye, money.
In particular, I look forward to the arrival of cakes from Essence of Tea, which are heavily represented on my shelves.
The first aspect of this year's productions that struck me was the increase in price. The 2009 cakes were £12-£20 (averaging around £18) before discounts, the 2010 cakes were £17-£40 (averaging around £25), and the 2011 cakes are £38-£51 (averaging £44). These are no longer "impulse purchases", and I spend some time debating about what to do. The comparison of these cakes to others becomes a touch harder each year, as the prices increase. For me, I realise that this is Nada's sole livelihood, and I don't mind paying a friend for what is typically rather awesome tea. I'm sure that we will all reach different conclusions.
Being entirely selfish for a moment (do forgive me), I am a touch relieved that I had managed to buy some of these cakes in quantity in previous years. Some of the new 2011 cakes were obtained from the same farmers as in previous years, and so I won't buy too many more at the higher prices. Some of the cakes, however, are entirely new. This "Mannuo" is one of the new types.
Nada's notes indicate that Mannuozhai is a village in Mengwang district of Xishuangbanna. The leaves were picked from trees that are 400-500 years of age, and, based on previous experience, I typically take Nada's word for it when it comes to such claims.
I find myself excited about the prospect of trying something that is, if Nada remains true-to-form, a proper old-tree cake from a region that I have come to adore for its tea. I don't have enough solid "Banna" tea in my collection, apart from the usual hotspots, and so there is a chance that the Mannuo will be very well received.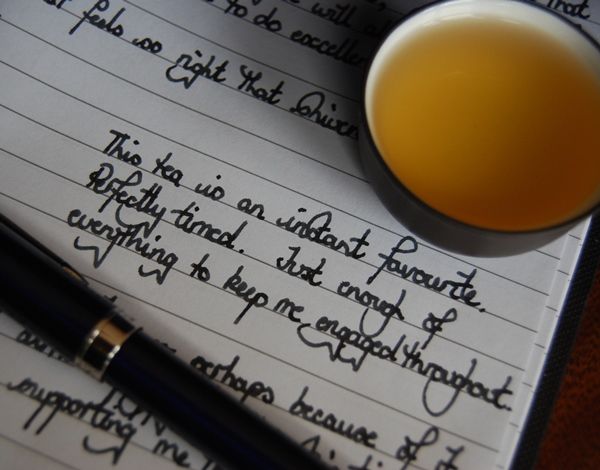 It starts yellow, as do virtually all of Nada's teas, because they are processed properly. The leaves are on the small side in this cake, and are furry, shining, and whole. The aroma cup delivers a potent scent of caramelised fruits: it is the darker, lower scent of real Banna tea.
It reveals similarly heavy, charming characteristics in the mouth that I recall from some Menghai cakes: it is fruity and sweet, and yet has a heavy, low ceiling of darkened oak and leather. Left lingering in the nose, a complex of tart fruits and late-summer sugariness. I love it. This really is very much "my cup of tea".
Fresh vibrancy on the lips, a thick body - it arouses my blood and brings me fully awake, despite the early hour. My diary has "A cake like few others. This tea is an instant favourite. Perfectly timed. Just enough of everything to keep me engaged throughout."
Zidu [purple-belly, my teapot] shines brightly, which I take to be his nod of approval. Although my birthday will not arrive for two months, I think I've found my "birthday gift", and order a tong.
It is entirely possible that this, my first tea from 2011, may turn out to be the best tea that I try from 2011.
---
Addendum
June, 2012
Having gone through a patch of drinking fairly rough teas of late, I returned to one of my favourites from 2011. Happily, the cake is doing well. This year, the soup is yellow with a slight hint of brown. The aroma remains low and rich; the soup is as vibrant on the lips and as cooling on the breath as I remember it. My diary notes "What a lovely mixture of sweetness and rich, complex flavours. The menthol finish is first class, and puts many of the 2012 cakes to shame."