This is the second of two laoshu cakes from Xiao Yunqing, of Beijing Taochaju in Maliandao.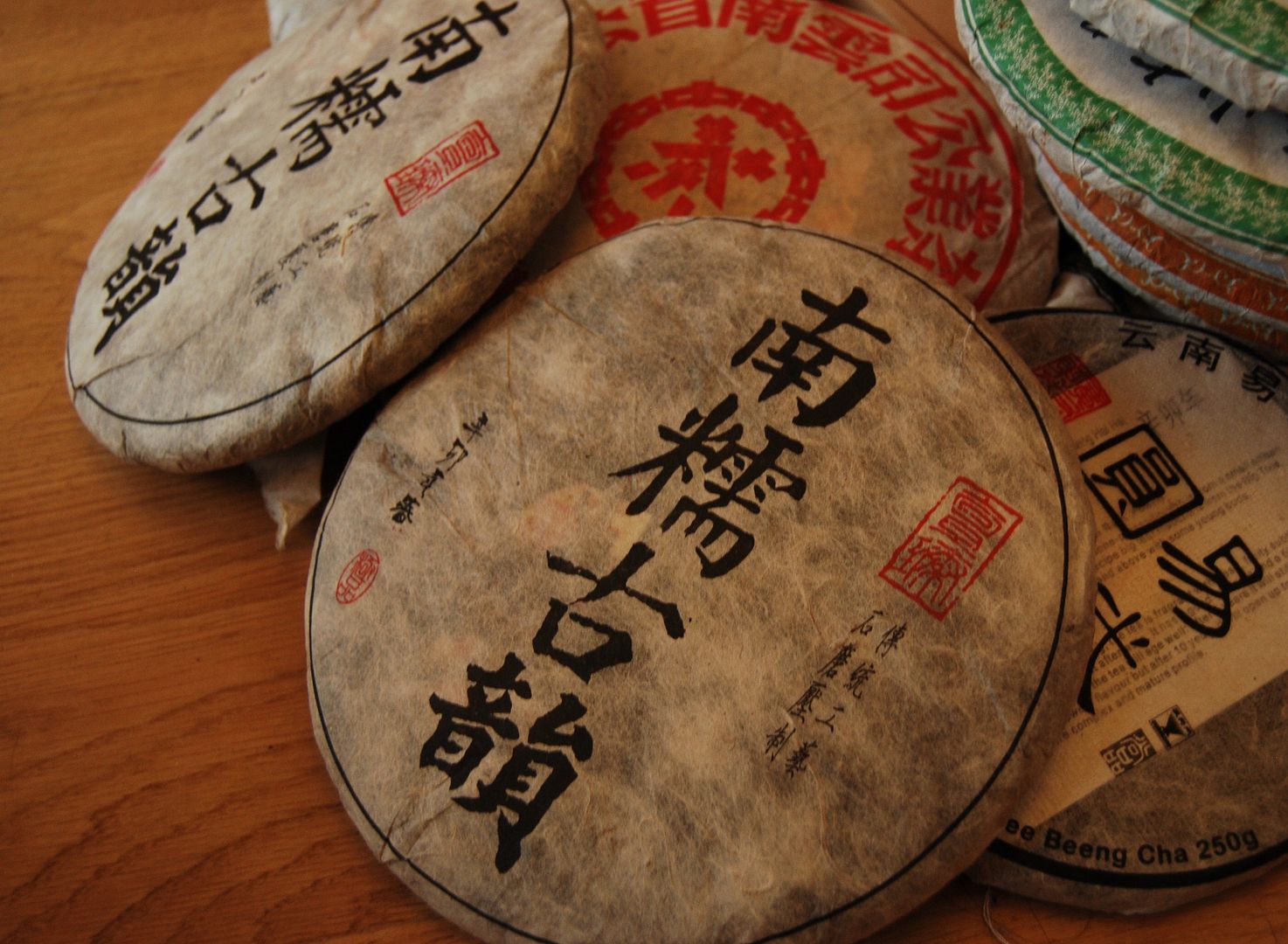 Like his other productions, this is both appealing to the eyes and the nose. The fragrance is dense, sweet, and fruity. It is impossible not to fall in love with this cake at the instant of first sight / sniff.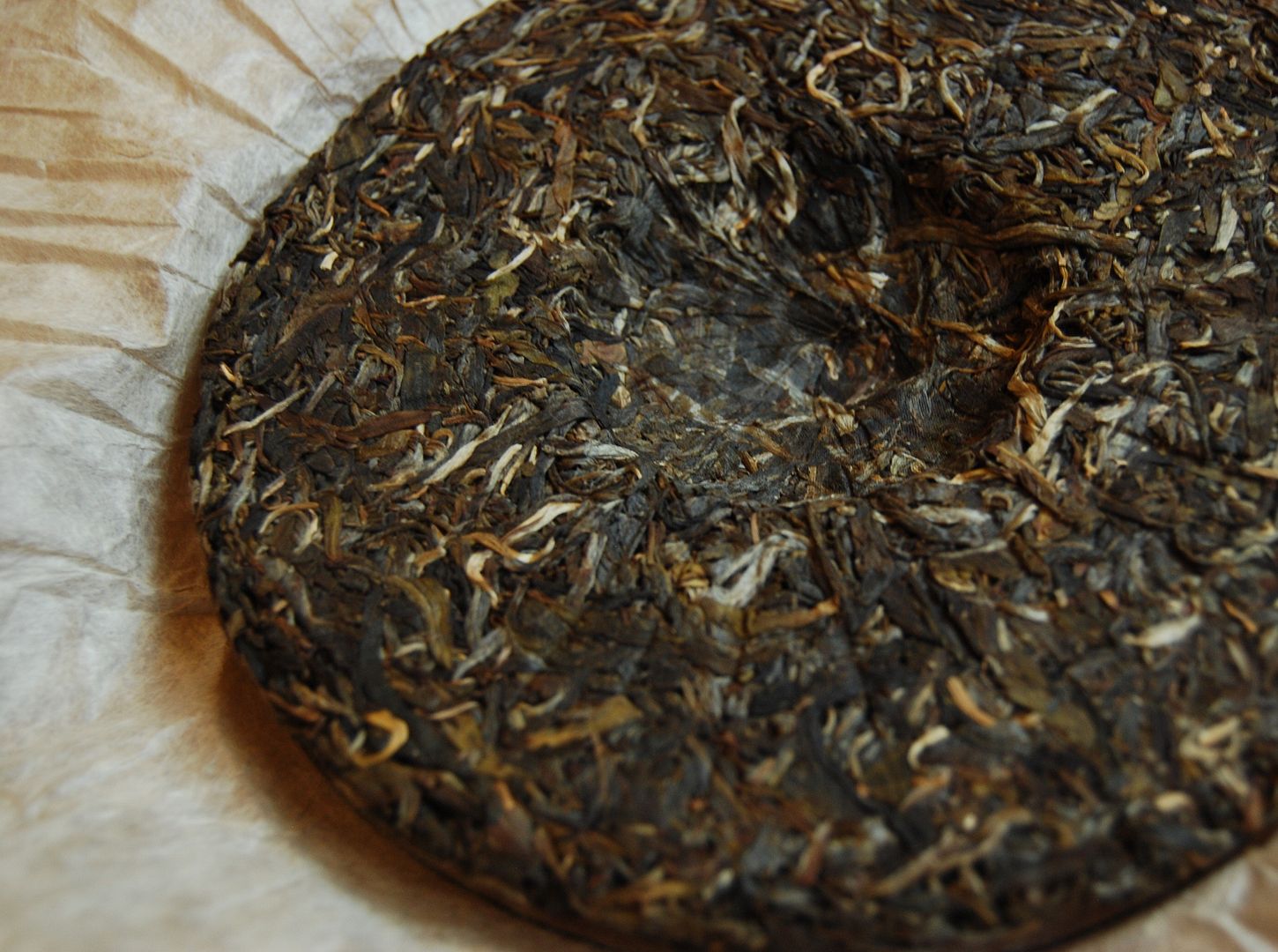 We drank this cake only in passing, while I was in Maliandao, after a long day drinking other cakes. Thus, my tea-session at home with this cake was an opportunity to get to know it a little better.
In my diary, I wrote "this Nannuo is quite amazing: dense, sweet, floral, fruity. Real pu'ercha." It is definitely that.
Plentiful honey dwells in the finish. Yunqing emphasised that this was laoshucha [old-tree tea], and, from the soup alone, I am inclined to believe him, even before his open, honest face and constant, gentle enthusiasm for all things pu'ercha wins you over.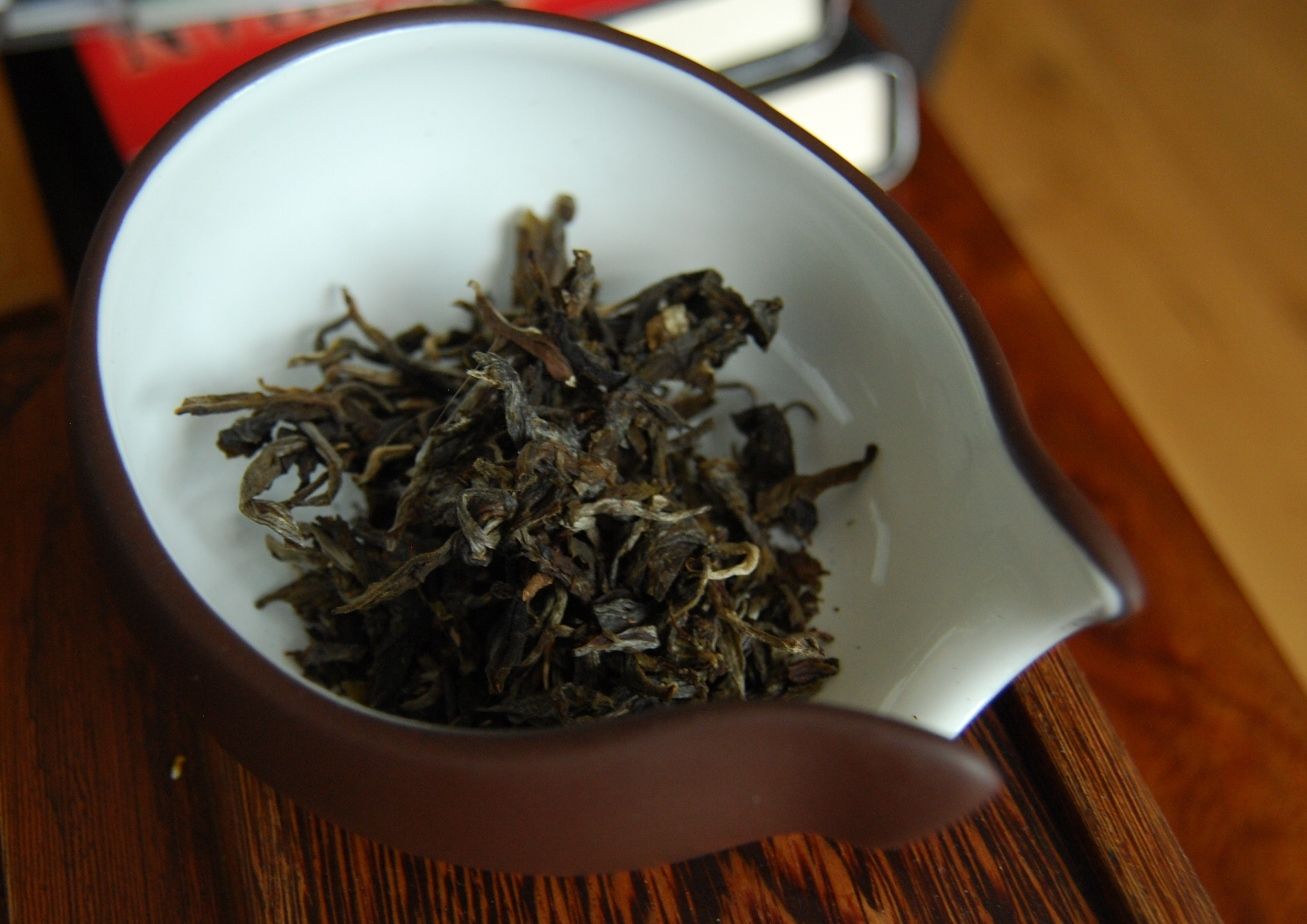 Like most other good laoshu leaves (many of which have come via the generosity of teachums such as KC, Keng, and Nada), this Nannuo is entirely absent any brazen kuwei, but, instead, has a gripping finish that causes the mouth to water profusely. That is not to say it is not bitter - it is, significantly - but it is a different, "cleaner" variety of bitterness that is shared only in those samples of laoshucha that I have tried before.
It lasts well, not diminishing through the infusions, but instead staying constant, potent, and strong - again, another sign of tea quality that cannot be approximated by plantation cakes. Its endurance really is prodigious for a young tea, as it marches on for over twenty infusions, retaining strength, sweetness, and complexity.
Yunqing parted with a pair of cakes for just 200 RMB, which was a great price. I would definitely like to revisit this cake on my next visit to Beijing; perhaps that will be next year, though, by which time he will have made a 2012. That said, if our university exchange programme continues, perhaps Lei and I will have to go back to Qinghua to conduct interviews... and drink tea.
---
Addendum
September, 2012
Thanks to
white2tea
for the sample.
The 200 RMB price that Xiao Yunqing kindly gave to me occurred before increases that eventually took it to 300 RMB before it sold out in Maliandao. It seems also to have gone from white2tea, where it sold for just a little over that price (and very reasonably so).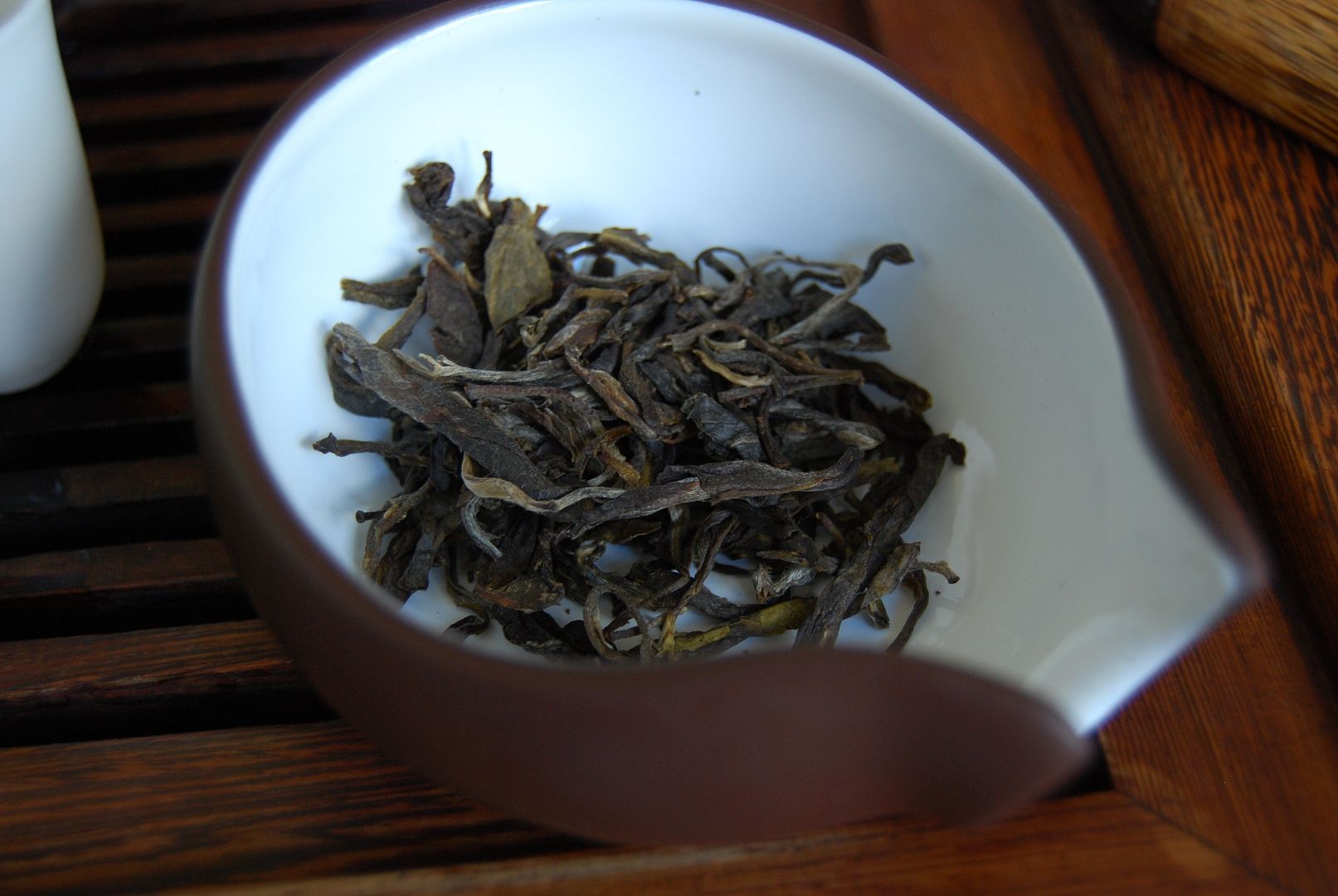 "This is good tea", remarked my dear wife. "It has a very broad spectrum", she added. You can tell when a girl has had an education in the physical sciences.

The floral bitterness of young Nannuoshan leaves is obvious in the wenxiangbei [aroma cup]. It builds, slowly, to reveal a strong base of sweetness that appears only after 30s or so. My dear wife's spectral analysis probably took this time-offset into account.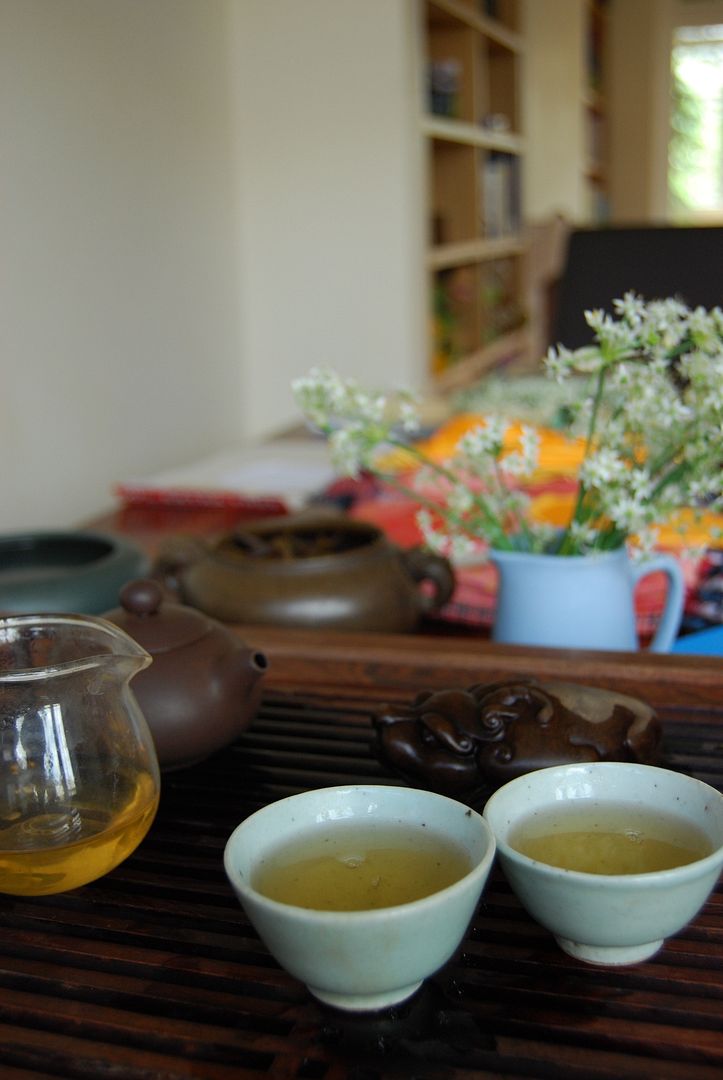 The complexity of old honey (which I enjoyed when I tasted this cake before) remains. I enjoy the strong, bitter finish, and am reminded of the quality of Xiao Yunqing's cakes.