I wrote recently about the on-going search of Apache and I for some "old-fashioned" recipe cakes. Cakes made by
The Fat
were certainly of that ilk, as were the
2007 "Special Blue"
made by Clouds. We've been through the solid
2006 Baichatang
. Over the years, we've collided with many old-fashioned recipes together (
some
random
selections
here
).
This Jin Dayi marks the result of a recent investigation, in which we compared the original 2003 version with the latterday comparitor. The original looks like this:
It was a "special issue", made on request, as far as I remember. It became known as the "Jin Dayi" [gold Dayi] after the colour of its label, which, if you ask me, is more of a sludgy brown than a gold. The Chinese are rather poetic in their descriptions, however, so we'll go with gold in this case.
The basic cake from 2003 was delicious: robust and solid as you might expect, with the Dayi house style. It's very hard to describe, but extremely obvious to detect. Drink a few Dayi (even modern ones), and you'll understand what I mean. It's "that Dayi character". If I were writing notes to myself, I would describe it as dark-mushroom with malt, and plenty of hardcore bitterness. That doesn't translate into other people's vocabularies, but is a placeholder in my memory for "that Dayi character".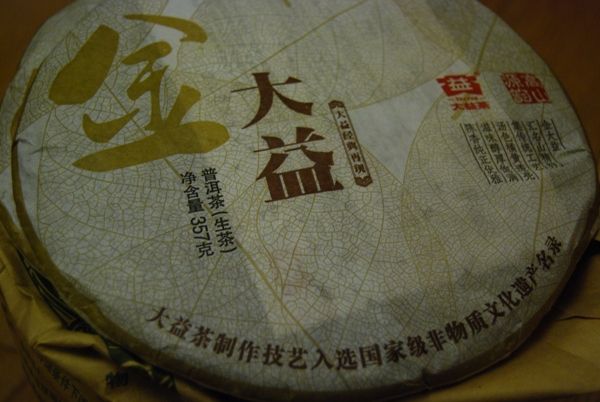 This 2011 version (pictured above) recognises the popularity / greatness of the original recipe, perhaps after realising that the latter has aged really rather well. Either way, it is a good commercial decision for The Meng to try their hand at remaking some of their classic recipes that have proven to do well. (Also, they could consider ditching recipes that aren't so hot. Cough 0622 cough.)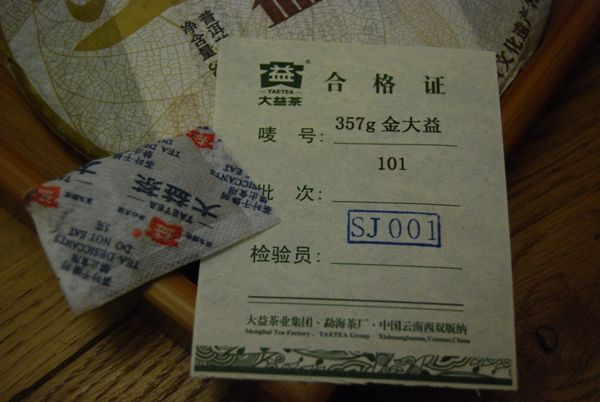 Whatever happened to Dayi in the last two years, the Taetea phenomenon has resulted in all sorts of useful / bizarre innovations. The tong of cakes contained within them the sachet of gubbins, pictured above, which is presumably an attempt to maintain decent storage conditions. Heaven knows what's in it - I soon got it out of my tong, preferring to rely on the tried-and-tested methods of tea + shelf.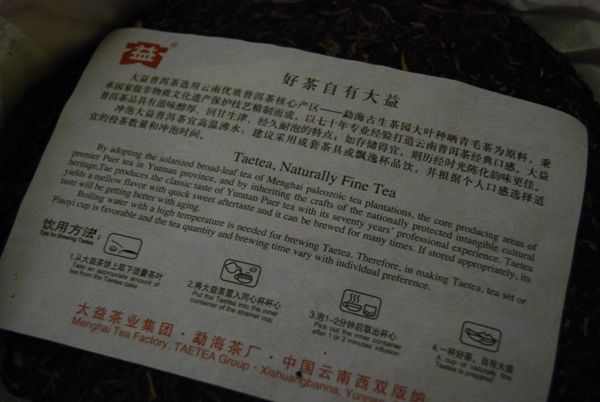 The moment that I cracked open the tong and revealed a cake, I took a deep breath of that patented scent and told myself, "I don't drink enough Dayi." There is something that I actually, genuinely love about these cakes. Something intimately familiar and constantly promising. It's like coming home.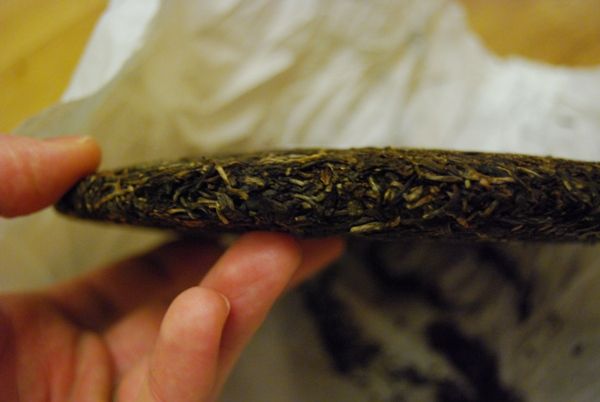 Like many of the recent cakes, these Dayi are slim slim slim. These are the San Diego of pu'ercha: toned, tight, good-looking. The kind of cake that you could show to your friends.
Admittedly, it smells less of Mexican food than does San Diego.
The little leaves are very familiar, too: small, dark, shiny. Even my grotty pre-dawn photography can't rob these charming little fellows of their appeal: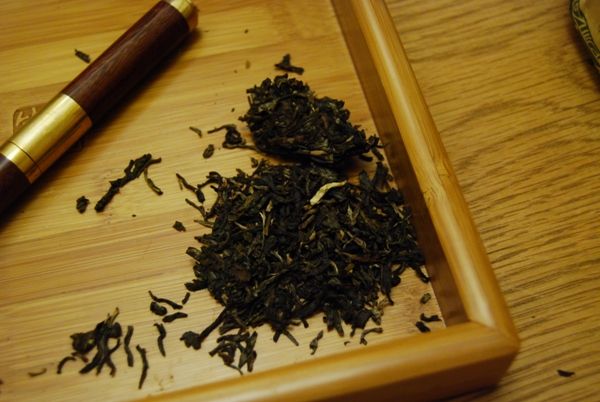 The soup is a big, fat orange. Boom. None of your yellow purity, here.
I kick back in my chair, darkness of the dining room unfolding all around me. England really is northerly: it is dark here, and cold. I realised this when I came home from Brunei recently. The hours of daylight are short, and it's not even winter yet. It really is very dark. But it's home.
That homely feeling goes very nicely with the comfortingly familiar Dayi scent. This is a particularly good example, with potency and duration. It lingers long in the cold morning air, filling every corner of our little house. As I leave it to sit in the wenxiangbei [aroma cup], it turns low and sticky. I like a tea with a good aroma profile; the scent never lies - or, rather, the undercurrent of the scent never lies. It seems to indicate the base of the tea, once the florals have wafted away. Such is my bet, anyway.
The first infusion has a little young-cake smokiness, which soon dissipates. I realise that I really need to drink more Dayi; even the modern cakes are rather thrilling. It is such a basic thing to enjoy to such a degree, but enjoy it I do, and that makes me a happy man.
At 4.30 a.m. In the darkness. And the cold.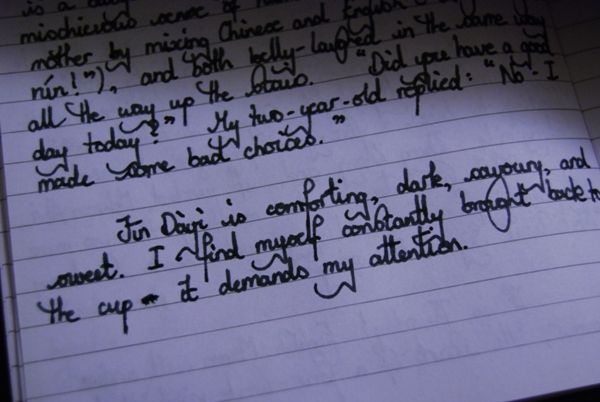 If there is a defining characteristic of this Jin Dayi, it is the constant Dayi potency, heavy sweetness, and a deeply satisfying base of rough-in-the-jungle savoury notes. I loves me my savoury tea, which is why I chase Lincang cakes to the degree that I do. This is tea from 'Banna proper, but really hits the granary sweetness.
Combine it with pronounced cooling sensations, untempered aggression, potent honesty, and 0622-but-good savoury aspects, and I am really very happy with this cake.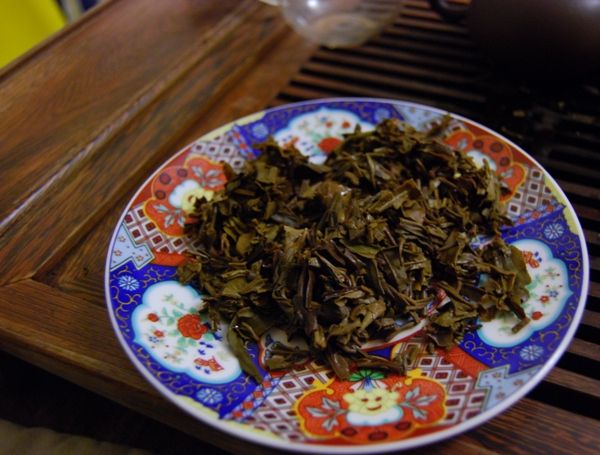 This is $46 (available at The Fat), which is a little much for a Dayi cake, but not very much when you consider its quality. If this cake were made by a Western-oriented vendor, I would be thrilled and buying it in quantity. That it is Dayi means that you get all of this potency, combined with very good aging prospects, for a distinctly considerate and sociable price.
What an excellent start to a day.