Hilary term was great fun - there was a fortnight in which a few colleagues and I put on a revised version of an old graduate course, bringing it up-to-speed with recent developments in our field (biomedical machine learning). Perhaps more satisfying than the course itself was the fact that one of the audience, whom you might know, kindly provided me with plenty of good tea. Here comes one such example.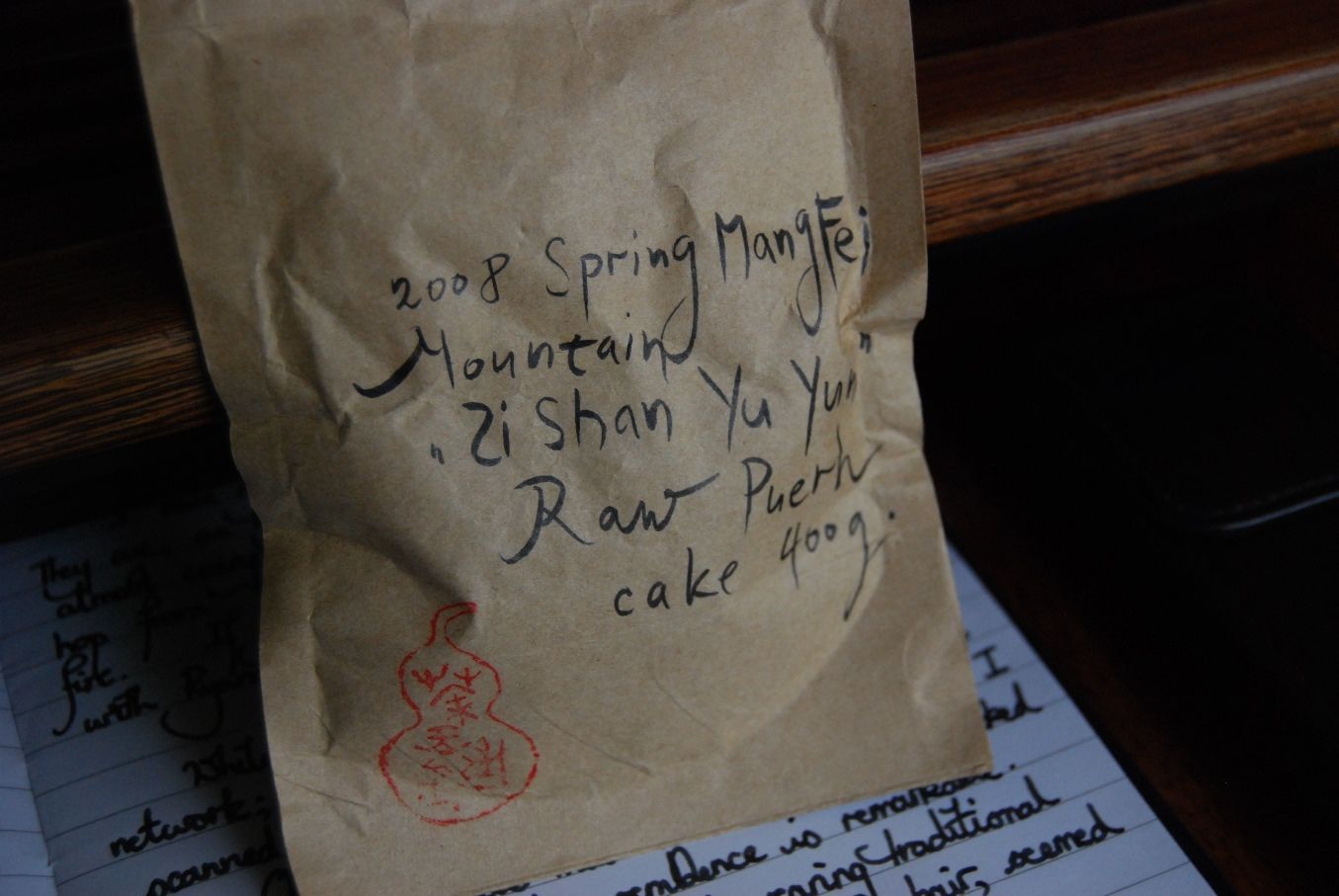 Yongde xian [county] is in Lincang diqu [prefecture] of Yunnan. While Lincang teas may not topple those from 'Banna in terms of complexity and classical, traditional pu'ercha qualities, I have found there to be plenty to enjoy in teas from that more outlying region. Those Lincang cakes that I have (which number quite a few tong by now, it seems) have aged nicely, and I am left with a positive feeling as to the overall potential of the place - that, and my tastes appreciate the terroire from some places within Lincang. This is the 2008 "Zishan Yuyun" cake from the minor "Yongde Ziyu" producer. The name of the cake refers to "purple-mountain jade-charm/harmony" (where the "yun" character is the usual hard-to-translate "yun"), and where you can see that the name of the cake directly refers to the "Ziyu" [purple jade] of the producer's name.
"Purple" teas are often sweet, fruity, and not particularly good for aging. This cake is now six years old, and managed to give me an affectionate punch in the face from the very first sip. Yes, it has purple fruitiness, but it also has plenty of "real" pu'ercha in it. I appreciate honest teas that aren't afraid to give the drinker the occasional slapdown.
Its six years of aging have not left it in an "aged" state, but have at least settled it. This cake must have been very bitter when young. Its kuwei [good bitterness] cuts through the residue of my headache, from a long night previously spent visiting collaborators in the Netherlands; it rehydrates me after yesterday's glasses of Argentinian Malbec and Syrah, alongside a decidedly civilised Trappist beer in the minor Dutch airport that I flew from at 10 p.m. When even the airports serve beer brewed by monks, you know you're in the right country.
The bottom line refers back to the "value proposition" in the title: this punchy little cake costs a mere $26. I am deeply tempted to attempt to squeeze some onto my tea-shelves, given its unashamed violence combined with rather pleasant Lincang characteristics. There is straw, fruit, some tobacco, and plenty of challenge. I like it.