There I was,
whining extensively
about a long-standing illness of some insignificant magnitude. Then, during the middle of drinking the tea described below, my youngest son developed laboured breathing, and we whisked him (i) to the GP / family doctor, and subsequently (ii) onto the Emergency Department of our nearby hospital.
The sight of my dear little chap connected up to nasal cannulae and pulse oximeters was heart-rending. I stayed the night and the next day, handing over to my dear wife for the second night, before returning for my "shift" the night after. The little fellow recovered from what was diagnosed as a grim chest infection that aggravated an atopic reaction inherited from his father (sorry, my son). That's genetics for you. I have always maintained that parents suck.
Happily, after two days, my Little Dragon was entirely recovered; the Children's Hospital kept him under observation for a further day-and-a-half due to "risk factors on the father's side" (sorry again), by which time he was (almost literally) bouncing off the walls and ready to be discharged. Nothing can **** up a hospital ward like a recovered infant ready to go home.
I took this episode as a reminder to (i) be thankful for every day of good health, for both me and my family, and (ii) whine less in the presence of minor ailments that pale in comparison to a two-year-old dude fighting genetic disadvantages (sorry again). You really cannot choose your parents.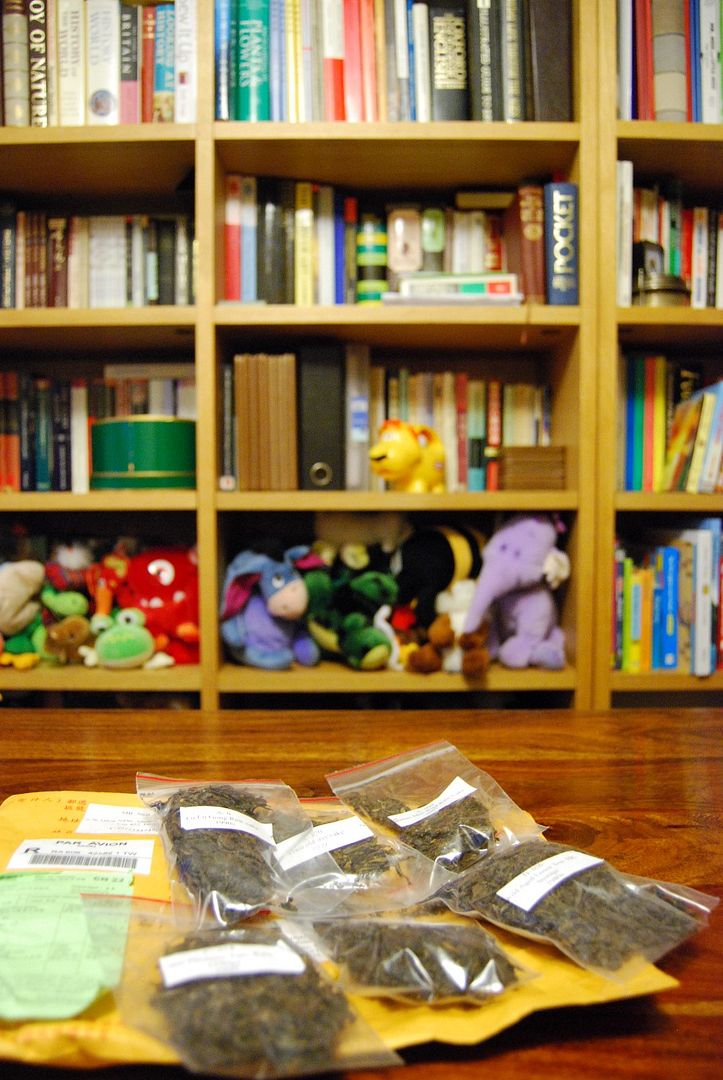 Surely packages such as this must have difficulty getting through airport Customs
By the time I got home, having not slept for two days, the sight of unfinished tea from
Teaclassico
(thx, Neil) was welcome - but not as welcome as having everyone back at home once it was all over.
All hairy tea is good tea.
Drinking this 2005 CNNP "Nannuo Mountain Wild Raw" was, therefore, rather an emotional affair. The cake was made as a special order, with all cakes bought from by just two dealers from the original instigating party.
Pictured above, no tea would be complete without thick, black Chinese hair embedded in the maocha. It's what makes pu'ercha GREAT. If you're not drinking some crusty tea-dude's body by-products along with your tea, then you're just not living.
For added bonus crustiness, the neifei had fragmented to the point at which it was embedded (along with the hair) in the surface of the cake, as shown above. Again, if you're not drinking manky label-paper printed with probably-toxic Chinese inks then you're really not doing it right.
What doesn't kill us makes us stronger.
Unless it introduces comorbidities that you could without.
Gentle Reader, you already know that pu'ercha is the rancid, Satanic backend of the tea-world, and so I know you're OK with the introduction of manifold pathogens in your tea. You knock this stuff back daily, so this is not news to you.
The cake itself is darned green, it must be said. Its colour is actually green - the colour of gangrenous flesh. I know, this just adds to the appeal. You're insatiable.
After ten alleged years of storage, it has a heavy yellow-green colour and a soft, warming character. There is strength aplenty, and its truly green nature makes me wonder if it has been stored in a dry environment; I would not have guessed it was from 2005, to be honest.
It is soft and fruity, and that's just fine when your little dude is recovering from time in hospital. There is "spring meadow" character that reminds me of Nannuoshan teas gone by. Apricots, dried fruits, a husky edge - it is CNNP, playing nicely.
--
Frankly, it was a bit weird being in the Emergency Department where I do some of my research, and yet experiencing the place as a "customer", rather than being in my usual place, on the other side of the arrangement. I must say that I prefer the latter, but am grateful for the rocking standard of care that the university hospital turns out - the UK National Health Service is universally supported by all British folk for a reason. With national elections coming up, the various parties compete to demonstrate how they will protect it, and, after my trip with Xiaolong, I'm very glad that they do so.
---
Ganymede, Haumea
which is bigger
Ganymede, Haumea
or a blue whale?