It's usually frowned upon to write about Zen. So here goes.

Asking a Zen master a theoretical question about Zen is often met with a direct response. Neither a refusal to answer the question, nor an answer in itself, the response is meant to shake the questioner out of their limited understanding, into the "here and now". One of those with which I most closely identify is Master Joshu's response,

Drink some tea.

Every now and again, I read an article about tea in which the author muses, "Aren't we thinking a bit too much about tea? Being a bit too critical?" I recall something similar in the ever-excellent
Tea Logic
,
MarshalN
, and
Rec.Food.Drink.Tea
sites, for example. Maybe most of us that count drinking tea as a hobby have asked ourselves the same question.
It's a healthy question to ask, and I'd like to have a crack at addressing it from a Zen viewpoint, with the aid of Joshu's "Drink some tea."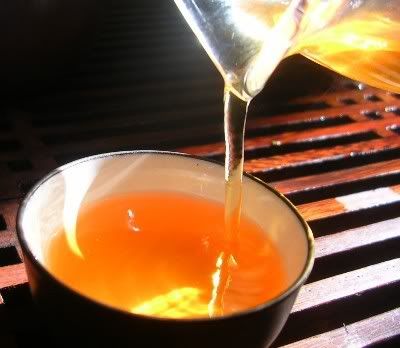 One of the tenets of Zen (sorry!) is to try and perceive things "as they are". It's not very easy - Zen folk will tell you it's the hardest thing. Enjoying tea is a great way to practice this, and asking yourself, "Am I thinking a bit too much?" is a good way to begin.
Sometimes, like this morning, I sit down with a new tea. I've got lots of questions in my mind: I want to determine its character, perhaps I want to verify the various claims made by the vendor, perhaps I want to decide if it's worth a certain amount of money. Before the tea is even out of the pot, I have a whole headful of assumptions.
This happened today. It wasn't until the third infusion that I realised I wasn't really present - I was somewhere else, wondering about leaf regions, growing conditions, and all of the usual paraphernalia. I looked down at the page in my diary, and saw that I had made some observations about huigan, texture, aroma, and so on - but I hadn't really
enjoyed
the tea. In fact, I couldn't really recall what the tea was like. Wasn't my purpose to enjoy the tea?
I sat back on my cushion (I'm a floor-squatting type), and told myself, "Drink some tea." I stopped my ponderings, and simply enjoyed the little steaming cup in front of me. It was a new Xizihao, and enjoyment wasn't very difficult - after I had put away my questions, and my goals.
A second relevant Zen tenet (sorry again!) is
mushotoku
- having no goal. I have a friend who just can't stop trying hard to have fun. He tries so hard to have fun, that in the end he doesn't really have fun at all - and he's quite unhappy about it. Drinking tea was like this for me, this morning. I had so many goals, so much that I wanted to get out of that little cup, that I ended up getting nothing out of it. Until I stopped trying to get things out of it, that is, and then I got a lot out of it.
There's a great deal to be said for providing a good analysis of a tea. A solid critique is very useful, and it's one of the main purposes I maintain these articles, of course. However, this morning I resolved not to let that get in the way of "Drink some tea." I always find my most perceptive notes arise when I stop explicitly trying to analyse, and just drink from the cup with an open mind.
So, it's good Zen practice, but really - it makes for better notes, and better tea.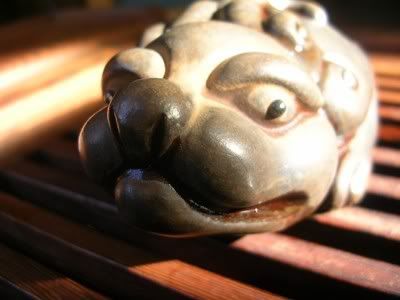 "Drink some tea."