"As rough as can be." That's my usual estimation of 6FTM,
CNNP
, and many modern
Xiaguan
. However, this
yesheng
[wild] version of the 6FTM
Banzhang
threatened to usurp my prejudice. The entire cake is just £9 (from
Royal

Pu'er
).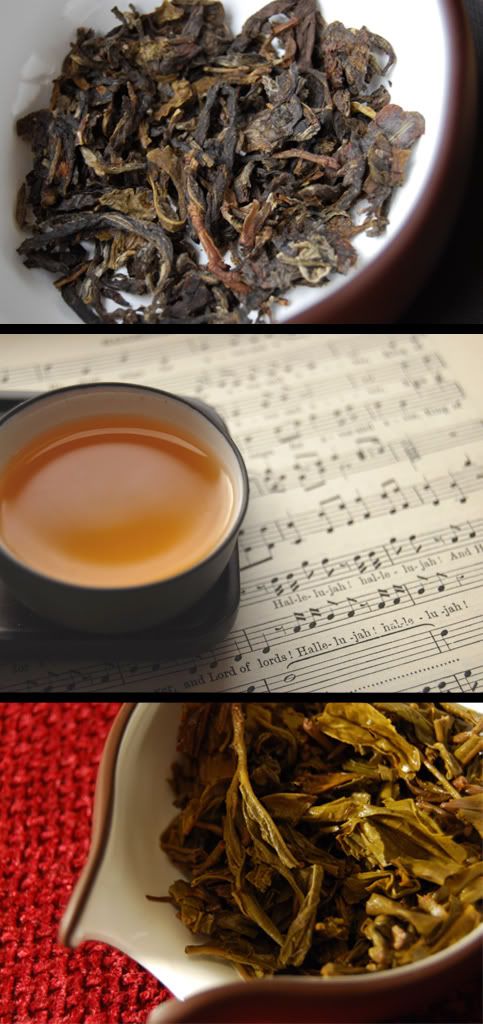 Surprisingly, the leaves are in very good condition (shown right), being mostly whole. Unsurprisingly, some blending has occurred: we have light green, dark green, brown, and black leaves of varying grades. Given the strength of
Banzhang
leaves, and
yesheng
leaves in particular, I would consider it quite normal to produce a blend, both in order to bring the cost down to "6FTM levels", and to make a palatable tea.
The blended aspect is clear in the aroma, which is formed of two equal and complementary components: sweet, dark leather vs. fresh green
lucha
(very much like a good
maofeng
).
Happily, the aroma in the
wenxiangbei
is particularly long in duration, showing a good brown-sugar character. Such endurance bodes well for a long flavour in the mouth.
The solid yellow soup is very thick, again a surprising mark of quality to appear in a 6FTM cake. The flavour is quite simple (a body of grassy fruits), but the
huigan
is a big climax, and the
yunxiang
[scent in the nose after the swallow] is just like the grain from a good whisky.
Throughout the flavour, from the middle of the mouth to the back of the throat, the grassy
lucha
character remains, a potential warning for aging. It seems that long-term storage wasn't on the mind of 6FTM in the production of this cake, which is acceptable given the cake's accessibility and very low price.
It delivers plenty of body-flushing
chaqi
, without giving the feeling of being heavily
caffeinated
, and brightens the senses as one would hope from a
Banzhang
. There is a touch of "brownness" to the flavour, of slightly oxidised green leaves, which makes it seem a little ordinary, but the cake is redeemed by its very thick, oily soup and its several other benefits mentioned above.
For £9, it's good fun. Certainly, this is one of the most enjoyable 6FTM cakes I have encountered.
---
Addendum
(27 March, 2008)
Revisiting this cake confirms its good value. Brewed gently, without too much pushing, produces a pleasantly sweet soup, with an enjoyable aftertaste. It isn't greatly complex, but is a fine little tea.
The leaves are smaller than I remember - some fragmented, some just young and tiny.
At £9, I've grabbed a few for lighter mornings - it's a fresh tea.
---
Addendum
August, 2013
Cheap cake, five years later - let's go!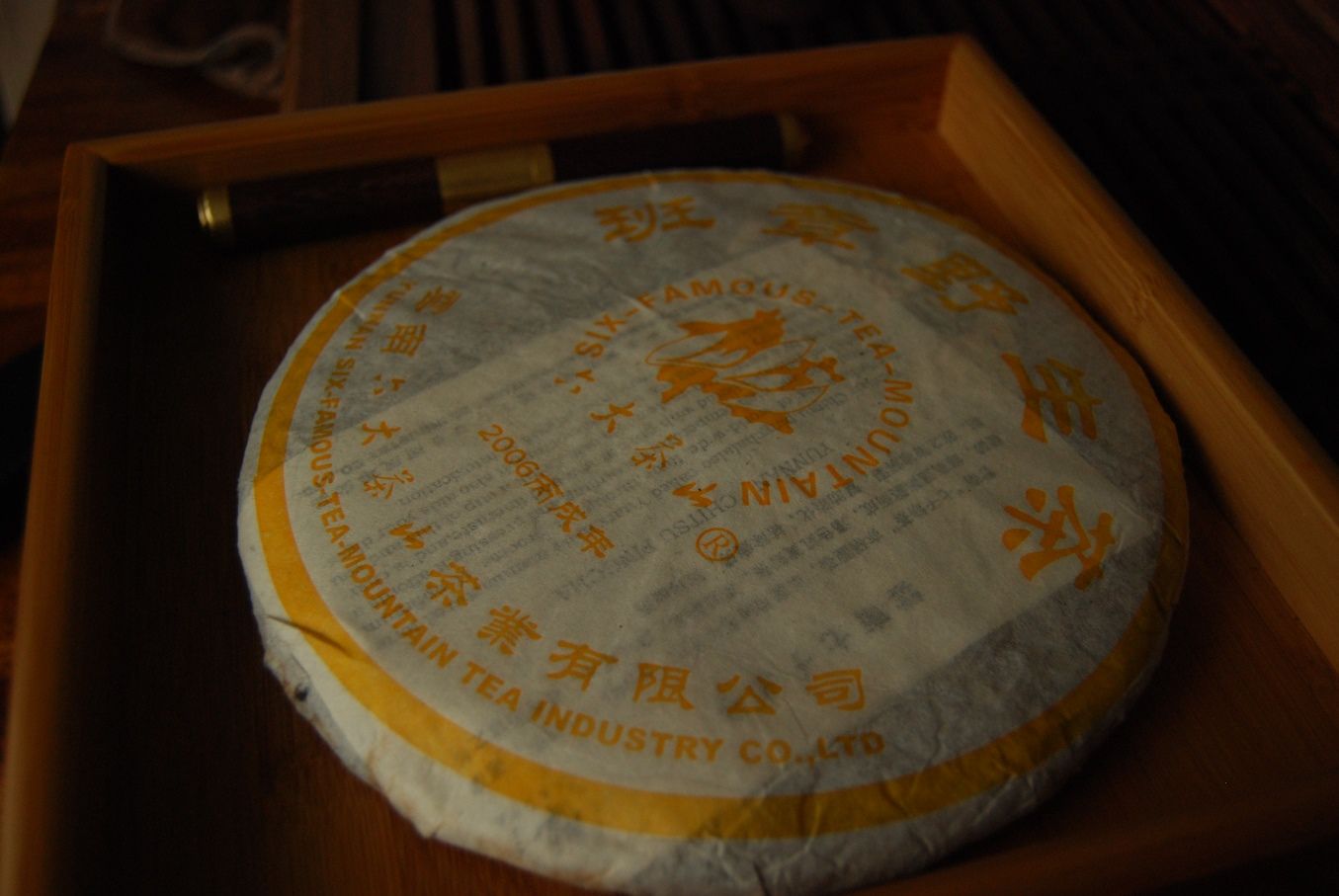 The colour is an aged brown, now; most noticeably, there is a pungent scent of strong, humid, tobacco. This smells like something that my Singaporean chums (Keng, Elven, ST, et al.) enjoy. How curious to imagine that it came from damp, cold old England.
The compression is quite tight on this cake, and the leaves are fragmented and quite small. I chuckle to read that I considered the claims of "yesheng" [wild] to be serious, in the above writing from years past.
Brewed, the colour is a deep orange - moreso than other cakes of its age that I have reared. The scent in the wenxiangbei [aroma cup] is sharp, leathery sweetness; it is believably from the greater Banzhang region, even though unlikely to come from Laobanzhang village.
It is satisfyingly thick and rounded, and tastes rather Singaporean in its dark humidity. There is some sharpness remaining, but it is welcome and enjoyable when mixed with the base of rich tobacco. This was £9?

The "fat", oleaginous thickness in the mouth is hugely satisfying. It is liquid, sweet tobacco. Some of the darkness tastes clearly "Xiaguan": it is the blackness of artful processing, as these companies often perform on their taidicha [plantation tea] blends. There is plenty of real kuwei [good bitterness], however, and so this must form a minor part of the blend.

"This is good - like a wet woodland", observes my dear wife. Its sweetness lasts forever; I am impressed with how many good infusions even a humble tea such as this can provide, after a little aging. Don't knock the "6FTM".