It's a bit of an epic cake today. Cue dramatic music.
We've had this cake since last summer, kindly bought for us by proxy by a travelling chum (mille grazie!). In the grand scale of things, it was quite expensive (to me, at least) - the
2007 version
that I loved so much was a great deal less costly, allowing us to buy a tong. This 2006, though, is represented by just a single cake - so I'm making it last.
I've recently seen this one for sale at Nadacha (disclaimer: friend of mine, and of many others!), and I imagine that the continuing link 'twixt Andao and the 12 Gentlemen might allow it also to be bought there.
Unlike the 2007, which you might remember was compressed very tightly, almost Xiaguan-style, this is a more easy-going affair. I think I prefer it this way, as the air gets to the leaves a little more, and it's much easier to take out leaves without damaging them. I remember chipping away at the 2007 and making some rather bitter brews.
Throughout the cake, the blend is constant. I can't remember where I saw the photographs of the 12 Gentlemen's shop, but it was a very scientific affair: libraries of teas were arranged in little boxes according to processing, blend, age, etc. If I were producing bingcha, I suspect I'd take a similar approach, experimenting with variables, trying to optimise the blend. It's nice to see that someone analytical is trying the same thing, and it gives me some unfounded, irrational confidence in the outcome. Certainly, there's a great
art
to making tea - but I don't discount the science part either, and I bet that the two are complementary. I've tasted some "pure art" pu'er (in the sense that the aesthetics are given priority), as I'm sure we all have, and they can be a bit flat or one-dimensional. I want someone in control of the process and its various effects to make my pu'er!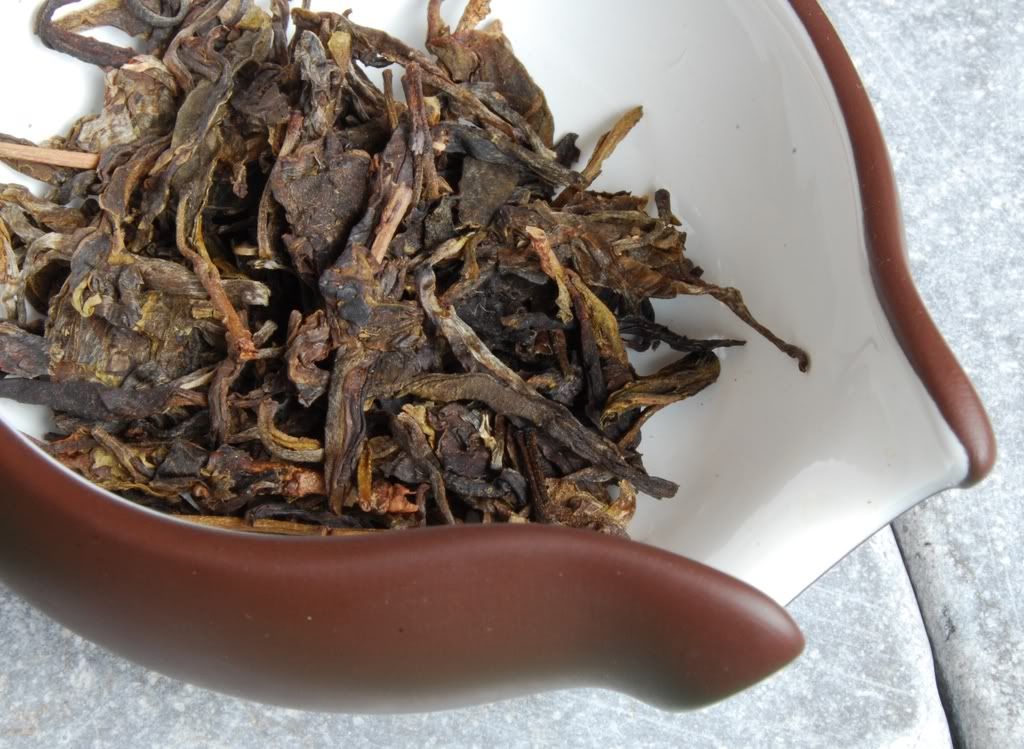 Pictured above, the pretty leaves that I took downstairs to our tea-tray. They're dark! Small- and medium-sized leaves are mixed with similarly-sized fragments of larger leaves, with a healthy selection of stalks included. In the chahe [tea-lotus], solid scents of sweetness and leather - it must be Yiwu, and a good one at that. The density of the aroma is impressive, which bodes well.
As you can see below, the soup is yellow-orange, which looks honest enough. The tea is complex: the beidixiang [cup-bottom scent, initial aroma] is active, but low - the low sweetness of cooking grain, or roasted sweet potatoes.
That low sweetness then shifts into a lengxiang [cold-scent] of more spicy sweetness, similar to cooking raisins. The whole progression lasts a long time, and its intricacies and potency give me hope for the tea. There's a lot going on in this!
The attack of the flavour is more of that grainy, raisin-like character from the wenxiangbei [aroma cup], out of which a huigan [return-sweet, aftertaste] builds until it resounds in the throat. This lasts as long as a minute after swallowing, which is fairly unusual and very welcome.
Already wooed by this tea, I enjoy its heavy and viscous body. It is filled with plenty of real
content
, which is what I'm after. It is antithetical to the watery, thin soup from more ordinary fare.
Not only is this a tea with plenty of content, but it is a tea in which that content evolves noticeably from infusion to infusion. As the leaves open, a clear cooling sensation appears on my tongue, while a mushroom flavour develops. As infusions pass, this mushroom gradually evolves into something more wood-like. After the ninth infusion, we enter simple leafy sweetness, but potency remains.

This is a tea that rewards attention, and it's a very enjoyable journey from start to finish. Definitely one to try, if not to buy.
---
Addendum
May, 2011
What a difference two years makes! This cake has settled into a straw-like, citric feeling, not unlike the genre of my old favourite, the
2006 Xingshunxiang
. Tart, smooth, but hollow in the middle. This one definitely needs more time.