I remember one of the first tea vendors we ever met (who subsequently made a fair amount of money out of our ignorance of tea at the time) was a chap in Chengdu. Though I've forgiven him his excessive price-gouging, which in all fairness was the fault of my own ignorance to fall for it, I still recall one thing he told Lei and me. "You drink shupu in winter, and shengpu in summer. If you drink shengpu in winter, people will think you don't know anything."

Though he might have a point buried beneath the hyperbole, given that shengpu is "cold", I'm happy to drink shengpu all year, in moderation. It's more about personal balance than seasons, though seasons have an effect on my physiology. So, with that said, let's turn up the kettle...

This maocha was kindly provided by RJo'C, who obtained it from Nadacha. A large portion of this tea costs about as much as a loaf of bread, and so isn't really something that I should overanalyse.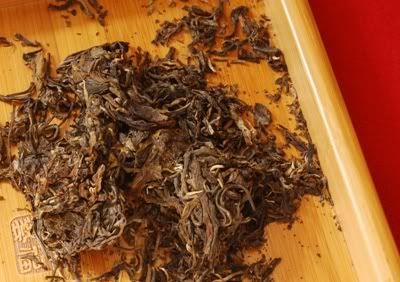 For something so low in price, it looks very appealing. I don't remember finding anything like as good for the price during my last round in Maliandao, but Nada's bargaining skills are, in all likelihood, better than mine. At least, I hope they are, because if they're worse than mine, he's in the wrong business!
My friend BR was amused when I got my Chinese numbers muddled in the Maliandao Chayuan and actually bartered the price of a celadon teaset that he wanted to buy
up
from its original price.
It's a yellow beast, as one would hope from maocha. It is fruity and sweet, if a little "brown" in flavour (referring to that "browning" effect on flavour that occurs if one were to leave something out in the air for too long).

Simple and energetic, if forgettable - but for the price of a loaf of bread, who's counting? It packs quite a punch, and I imagine that I'd keep it in my office for an undemanding morning pick-me-up if I had this in any quantity.