The birds living around our new house are picky little blighters. They demand only the finest nuts, and refuse any other treats that birds from our previous residences would have scarfed in moments. Perhaps they just live in fear of Heidu (a cat who does not even belong to us), and so they only touch down when it's
really
worth their while.
Either way, I think I deserve some good tea.
This fat little fellow came strongly recommended by "Thanks" - so, thanks! He wrote so passionately about this tuocha that I couldn't help myself, and had to grab some from Yunnan Sourcing, where it costs about as much as two pints of decent (i.e., English) beer.

It's so endearingly chubby, as you can see for yourself. It's pudgy, cheeky character reminds me of Chunk, from "The Goonies". I suppose he's an old man by now, but in the popular imagination, he will always be the short, rotund rebel from that film. What a great way to be remembered.

Taking the pu'erdao to the side of "Chunk" releases a stream of easily-separated leaves, courtesy of the comfortable compression.

I defy you to refute the desirability of these leaves:
By the power of Greyskull, this is actually good tea. About time, too, given the recent run of ho-hum mediocrity!

As always with the more standard Menghai productions, this has a bouquet of sweet leather. As hoped, the soup is a charming yellow, full of the chunkiness of the original leaves with a potent aroma of sweetness.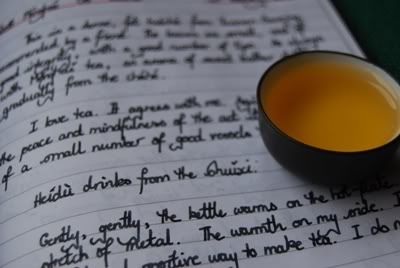 Sweetness, huigan, an aftertaste of mushroom - the usual suspects are all here in good quantity, but presented in a punchy, raunchy manner that testifies to the end of the watery 2006-07 era.

Unexpected for Menghai, there is a yunxiang [after-aroma] of wildflowers: something that reminds me of rugged flora.

Even some notes of complex, rough honey creep into later infusions.

Expecting a fat, modern tuocha to be bitter, I was conservative with my selection of leaves, and in brewing, which turned out to be sensible. It was on the verge of turning into something unpalatable, but remained on this side of the curtain, and was all the better for it.

Spend $8 with any other factory and try and achieve this level of chubby satisfaction, I challenge you!