We're in the process of destroying the upstairs rooms in our house, before making a start on the destruction of the downstairs rooms. I headed up into a bedroom with my trusty wallpaper stripper to be confronted with the following sight.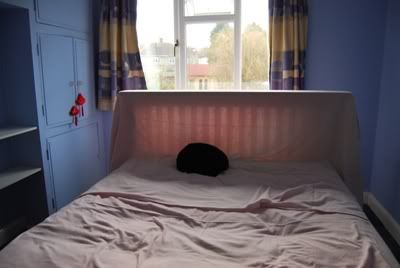 Nowhere is sacred.

Oh, 70s maocha. How do I love thee? Your long, chocolate-coloured leaves are coiled around unbroken, ossified stems. Absolutely no aroma of any kind is to be detected - but these are leaves that have drifted into deep slumber, and which awake with a powerful shicang [wet storehouse] aroma once rinsed.

(I really enjoy shicang pu'er.)

The orange-red brew, shown below, is a wee bit light, with nothing but that shicang aroma to be found therein.

What I love about old maocha is that sultry, luxuriant creaminess. There is a mighty cooling sensation in the mouth from this old fellow, which entirely dominates the first few infusions.

"This is like drinking silk."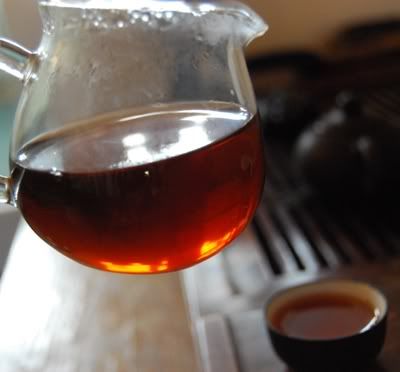 Chaqi, gentle and gradual, is eked out of the third infusion, and begins to act on my physiology. Warm, smooth, calming. My friends are convinced that "the weird old tea you drink is narcotic."

I often refer to my previous experiences with old maocha that indicates it tends to become worn out in flavour and aroma, but that the chaqi remains. This one certainly fits that pattern: it has a thick body, filled with
content
, but very little flavour apart from gentle shicang. It is so filled with
stuff
that the liquid slowly gloops its way down the glass of the gongdaobei [pitcher] - what a oenophile would refer to as "legs".
This is more about that super-soothing chaqi, and the extraordinary coolness in the mouth. It reaffirms a sense of well-being, somehow, and it is easy to imagine a Chan monk enjoying this as a tonic for meditation.
Delicious, in its special worn-out way. Many thanks to my mystery benefactor for this treat.