A few years back, Chen Zhitong and his brand, Chen Guanghe Tang, used to get a lot of press - primarily from
Houde
and
The Art of Tea
magazine in the Western-oriented market, if memory serves. We don't read much about it any more, and I wonder what changed. Presumably he's still out there. He gets a lot of press in Chinese literature!
Chen's teas have a reputation for being (i) nice, and (ii) expensive. The second point has put me off buying any cakes (for reasons of personal ethics, more than anything), but I've enjoyed several samples of his productions.
Little leaves
Thanks to KCJ for providing this sample, which is Chen's best guess at the blend of the famous 1950s Hongyin [red mark]. As pictured above, he's chosen little leaves for this recreation.

From the first infusion, the soup is yellow with hints of orange: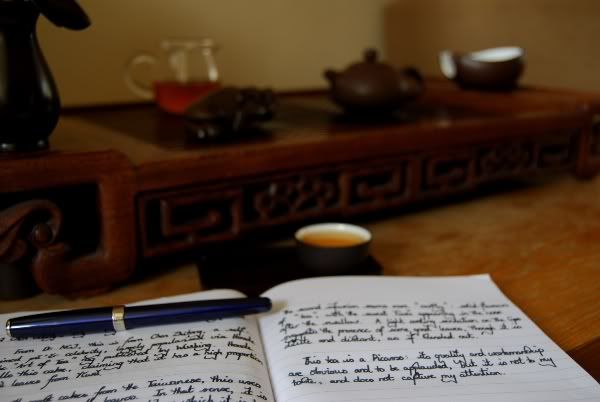 The long, chunky scent of Yiwu sweet leather reminds me that Chen knows his tea. As ever, it is satisfyingly thick. This particularly variety is almost creamy, and finishes well in the mouth. It's well-crafted.

Notes of fruitiness exist, mixed with the Yiwu. Alongside these, obvious tones of standard "Menghai". The individual components of the blend are quite distinct, and it's clear where one ends and the next begins.

This tea is a Picasso: its quality and workmanship are obvious and to be applauded, but it is not to my taste, and does not captivate my attention.

The world outdoors calls...