It's a small world. The tea-world is especially small, as I'm sure you know. One of my teachums, ST, lives in Singapore. "One of my friends is sending her daughter to law school at your university, and will be there next week", he wrote.

Days later, I find myself walking to the Lodge of my college to meet ST's friend and her daughter, recently arrived from Singapore. Such a small world...

"We thought you were one of the students!" she said. I take it as a compliment. Before five minutes had passed, we were tucked up in the SCR drinking Assam.

ST had asked the two Singaporean ladies to pass on the above to me - and what a treat it is. Thanks very much indeed! This is a Menghai special production, with not a "Dayi" in sight.

It's also rather sizeable, as you can see from the comparison below with a standard Dayi.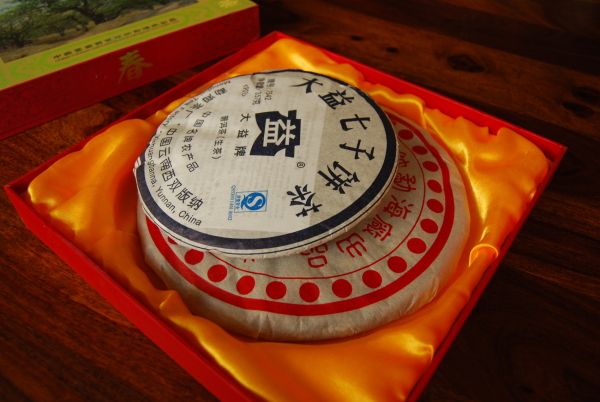 The fresh scent of the tea gives away its "yinhao"-esque status, which you can see below. The entire face of the cake is covered in tips, which run a little way into the cake, before turning into darker basis leaves.

Easily separated, it is a 50-50 blend of tips and darker leaves.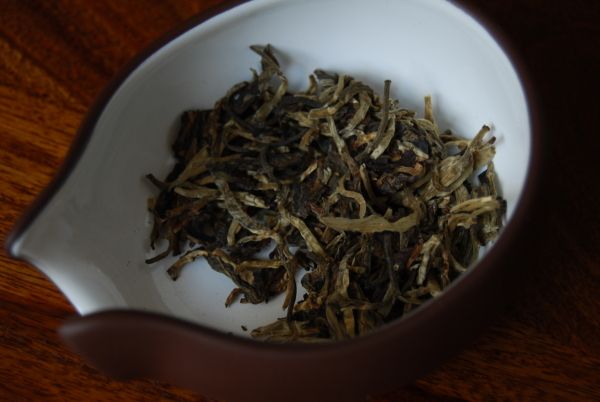 Sometimes, the darker leaves in yinhao blends are pre-oxidised, or "reddened", in the wulong manner. Happily, that didn't happen here: the dark leaves are clean shengpu, which is quite unusual (and much preferred). The freshness of the shengpu mixes well with the creaminess of the tips, and gives it a complexity that yinhao usually lacks.

The whole tea tastes rather like sweet pine, exactly as you'd hope a 6-year-old shengpu would taste. While lighter than ordinary shengpu, due to the tips, it is exceedingly enjoyable. Thanks to its enormous size, I don't see Lei and me finishing this in a hurry!

Thanks again to ST for the lovely gift, and welcome to his friend and daughter for the Michaelmas term.