Novelty cakes! They are as consistently appalling as one might suspect: shupu wrapped in tangerine skins, rice-scented shengpu, hand-braided leaves. Maybe you've found some beautiful examples of such creations - I would love to be proven wrong - but my limited experience indicates otherwise.
(I would probably include cakes made from huangpian and pure silver-tip yinhao cakes in this, too, were I feeling less charitable.)
Such was my prior assumption when faced with this 6FTM cake, kindly provided by Keng, which has "crab's feet" [pengxie jiao]. Far from being cancrine tootsies, as one might otherwise expect from the name, these are vines that wind themselves around the trunk and branches of the pu'er tree.
How does throwing vines into one's pu'er change its character? Let's find out...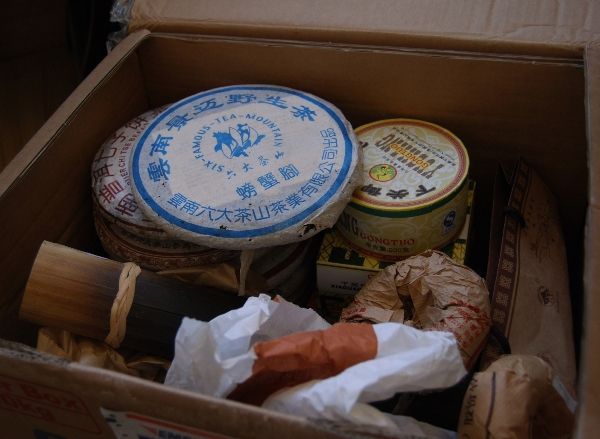 Ambassador, with your boxes of shengpu, you are really spoiling us
To be honest, unless the wrapper had told me, I would have thought this to be an entirely normal pu'er bing. Have a gander at the photograph below - do you see any crab's feet?
Stealthy crab's feet
When the leaves are broken up, the additions are revealed: tip-coloured fluffy entities that blend into the other leaves. The majority of the bing is, I am glad to report, made of tea.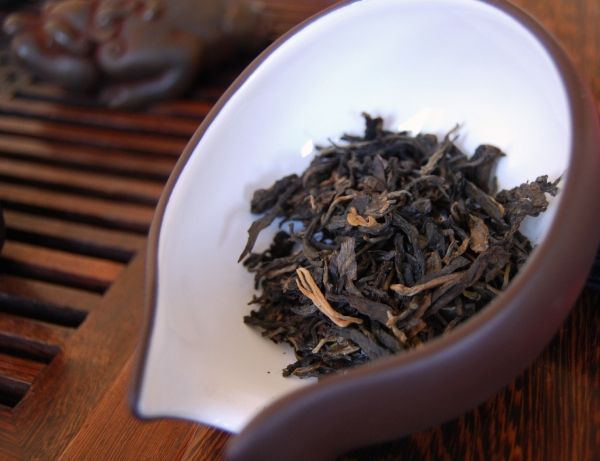 Good leaves, with a few other organisms thrown in for good measure
As far as the flavour goes, this is a very pleasant tea. It is sharp, woody, and powerful, not unlike the other older 6FTM cakes that I have described in previous recent articles. It is strong, vibrant, and properly raw. Maybe the crab's feet have contributed a little of the tar-like character that I associate with huangpian, but it's light - and rather complementary to the tea.
I am very pleased with these old 6FTM cakes. Happily, this crab's feet cake tastes more like good tea than a daft novelty production. It soldiers on and on (and on), and remains charming. Whoever has stored these cakes has done a very decent job. If only we could all be so fortunate with our storage...