Recently, Lei and I were fortunate enough to be visited by our teachum who goes by the name of "Apache" in them there Interwebs. Apache is our favourite biochemist in the land, despite the fact that he works in The Other Place. Nobody's perfect.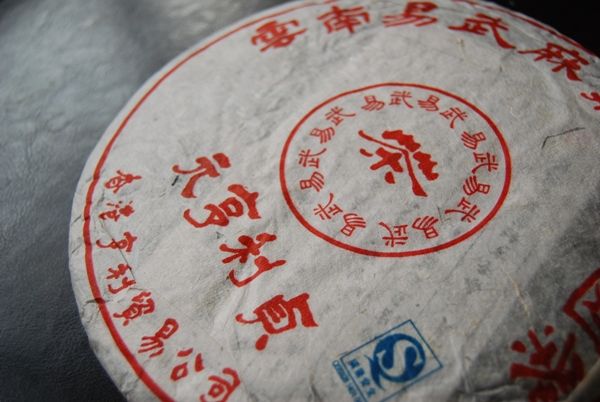 We marched through some fine brews of a 1960s Liu'an kindly provided by
Essence of Tea
(thank'ee again), which was smooth and enjoyable, and also enjoyed this 2009 cake from the Xianggang Hengli Tea Co., also known as "Hong Kong Henry".
Apache had bought this cake from Hong Kong's
Lau Yu Fat Tea Shop
[Liu Yu Fa Chazhuang to the non-Cantonese speakers] over the telephone, amusing us with stories about how the vendors weren't really very interested in selling a few cakes to a remote far-off island. Most of their business is local, and the Internet apparently holds little interest for them - I sympathise, being something of a Luddite myself.
I'm unsure if this "Hengli" is the same as the "Hengli" that produced the delicious
1997 Henglichang Bulang
sold by Essence of Tea (where it is sold under the name "Henlichang"). I don't believe that these two entities are the same, as the "Heng" character is different in each case. However, you never know. As always, I look forward to being proven wrong, should you have any further insight, dear Reader.
My only previous exposure to this producer was the
2003 Menghai "Hong Kong Henry" 7542
, sold by Houde. Amusingly enough, that tea was dubbed the "Scholar Tea" by the owner of Houde, which simultaneously brought a smile to my face and a heaving, wrenching feeling to my stomach.
You may be familiar with my feelings on the word "scholar" being used for the purposes of selling tea or books about tea, concerns of which I shall not bore you with any further.
I wasn't thrilled by the 2003 Houde cake, but I may have been alone, as I remember that many folk have thoroughly enjoyed it. I found it aggressively acidic, with little else of note apart from a background of molasses. It deserves revisiting, however, as it has been three years since I've touched it.
This 2009 cake, if anything, suffers from completely the opposite problem.
It is a charming cake, of that there can be no doubt. Apache, Lei, and I enjoyed its sweet body, notes of leather and grain in the finish, and a pronounced cooling sensation. However, the Hong Kong tea-world is abuzz with comments of this tea's gentility - is it too gentle to age?
On drinking this cake alone this morning, I came to the same conclusion: I had to use lots of leaves (200% of my normal amount) and employ long infusions to get some real character out of it. Pushed this strongly, it starts to object by getting a bit cracked around the edges; show it a gentler hand and it peters out to a thin, sweet yellowness.
I will continue to experiment with this little fellow until I get the best out of it - thanks again to Apache both for the generous gift of this cake, and the more generous gift of your company for an afternoon. Lei and I hope to see you again soon - perhaps we can arrange a "tea day" with some other UK-based drinkers, too.