Did you have a good Christmas? I certainly hope so.
Chrimble at my family home is an odd affair. I'm 6 feet tall, and am the shortest of the family, which is almost exclusively male - the odd female* is drafted in every now and again for the purposes of creating the next generation of thugs. Family meetings are like the reunion of a rugby club.
*Chinese, in my case, or Japanese, in the case of my cousin.
In keeping with this tradition of tall, violent males, I received the following charming gift from my youngest cousin:
Look upon my ale, ye mighty, and despair
This is a "yard", much beloved by students for its ability to contain approx. 2.4 litres of (typically quite grim) beer. Thus, after fuelling ourselves on a large Christmas lunch, it was only natural that the twenty- and thirty-something males in our brood ended up on the farmhouse doorstep timing one another in the consumption of unpleasant Belgian lager*. Amusingly, the family record for consuming the yard is held by my female cousin, Naomi, who now has a family of two children of her own (both of whom are tall, violent boys).
*If indeed one could call Stella Artois a Belgian lager (and which is colloquially blessed with the charming pseudonym "Wifebeater" in the UK).
Of course, despite picking up bad habits at university, the men in my family, being English, are naturally uxorious. It is the women in the family who hold the real power, but our wives and girlfriends allow us the illusion of freedom. It is telling that I write this entry in between running to a nearby room to ask if my dear wife needs help with Xiaohu.

Christmas was an excellent opportunity to introduce the Big Man to his relatives.
His royal cuddliness, the Marquis des Chubs
There is, as I often write, no place like home. As always, I conclude that the purpose of travel is to remind oneself of how much one adores ones home. If an Englishman's home is his castle, then allow me to introduce you to our newly-refurbished Keep...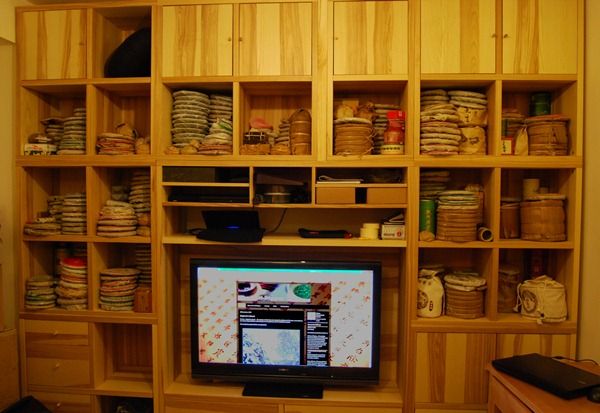 Has it come to this?
"Whatever you do, don't let Chinese Mama see that." Such was the advice of my dear wife, who shows remarkable tolerance of my tea habit. Our collection is quite humble in comparison to those truly mighty hoards amassed by many in the world of pu'ercha, but it is getting a bit sizable, nonetheless.
I keep an inventory of our cakes, primarily so that I can remember what it is that we have on our shelves, but also as an amusing game of observing how the prices have changed since we bought them. The spreadsheet reports that the total cost to us is now a number I'd rather not consider, which is terrifying. Though I wouldn't sell them, and don't believe in collecting for any reason other than drinking, I often wonder at their current value. The majority are younger than 2003, so perhaps the difference in value isn't too great.
As I unpacked our cakes onto the shelves, I realised that most of them had been stored in large boxes for the last three years. Due to constant house moving and refurbishing, it has been that long since I've been able to access the entire lot. To see them all together is disconcerting... but the room smells brilliant.