Regular readers may remember my eternal, unfulfilled quest to find a solid Lapsang Souchong. I have come very close; the delicious
2010 Zhengshan Xiaozhong from Essence of Tea
was a marvellous hongcha, full of elegance and beauty - but it wasn't quite an Englishman's lapsang. Likewise, I was sent a charming version from Canton Tea, which has perhaps been the closest to what I'm after, despite its rather excruciating price.
My long-time Singaporean teachum, Keng, took pity on us, miserable offenders, and sent a few different types of lapsang with his last package.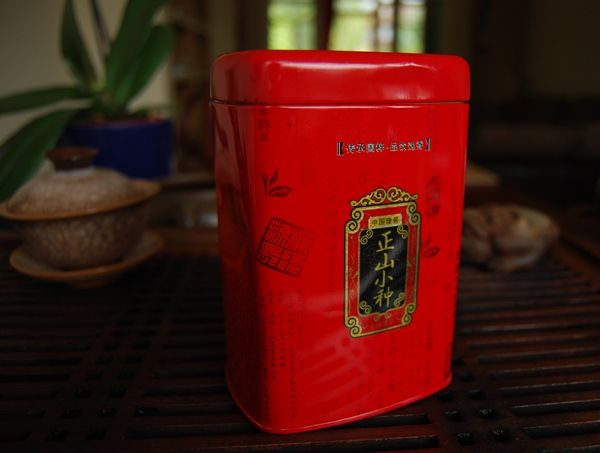 The tin contains a sealed, foil bag, which is home to a tippy, blank hongcha that has a satisfyingly grape-like scent.
When brewed, it becomes pure, liquid pine. It really is rather pine-like. As I'm sure you know, lapsang souchong is made by smoking the leaves in pinesmoke. It traditionally comes from Xingcun [hshing-tsun] village of Chongan county, in northern Fujian.
It is full of charms, and has a dense, rich body. In my diary, I wrote "smooth, long, and satisfying". The hongcha base is excellent, and it reminds me very much of the 2010 Essence of Tea version. This, like the latter, is a classically beautiful tea. My wife comments, "Very fragrant - excellent hongcha".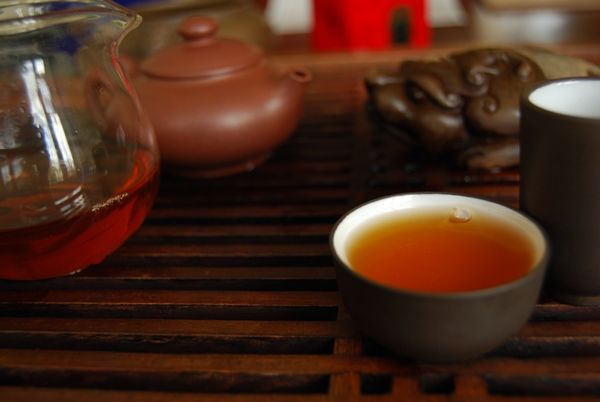 I appreciate that showing photographs of a tea of which I have no idea where to buy more may be less than ideal. Even less ideal, then, will be the statement that Keng also provided a tub of lapsang from a local teashop called "Tea Chapter", and this latter is actual Englishman's lapsang - it is properly smokey, and less delicate, than these other fine hongcha.
So, in a way, my search is over. Thanks to Keng, the tub of "Tea Chapter" lapsang (not shown here) is my perfect way to unwind if the mood for such a tea takes me. That said, both this delicious red tin of lapsang, and Essence of Tea's 2010 and 2011 versions (more on the latter later) are working on my affections: they really are too good not to consider. They are more delicate, and more like hongcha, than Englishman's lapsang, but they are remarkable.
Thanks again to Keng for the fantastic selection. Lei and I have enjoyed these very much; lapsang is, coincidentally, one of her favourites, too.