Brunei should be a good place for tea. The nearby Malaysian region of Sabah grows decent tea; Brunei itself is a tiny country at the northerly tip of the rainforested island of Borneo. Oddly, tea culture hasn't really caught on.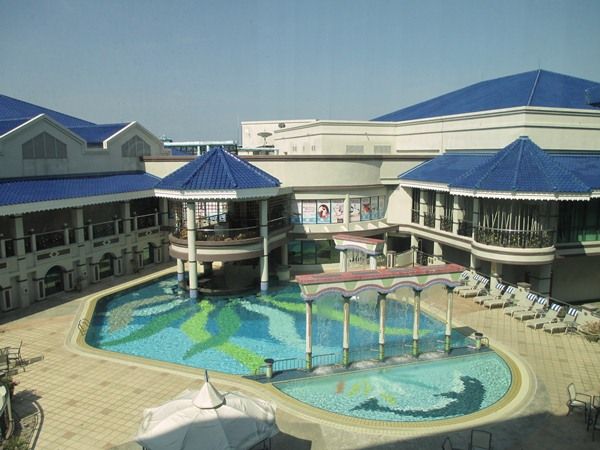 The view from my hotel room - a bit different to Oxford...

What has caught on in a big way is: (i) the absolute authority of His Majesty, the Sultan; (ii) Islam as a state religion which reaches into many aspects of private life; and (iii) huge income from oil and gas.
This latter causes it to rank sixth in GDP per capita, of all the world's countries. The formal name of the country is a clue to the feeling here: "The Abode of Peace". All of this is contained within pristine, virgin rainforest. Brunei is unique, and takes some understanding.
If you're going to build a mosque, giving it 22 domes made of gold is a good start
The country is in parts Malay in outlook and temperament; Islamic in structure and regulation (alcohol and public dancing are illegal); tropically Asian in situation; and oil-rich in national affluence.
You don't get palm trees and opulence of this magnitude in England...
The main university, an example building of which is shown above, is really rather special; most of the buildings have been constructed recently, thanks to the munificence of the Chancellor who is (you guessed it) His Majesty, the Sultan*. The style is south-asian, and yet this is combined effectively with modern materials and design. When the vice chancellor said "money is no object", you begin to see evidence of that statement in every building on the rather huge campus.
Amusingly, the monkeys come out of the rainforest at night and make a nuisance of themselves...
*His Majesty is also the Prime Minister, Minister of Finance, and Minister of Defence. He is also admirably capable as a ruler, and seems to care genuinely for the well-being of his subjects, who lead a comfortable life.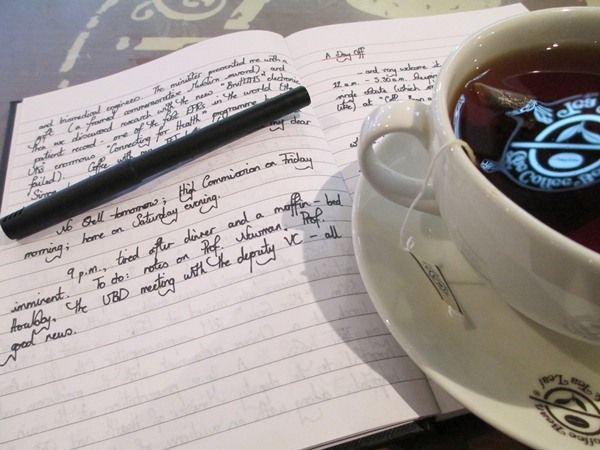 You have to look hard to find decent tea...
What little "down time" was granted to me by my hosts was spent in a coffee shop, getting to know the imported Darjeeling (pictured above). Tea is more of a background commonality, here; coffee is granted a degree of status, perhaps due to its relative novelty.
Indeed, much what "tea culture" exists here is that which we left behind - Brunei gained full independence from the UK in 1984. You can see other relics of our influence, including the fact that most educated inhabitants of the country took their university degrees in England. The cosy scale of the country is shown by the fact that even the presence of a humble dogsbody such as myself resulted in an appearance on state TV, and a couple of articles in the national press. Truth is, as ever, stranger than fiction...
Despite all of its oddities, Brunei is quite charming. Pictured above is a typical scene from my favourite coffee shop, which reminds me that, despite geography and culture, most people of the world are fundamentally similar.
All we want is wi-fi and the ability to post embarrassing photographs of our friends on Facebook.