Following the
first set
of samples from
Yunnan Sourcing
, this article collects notes for the second and final quartet, presented in the semi-random order in which I encountered them.
---
By chance, "Beta" is the colloquial English name for Stella Artois, a name that I will not explain here (although, for correctness, it should be spelled "Beater" in that context). Stella has a reputation for being bottom-of-the-pile lager, and has been associated with causing extreme violence in those foolish enough to imbibe it.

While the Yunnan Sourcing "Beta" did not turn me into a violent thug, it did share some of Stella's straightforward and unassuming qualities.
The small, fragmented leaves seemed amusingly familiar. My journal has "I feel as if I should recognise this tea, and wonder if it is Lincang."
I found it to be a touch rough, and green, with some low tobacco underneath. I must confess that it was perhaps a little too lo-fi for immediate enjoyment. "Not great", my journal records. It is OK not to be great. Not everything can be great, after all. Despite the lessons taught to us by the modern world, there are many things that are not great, and very few of them are valueless. Sometimes, it is OK to attenuate the hyperbole.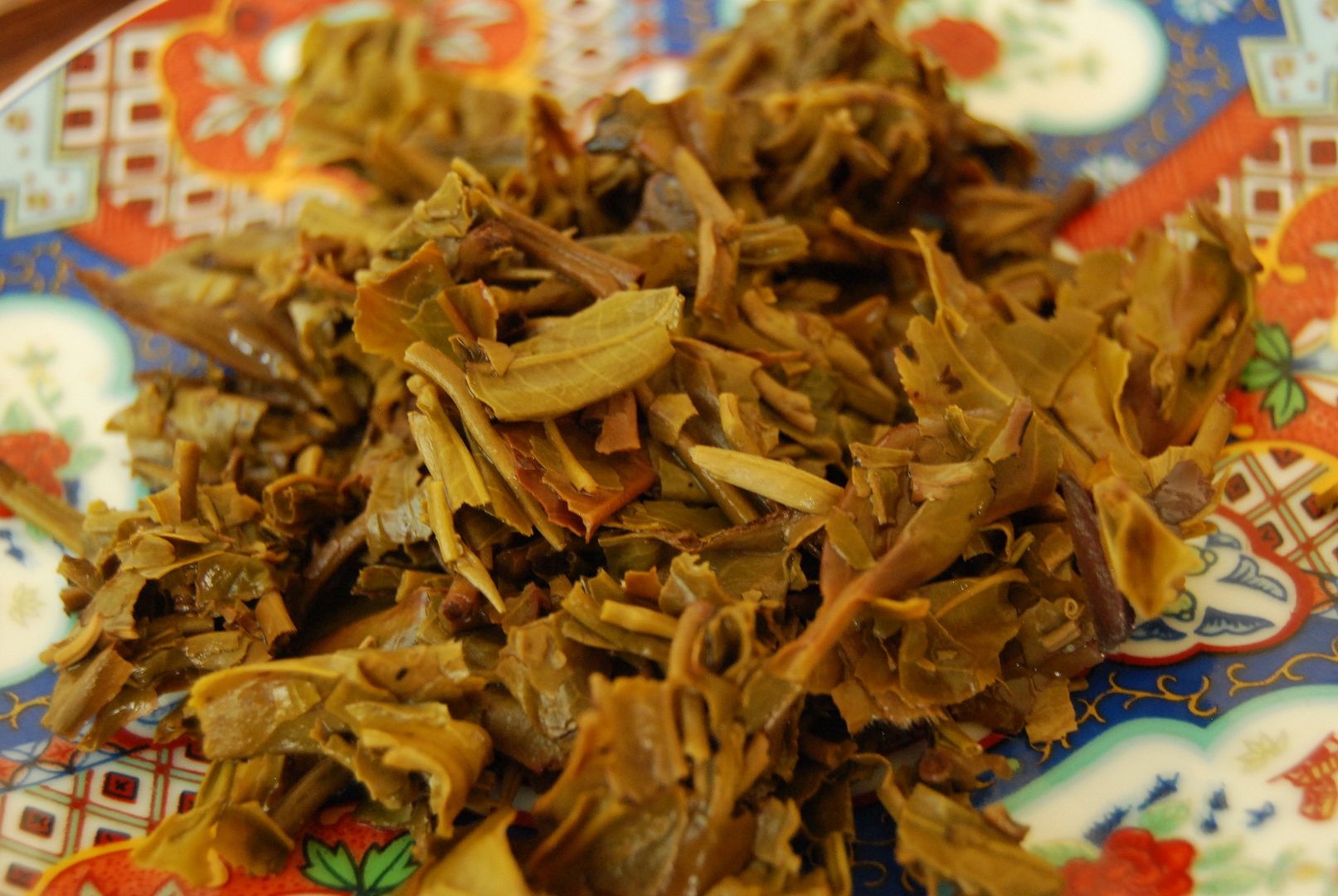 Scott revealed this to be none other than the 2013 Yinxiang (or "Impression") that I tried earlier this year. Checking the ol' Half-Dipper queue, I see, however, that the article for that cake is still to come. However, you can probably guess its contents, given the above. The "Impression" is an unbranded cake sold at a rock-bottom price for those who might wish to re-sell it.
For the extraordinarily low price ($13.50), you get a clean and straightforward cake, without any frills. It is the "Easyjet" of pu'ercha, and very good for "everyday" tea. I should feel happy at being able to identify the Lincang component (which is blended with Simao), but I suspect that having seemingly tried the cake before does seem like cheating.
---
We have no beers called "Sigma", and I therefore have nothing to which I might compare this next cake. Sigma sounds like a great name for a beer, to me, which reminds me to start my own micro-brewery.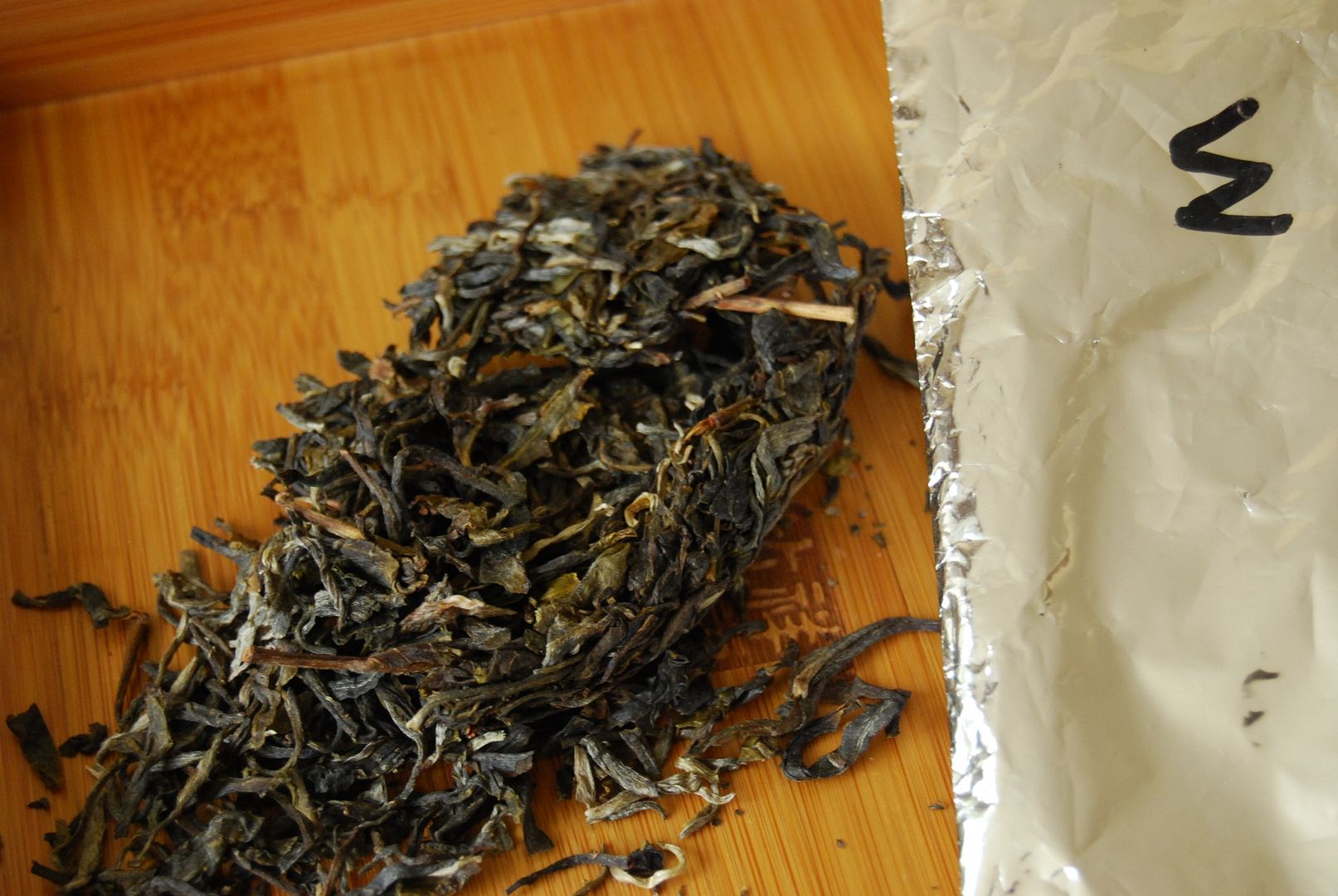 My journal records an initial observation that "This Sigma sample has lovely long leaves and looks rather expensive."
This cake did not immediately grasp my attention; I found it to be solidly sweet, with a reasonably thick body, and containing an edge of kuwei [good bitterness]. I wrote that it is "simple, not the expensive cake that it otherwise appears, but it is fine nonetheless." It lasted about five or six infusions before its gentle grassiness, akin to lucha, moved me onto the next sample.
It turns out that this is indeed a rather costly cake, being the 2013 "Dasi", costing $85, referring to a village near Fengqing in Lincang prefecture. I may have been pre-occupied, and therefore not concentrating on this cake, but have to confess that it didn't really grip me. Ordinarily, I am the sucker's sucker when it comes to Lincang cakes.
---
...unlike the "Mu"! Suddenly, the pu'er session changes gear and immediately gets mighty serious.
Although you wouldn't expect it from the photograph below, this cake is so fresh that the initial infusions appear almost green in colour. Green! It has the low beaniness of "outlier" tea, and I suspect that we are outside 'Banna by now.
Actually, according to my journal, I drank this tea on my birthday - I must have been in a good mood, therefore, and that always helps a session. The flavour is heavy, grassy, floral sweetness which is really rather decent. It hangs in the throat well, and leaves a very decent continuation after the swallow.

Impressed, I took the remainder of the sample to my lab to enjoy on future days - each time that I came back to it, I was likewise drawn to its heavy, "country garden" sweetness. It is lively indeed. My journal for a later day has "I look forward to finding out the identity of this tea."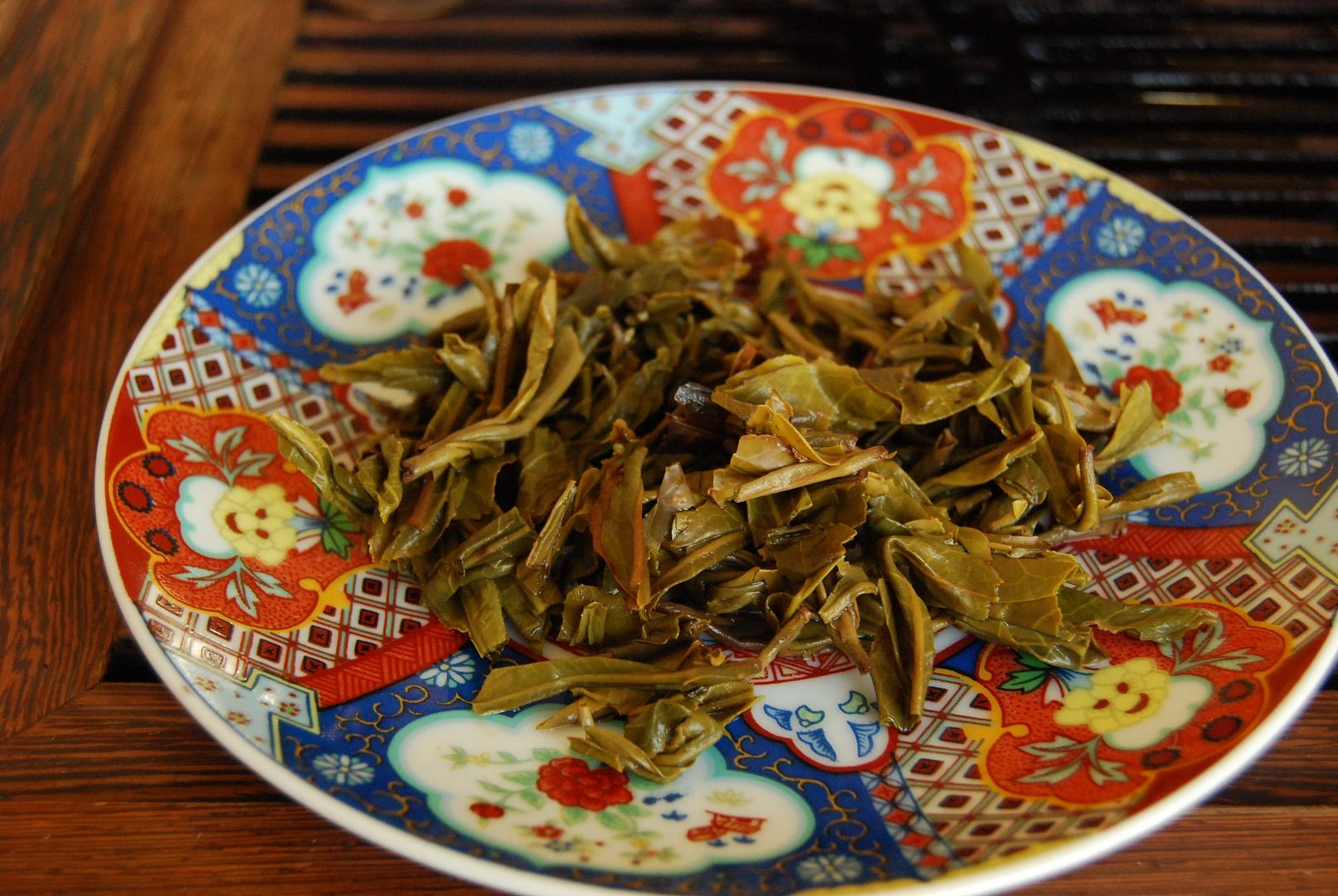 This turned out to be a cake from Nanpozhai, a village near Bingdao in the Mengku region, making this a Lincang cake - very much "my thing". The web page has a price of $72 for a full 400g cake, which is quite appealing to me. I suspect that I will be browsing back to that page in the near future...
---
Finally, the "Nu". I eventually managed to get the packet back from Xiaolong, who was fascinated by its crinkly, silver surfaces for about half an hour. When you are six months old, shiny tea packets are artefacts from another dimension.
It turns out that I completely mis-classified this tea, but, looking back, I can see why that occurred. I found it to be a dark-sour sweetness, in the genre of old molasses. I attributed this to a particular genre of Yiwu-region tea, given its dark-straw base - and that was the error, for this turned out not to be an Yiwu tea at all.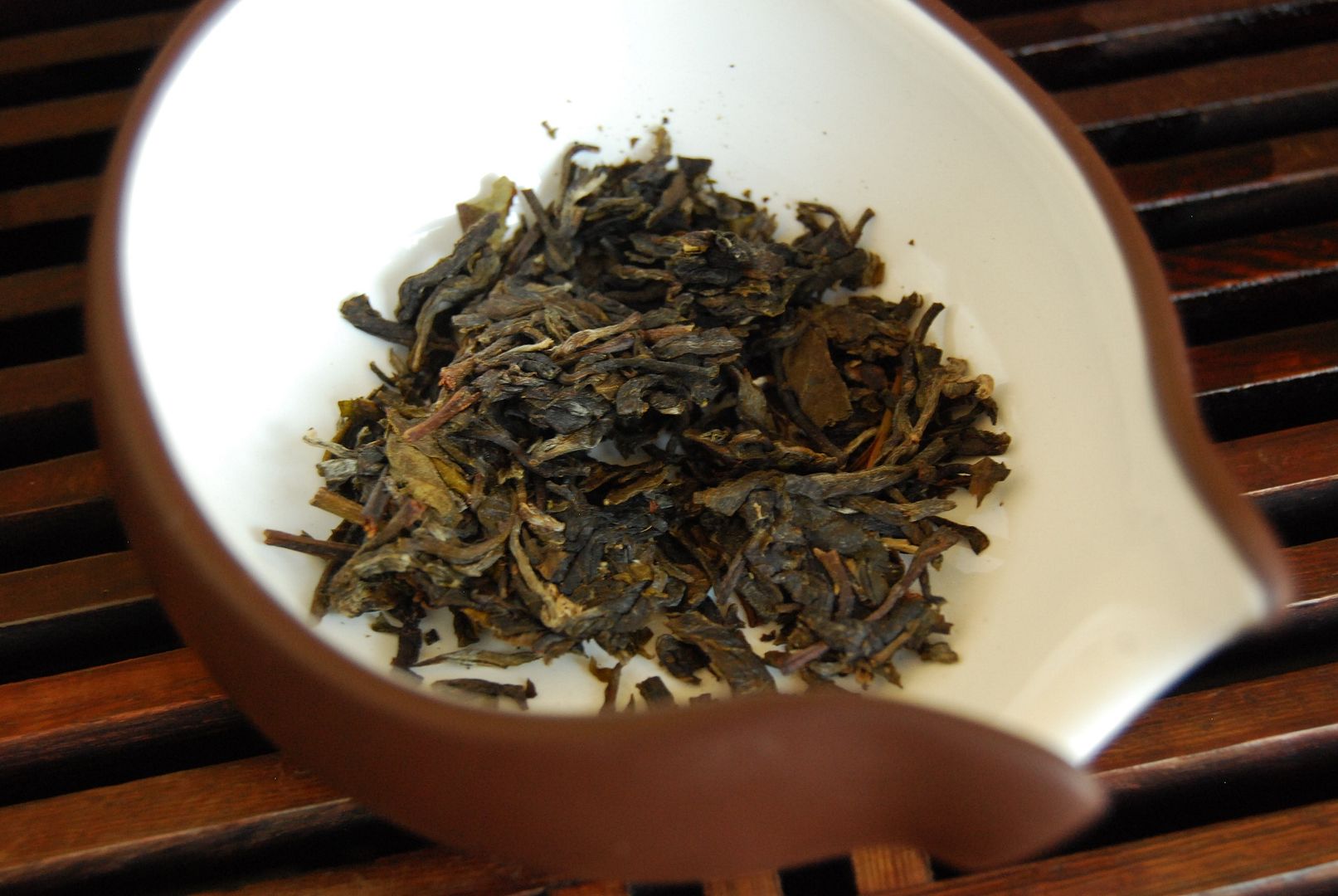 It picked up its pace after the first few infusions, taking a while to overcome the rather tight compression that impeded its delivery in earlier infusions (which is no bad thing). It was a touch husky, and seemed very familiar, but I must have been half asleep.
Scott revealed that this is his Jingmaishan tea, which sells for a very reasonable $45. I typically dislike Jingmai tea, primarily due to that sour-sweet molasses base, which is typically hidden, in earlier years, by a lanxiang [orchid-scent] impression. I didn't notice the latter in this cake, but, after looking back with the knowledge that it was from Jingmai, could easily detect the former, in hindsight. I'm probably not the best person to comment on teas from this mountain, given my tastes.
It was clean and, as with all of Scott's cakes, well-made. I have been scared away from Jingmaishan after encountering innumerable dodgy cakes attributed to that region, and perhaps this cake suffered unfairly because of that comparison.
---
So, then, the best of this bunch for me was undoubtedly the "mu", a.k.a. the Nanpozhai from Mengku in Lincang. I would take the "kappa" (a.k.a. Wuliangshan) from the previous set as being my overall favourite, but this Nanpozhai is certainly worthy of the runner-up "Castor" prize, which may be enjoyed in all its spandex-clad splendour below...
I keep dropping hints about a TRON outfit at home, but these hints are failing
All that remains is for me to thank Scott of YS for putting together a very generous sampling of this year's cakes, which have proven to be a thoroughly enjoyable experience. I look forward to comparing notes with you, Gentle Reader.