Attitudes to food and drink vary geographically, and according to socio-demographic groups - typically education level, in OECD countries. I think it is fair to say that awareness of the benefits of eating healthily is becoming more widespread. Most tea drinkers, for example, have some sense of looking for good products, and in avoiding the consumption of additives that might be unhealthy.
This desire to "eat well" is mixed up in a whole heap of social and cultural complications. In the US (and, increasingly, in the UK), the general public seems to be hooked on "low quality" foods. I cannot speak for other countries, but in England, in which I hold a personal interest, recent studies have shown that this tendency to consume "lower quality" food and drink is most prevelant in low-income, low-education level populations. Consequently, higher rates of obesity, hypertension, and lower life-expectancy are associated with these groups. Those groups with "stressed income" are especially likely to be malnourished and consume fast food, as reported in a recent OECD study.

In the UK, and perhaps in other Western countries, our ability to detect unhealthy ingredients in food may be diminished by a diet already heavy in pesticides, fertilisers, preservatives, colourings, and flavourings. I cannot imagine that someone who has been raised on pizza and fried foods would be particularly sensitive to the presence of small quantities of pesticide in their tea, for example.
In China, the effect is different: culturally, the Chinese prefer "whole food" products, prepared by hand. The average Chinese has a rightful disdain for the diets of Westerners. It is not by accident that the majority of Chinese seek out Chinese food when they are abroad. I have seen, time and time again, visitors from China entirely revolted by Western food.

However, this effect in Chinese from the Mainland is complicated by the fact that their food, water, and air are poisoned - sometimes literally. Most of my Chinese friends who still live in China are now unable to detect the presence or absence of additives in their food, such is the ubiquity of pollution and agrochemicals. Indeed, "food safety" came just under "water safety" and "corrupt officials" in a recent (official PRC) survey of popular opinion, reported in The Economist. My wife refuses to let our sons travel to the Mainland until they are five years old. My wife's family regularly recounts the latest food-safety scandal to effect everything from rice to garlic. Only the largest, child-killing scandals such as Sanlu's milk poisoning tend to be reported internationally.

So, I maintain, whether in the West or the East, for different reasons, there are factors that serve to prevent some of us being able to distinguish the presence of pesticides and fertilisers.
Perhaps it might be useful to contribute my own standing at this point: I am not a "health freak". I was, however, raised in the countryside, with a robust diet of home-cooked whole food, and in an area with minimal pollution. As a student, I spent a good decade abusing my body with all manner of the usual student libations. As a father and a professional, now in my thirties, I am back to my usual diet of "straightforward living", kept on the straight-and-narrow by the kindly ministrations of my dear (Chinese) wife, which keeps the quantity of additives in my diet to a minimum.

Additionally, there is a genetic trait in my family that predisposes us (all men, oddly enough) to sensitivity to most allergens. I inherited this from my father, who was a colonial British growing up in Zambia and Kenya; in turn, I have passed this sensitivity onto my youngest son, Xiaolong, who has my white skin, allergies to most things, and eczema. (It skipped my eldest son, Xiaohu, as he seems to take after his mother, having her Chinese skin and a lack of allergies.)

This combination of (relatively) "straightforward living", a clean environment, and a sensivity to allergens makes me quite sensitive to the presence of agrochemicals in tea.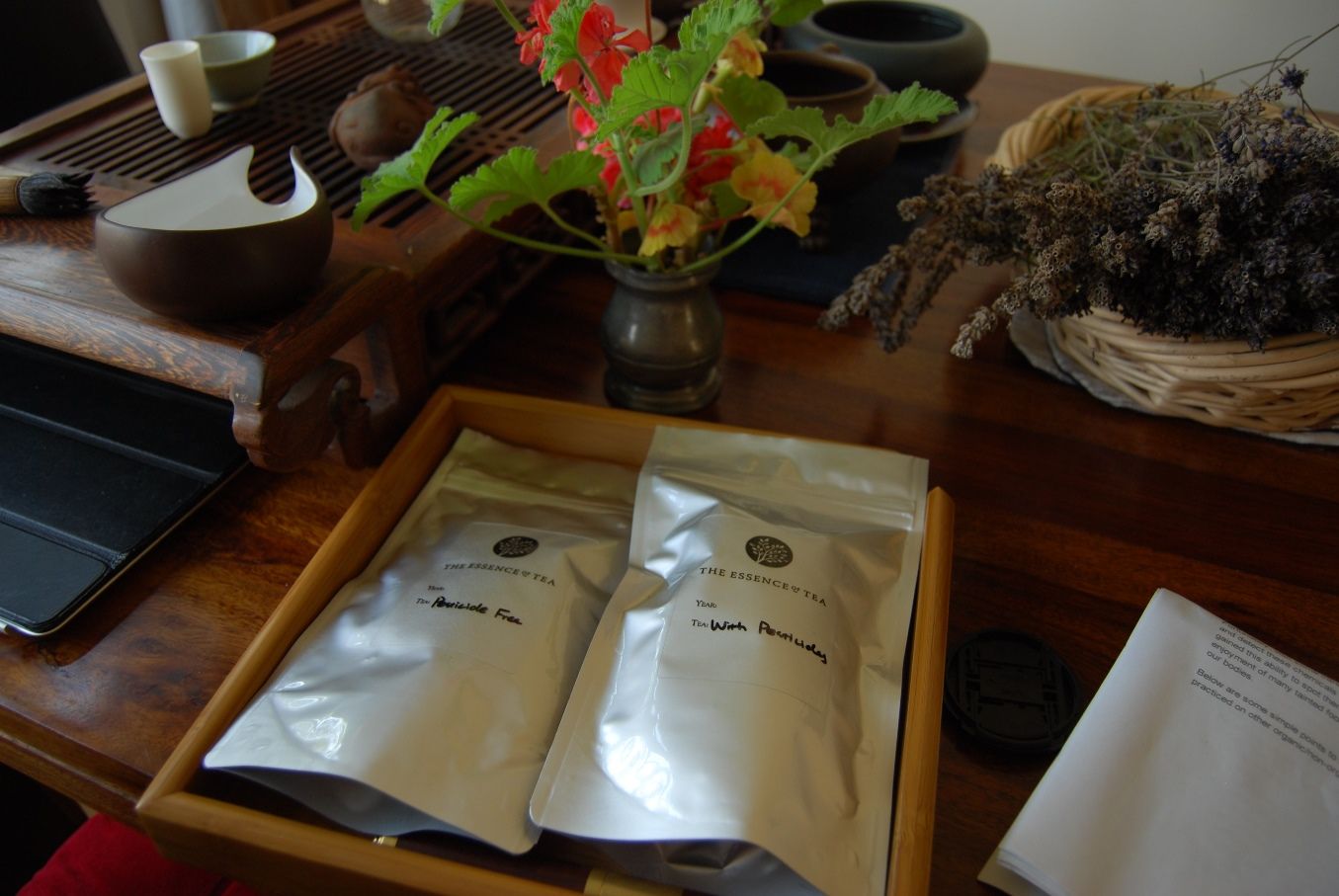 Shown in the first three images for this article is a cake that I tried recently which was remarkable. It actually tasted like "good tea", in terms of its leaves, but the very first sip filled my mouth with a cloying, freezing sensation that reminded me of getting old-fashioned hairspray in my mouth (of the kind that my grandmother used). My lips felt as if they were being constricted; the tip of my tongue throbbed; the sensation stuck tight to the sides of my mouth. I rinsed my mouth several times, and, despite trying to shift the sensation throughout the day, it lasted many hours - even later, when I went to work in my lab.

It turned out, following a later lab test performed in light of my suspicions, that the tea contained a number of pesticides, in quantities between 10% and 78% of those permitted by the EU regulations to be present in tea. These are the "MRL"s, or maximum residue levels, and which are typically more strict in the EU than in, for example, the USA. That is, the tea was "legal", the pesticides were within limits, but they were entirely obvious and absolutely negative in their effect.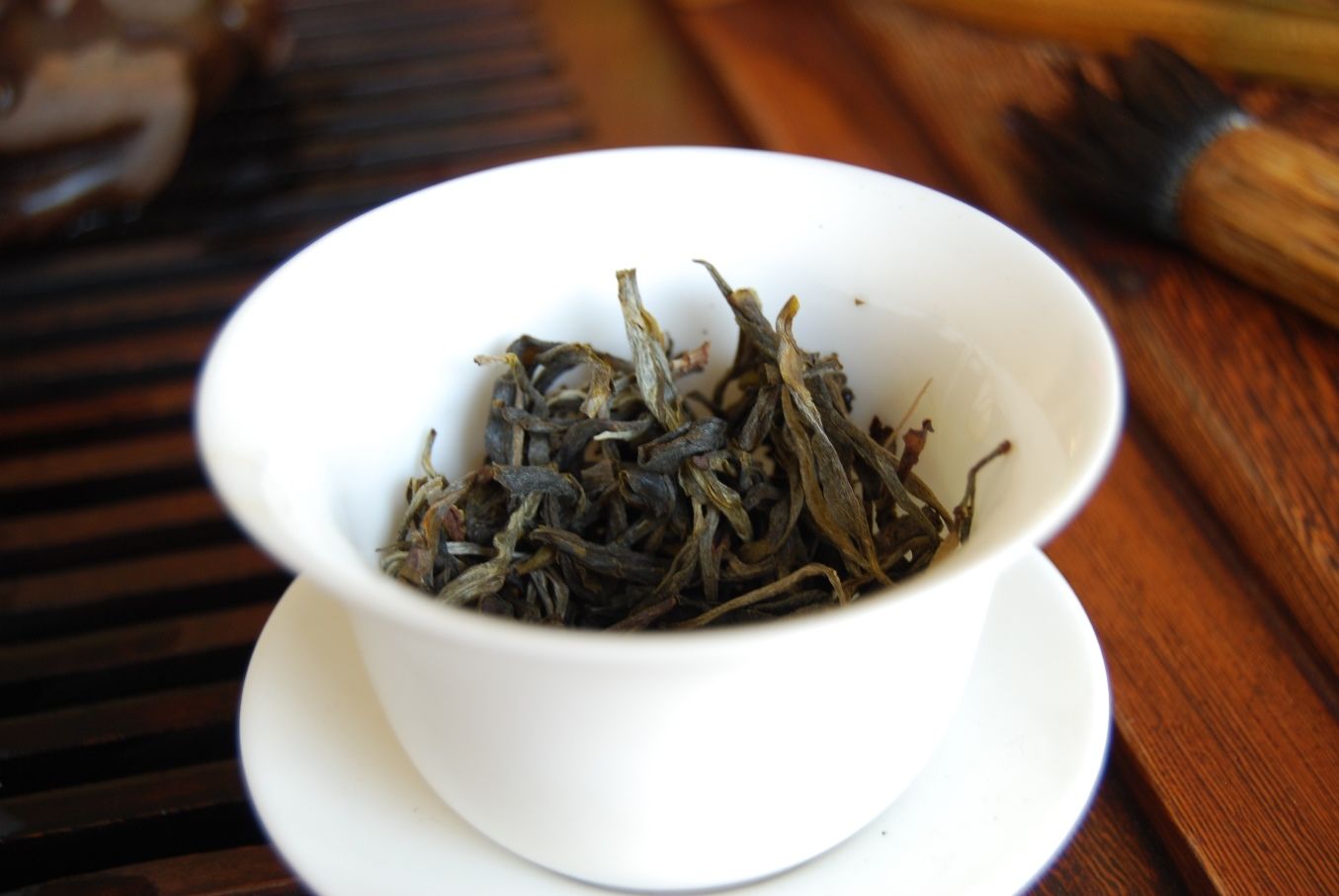 Shown also in this article is the "pesticide tasting sample" from
Essence of Tea
, which Mr. Essence kindly sent to me, and which may be bought from his web-site. The accompanying lab report shows that the tea is 2013 Zhenyuan pu'ercha, and that it contains omethoate at 0.02 mg/kg, where the EU limit (MRL) is 0.05 mg/kg. Again, this is "legal" tea...
(I am happy with the £15 price for the tasting set, because the lab test is expensive.)
You can see from the above photograph that this is maocha. When taken as a whole, in the large sample bag, I can smell only a dense fruitiness. However, when turned out into the gaiwan, the leaves have a background scent reminiscent of sour nicotein.
The rinse, pictured above, generated a definite scum. While many teas have saponins that, my definition, result in soapy bubbles, they are quite different to "scum".

The persistence of this clinging scum is apparent from the photograph below - the scum does not rinse off, preferring to cling to the glazed lid unlike saponin-froth, and which requires a cloth and some actual manual scrubbing to remove.
Even after the first infusion, noting that the tea has already been rinsed (with long duration), some of this scum remains, and gets caught in the filter that I use to strain leaves from the soup before they hit the gongdaobei [fairness cup]. This is highly unusual - most teas at this stage, even if they have saponin-froth, are clean by the first infusion.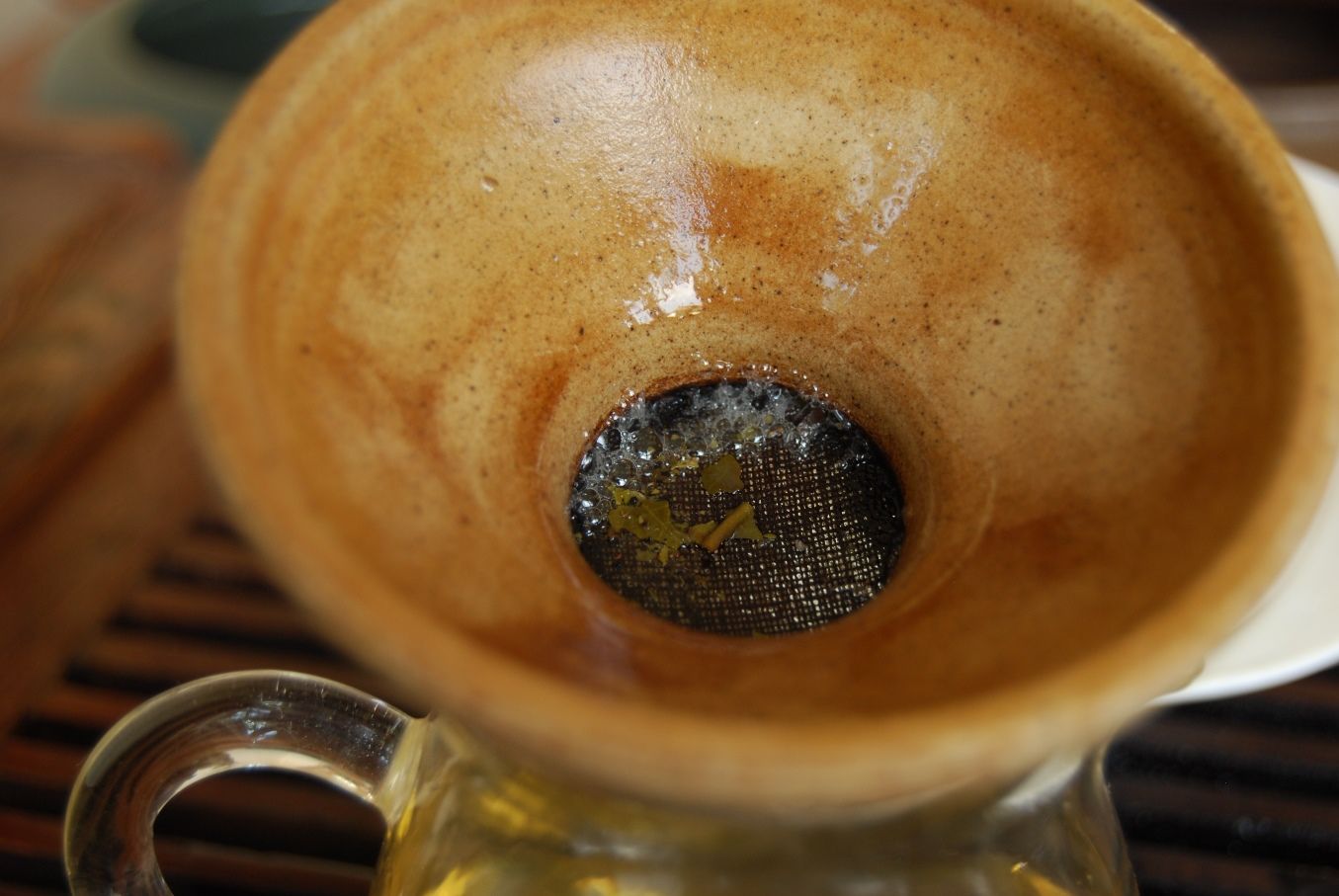 The resulting soup has no real scent. The first sip slams into the lips and tongue just like the hairspray-effect of the cake described previously. It adheres to the lips and cheeks, freezes and numbs, and constricts in exactly the same way. It is this tightening and drying of the tissue that is particularly obvious.

After that single (perhaps 5ml) sip, I discard the result of the brew and wash the teaware with soup and water.
Note that both of the teas that I described in today's article were
legal
, even by strict EU standards. A recent
Greenpeace report
(from 2012) described the random sampling of a number of mainstream Chinese teas, the majority of which were found to contain pesticides, a large number of which were found to contain pesticides
banned
by the PRC (but which were legal in the EU, oddly). Amusingly, one of those latter pesticides turned up in the lab report of the first cake that I described.
So, the big question: what are we to do?
One extreme reaction is to swear that we will never drink anything that has come from the Mainland. For example, we might drink hand-picked Mexican herbs that look very much like narcotics, as pictured above (thanks to HC - how that got through customs I will never know!).
We just have to be sensible. A more realistic solution is to exercise some sensible quantity of discrimination. Depending on your existing diet, environment, and exposure, you may be more or less sensitive to the effects that were entirely, lip-searingly obvious in the samples described in this article. Have a crack at the Essence of Tea sample, and see how you get on. Just don't use your favourite zisha teapot.
As for me, I make it a rule to avoid Mainland green and red teas (lucha, hongcha), as the use of agrochemicals in such crops is ubiquitous. My tastes prefer pu'ercha, where, fortunately, the use of such chemicals is not guaranteed.
If one were to
maximise
one's chances of buying pu'ercha that contained pesticides, it would be through buying modern tea (probably 2006+, including the pu'ercha bubble of 2006 when yields increased dramatically) and buying from low-quality labels (CNNP, Haiwan, etc.). However, the use of pesticides is not limited by year, quality of label, or quality of leaf. Just because a tea is old, or "gushu", or made from a vendor you like, does not mean that the cake is immune from a farmer contributing a rogue batch to the mixture.
Ultimately, we must train ourselves to be able to discern the good from the bad. An important part of that process is sharing our findings with others. So, for the good of the many: keep writing, tea-writers.
For completeness, I have updated my notes for the 2012 Bulangshan from Essence of Tea, which forms the "without pesticide" sample in this set.