How on earth I managed to have entirely missed a sample of "XZH" is beyond me, but missed this 2005 Youleshan I appear to have. Its presence, nestled in the far-off recesses of the darkest parts of my collection, suggests that I have had it some time - as does the layer of dust. Today, archaeology!
I need something low-risk today, and nine-year-old Xizihao fits the bill. I have just finished preparing for my first University-level examination, in which some poor student gets to spend three hours with me and an external examiner, dressed in comedy Elizabethan costume, defending his work. As if rebutting our probing questions weren't bad enough, doing it in comedy clothing really takes the cake.
This cake seems to contain a little of everything: basis leaves, huangpian [yellow flakes], furry tips, little stems. Perhaps "rugged" would be a good description of the maocha used to make it.

As ever, Sanhetang, the producers of this brand, demonstrate that they know how to press leaves: the result is thick, strong, and sweet. Despite the fact that it has spent its existence in a tiny paper bag, here in England, for its life, the leaves have aged well. There is a clean, orange soup (pictured below); the character in the mouth has a solid base of dark pu'ercha, with a long, unhurried fragrance of orthodox 'Banna tea.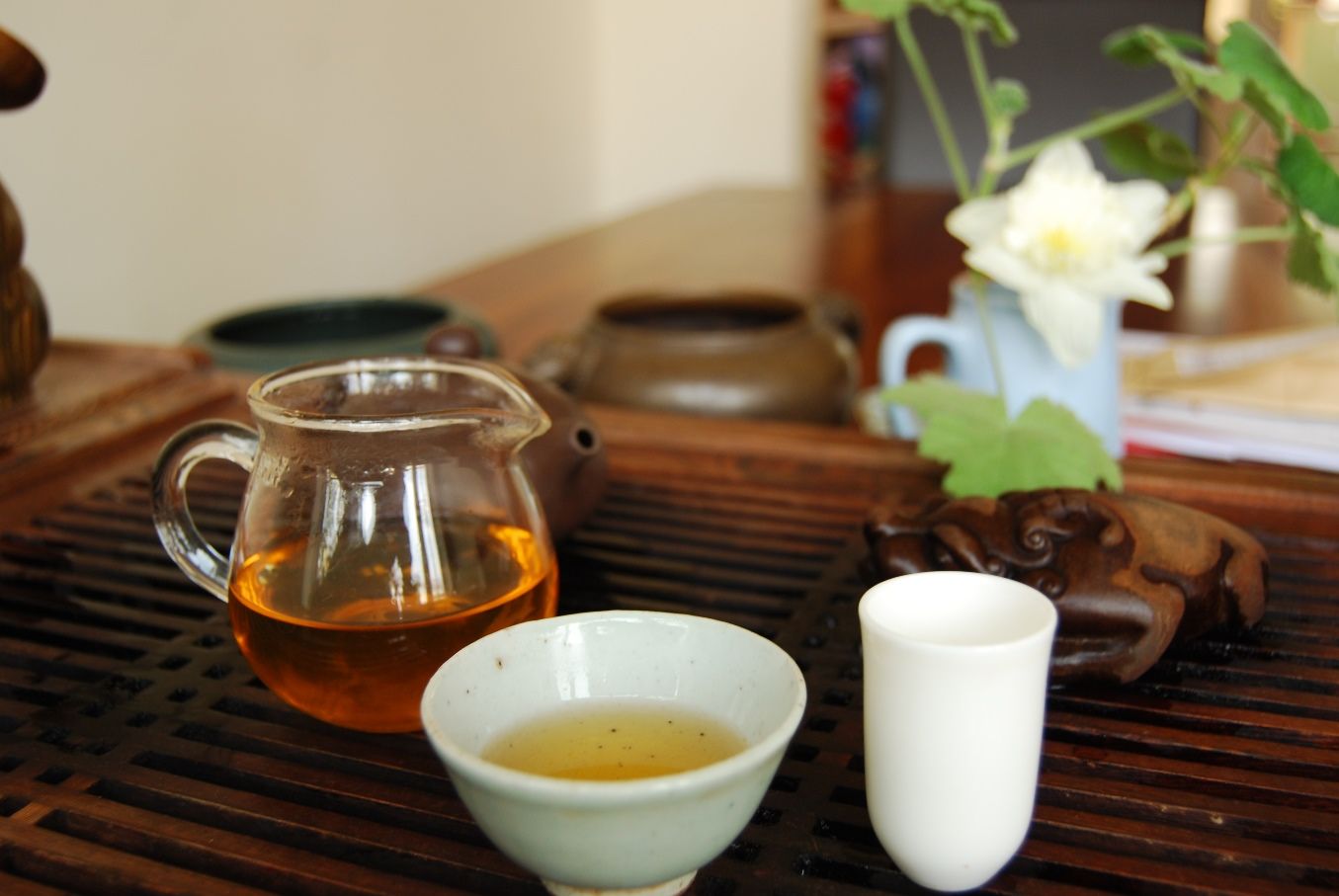 After some infusions, I conclude that this tea is not outstanding - there is a tangy note that I do not enjoy, that has crept into later infusions, along with the naked roughness of plantation leaves. I am just about resolved to ditch this tea and try something else and then think: "No, this is today's tea, and I am going to stick with it." There follows a further dozen infusions that are generically sweet; brewed carefully, the plantation notes can be contained. It is not Xizihao's finest hour, but it is not without virtue - particularly during those first infusions.