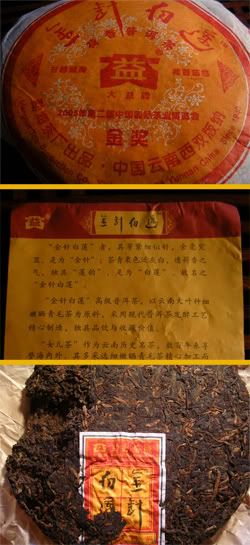 Wrapper:
"
Jinzhen
Bailian
" [gold-needle water-lily]
"
Hexiang
[lotus-scent]
pu'er
cha
"
"2005 2
nd
Chinese Tea Industry Exhibition"
"
Jinjiang
" [gold prize]
Neipiao
:
Obvious golden tips; water-lily [
bailian
] scent.
A 250g
xiaobing
from
DV
[many thanks again, Dustin - it's delicious], originally $23 from
Houde
.
Caledonian

Springs @ 100C in 12cl

shipiao

for

shupu

; ~5-6g leaf; 2 rinses
Dry leaves:
As the name suggests, plenty of short, golden tips. The scent is light and clean, and fairly floral.
12s, 20s, 30s, 45s, 60s, 90s:
"Strong bass note." Buttery
beidixiang
, followed by a long, low
shupu
lengxiang
- boding well for its endurance?
"I can see why it is
bailian
from the floral feel." Sour opening, with a long and wooden body - fine patience. Rich in the nose, with a pleasant
huigan
. "The
huigan
is light in character, but not light in strength."
"
Qingxiang
gaoyuan
." [green-scent high-and-distant, used to describe
rarified
, and elegantly pleasant characteristics].
It is a surprisingly active
shupu
, with plenty of pure strength, with a richness of flavour that is rewarding. Undergoing stress, unlike many
shupu
that become merely "industrial", this
bing
becomes strong and enjoyable.
Later infusions becomes sweeter and lighter, turning the corner around the fifth infusion - but remaining enjoyable, definitely not the usual falling apart of lesser teas.
Wet leaves:
Fairly short, but surprisingly possible to unfurl, given the brittle and hard nature of many
shupu
. This is suggestive of lower fermentation levels, as is the green hue in the wet leaves - this may also explain the floral character of the tea. I might expect lower fermentation levels to retain much of the
ku
of the green leaves, some of which remains in this
shupu
,
moreso
than many.
Overall:
"Really a very decent
shupu
." Plenty of boldness but without obvious flaws, this combines good strength and interesting character. It doesn't have the legs to get too much further than five or six infusions, but is a satisfying evening brew.