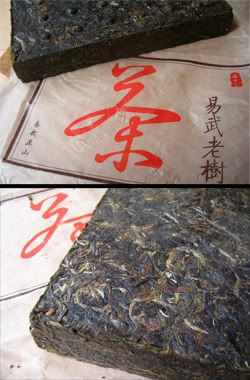 This is an inexpensive brick of tea (£10/250g) from
TeaCuppa
. Lisa provided this as a "thank you" following the tasting event from several weeks ago - an appreciated gesture, but entirely unnecessary. The following notes are, as usual, taken directly from my journal.
The wrapper discloses little, short of "
Yiwu
zhengshan
" [proper mountain] and "
laoshu
" [old tree] - no factory name is given, unfortunately.
Caledonian

Springs @ 100C in 12cl pot for young

shengpu

; ~5-6g leaf; 1 rinse
Dry leaves:
Dark on the outside, where they have been ground by the compressor, but very green on the interior. A blend, from stems to tips. The aroma is fresh and similarly green.
3s, 5s, 9s, 15s:
A strong, orange soup, though fairly murky. No aroma at all. The body of the soup is thick and heavy in the mouth. There is strong
ku
, but not an immense flavour - what there is remains low, and lightly interesting. The aftertaste is slow in coming, and is eventually sweet - something akin to my understanding of
Yiwu
, but not too clear.
The third infusion sees a diminishing level of
ku
, but the character of the tea becomes slightly rough. The final, fourth infusion is rough in the throat.
Wet leaves:
Messy. "Leftovers?" Very green, almost like young
lucha
. Lots of stems.
Overall:
A daily
shengpu
. I can't imagine that the somewhat understated flavours could carry it very far in aging, but it does have a ton of bitterness. Not too thrilling in quality, but not "bad".