The water up here boils at 92 degrees Celsius (198 degrees Fahrenheit).

This is wreaking havoc with brewing tea. Our
pu'er
tastes mysteriously thin, our
wulong
tastes unusually subdued, our
hongcha
tastes unfortunately bland. However, the character of the water is fine indeed, being mountainous, and neither too mineral nor too "empty".
Since arrival, we have been experimenting with all manner of teas at breakfast. The water is provided at the table, so boiling is out of our control.
Each tea tastes uninteresting... except for
Imen's
various
dancong
. For some reason, they perform exceedingly well under such conditions, resulting in a satisfying brew that is fruity, soft, and flavoursome.
Shengpu
,
shupu
, other
wulong
, and
hongcha
are all failing.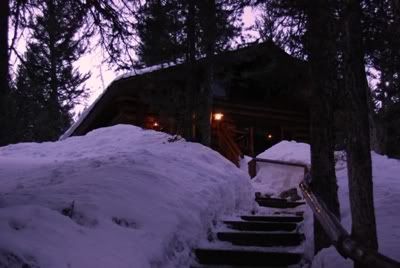 In other tea-related news, we recently ventured into a local Big Sky speciality: the "old-time cabin" dinner [above]. Flickering oil-lamps and cosy conditions aside, a solid meal (steak, for a change!) was followed by... tea. Highly unexpected, and very welcome, it's something that I'd like to see catch on back at home... perhaps a heavily fermented
shupu
, or deeply roasted
wulong
, to ease the tummy into that post-
prandial
"rest and digest" zone.
By way of post-script, the guitar entertainer during the meal sang a famous old Montana song, in which the refrain has the lines "God made Montana for the wild men / for the pagan, the Sioux, and the Crow." It caused me to wonder what God's impression is these days; for all the posters and images of native American culture, you don't meet a lot of Sioux around town...