As a newcomer to the USA, I'm beginning to form opinions on US citizens in their natural environment. This isn't really the best place to discuss my conclusions, but there are some that pertain to tea...

Like the British, it seems that Americans don't know much about tea.
The Twinings and PG Tips teabags with which we are inflicted in restaurants at home are here replaced by "Bigelow" (male gigelo?) and Tazo (Starbucks?) varieties, and they are much the same in their blandness. One kindly young waitress offered us cream to put in our tea, while another sweet soul accidentally (I trust) topped up our breakfast teapot with coffee - this wouldn't have been so bad, but I was trying to brew some of the 2007 autumnal Xizihao in it.

I don't like writing about teabags, so we shall draw a veil over this distressing scene.

---
Now, you're thousands of miles away from your scuttle, but you need a good shave. What do you do? With the aid of a few rudimentary kitchen utensils and a source of boiling water, I give you the Impromptu Hobbes Scuttle, Mk I:

In other news, God bless the soul that invented the outdoor jacuzzi and swimming pool. I'm beginning to understand why the USA didn't sign the Kyoto Protocol: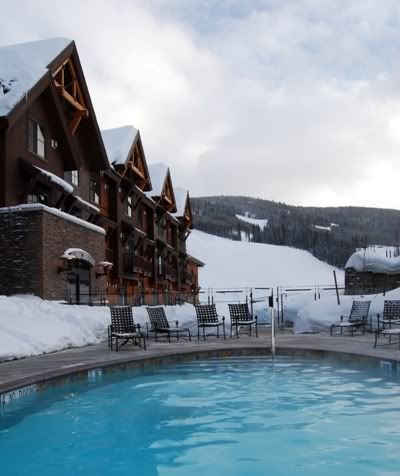 It's about as sustainable as burning baby seals as a lightsource, but it certainly does feel good.