I promised myself on arrival in the USA that I wouldn't write this article, primarily because it's not much to do with tea. However, a surprising number of e-mails have been asking the same question, so let's see what happens.

If you're from the USA and easily offended, or passionately patriotic, please look away now. Consider yourself warned...
Regular
victims
readers of the
Half-Dipper
will recall that I write my articles in pen-and-paper format, then transcribe some of the tea-related work into these shabby HTML pages. Over a
gaiwan
of 2007 autumnal
Xizihao
(pictured above), I penned the following "first impressions" of the USA, from the perspective of an English newcomer. For those of you that asked for them, I hope these observations amuse. For those more easily offended, note that this was written light-
heartedly
and should be taken as such.
Caveat

emptor
.
To give you the context in which my observations took place, it is true that the ski resort in which we find ourselves is highly unrepresentative of "normal USA life". However, we've met people from almost every American state (including Alaska) while here. Also, we're here for a conference which has attracted over 700 academics and industrialists from all over the USA. So, while Big Sky is atypical, I think that the slice of professionals and holidaymakers we've encountered have given us a good taste of American life as it is lived across the USA.
Here's a tacky conference freebie - can you see Yunnan?
As a prelude, let me state for the record that I am fully aware of the shortcomings of England and the English. However, let us now turn our attention towards those first impressions of the USA...

Before we get too far in, I should also state that if you're a cowboy, raising cattle or sheep...
or if you're a trapper, driving teams of dogs in front of your toboggan...
...then this article is not about you. You can behave however you wish, as I think you've earned the right to do so through the sheer ruggedness and
awesomeneity
of your occupation. Go in peace.
This article is really aimed at the urban section of US society, as I have observed it passing through Big Sky and the cities we stopped in (Washington, Denver,
Bozeman
) on the way. City people. Academics, industrialists,
commercialists
, businessmen.
The first thing that strikes me about American life occurs...
At the Dinner Table
The average level of table manners I've seen here roughly equates to those of a misbehaving European five-year-old. I have seen the following in everyone from directors of MIT laboratories to the business leads of multinational corporations. From the "family guy" enjoying the resort with his children (bless 'em) to the table of professionals, trying to land new projects and job opportunities with one another. Whether the situation is formal or relaxed, it raises eyebrows every time from me - it's a huge gaping chasm of a cultural difference.
Looking around the restaurants, dining halls, and functions, I have seen committed virtually every mealtime sin that school and family have worked out of me during my formative years. I can imagine my grandmother eating with an American and turning purple with quiet rage. "Manners
maketh
the man", she always likes to quote. I suspect even my mild-mannered gran would have assaulted most Americans with their own unused cutlery by the end of the meal.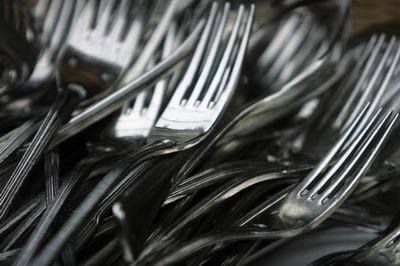 Let's start at the top:
1. Cutlery
Notice that a fork (or number thereof) has been positioned to the left of the dining area, while a knife (or knives) has been positioned to the right. This is an immediate clue as to their usage. Though manners insist on a certain grip on each implement (do NOT hold them like a pencil, or like a dagger!), I won't yet get that far as it is clear that most Americans I have watched eat are uncomfortable with the notion that the fork goes in the left, the knife goes in the right. (If you're a lefty, you may switch hands.)
I watched with mild tachycardia this morning as a respectably-dressed woman picked up the knife and fork correctly, then
started to chop her food up into small cubes
. The entire plateful. She then dropped the knife, moved the fork into the right hand, and started shovelling the small cubes into her mouth as if she were stoking coal into a steam engine.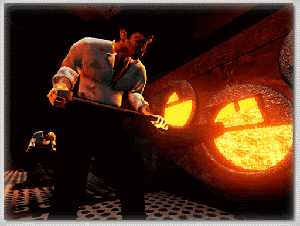 If you are five months of age, you can cut your food into chunks. If you plan to eat the entire meal with chopsticks (my wife is reading this), you can hope for your food to already be cut into chunks for you. If you are a professional leader of business, talking important talk with your peers over the dinner table, and attempting to land multi-million pound contracts with your dining partner, you may
not
cut your food into chunks, nor may you shovel.
Try and convey the impression that your life doesn't depend on downing your meal within five minutes. What we're aiming for, as a pleasant side-effect of eating small pieces of food spaced comfortably apart, is the ability to maintain polite conversation without the need to swallow a volleyball-sized mass of
unchewed
food.
It goes without saying that you never, ever open your mouth or speak with food in there... but most of the folk I have dined with seem intent on showing me their undigested food. Again, my gran would probably be reaching for the sharpened
butterknife
with an eye to attacking you right about now.
2. Taking Food

In Europe, it is a grievous social
faux

pas
to waste food, which is considered to be a sign of immense vulgarity (and will often be labelled "
nouveau
riche
"). If you are advantaged, to not waste food is important in that ultimate goal of showing that you do not take your advantages for granted, and that you appreciate them. Check out the behaviour of HRH Liz II ("The Queen") for plentiful examples. Wastage is "gauche".
(I think Ronald looks a little like the hippo, don't you?)
In every food situation I have observed here in the US, the wastage of food is extreme. From a European viewpoint, it is literally incredible. Just because something is "free" doesn't mean that you should take a mountain of it. I see children taking
six
doughnuts for breakfast, nibbling one, discarding the rest, and then listening to their parents make a light-hearted comment about it. I see a famous academic taking
three
steaks at a conference buffet, eating one, and leaving the rest for the bin.
A piste-side restaurant served a plate of nachos that was over 3lbs in weight (approximately the volume of four human stomachs). The recipient ate one third of the pile, and ditched the rest. Then, another similar-sized plate landed on a young man's table next to us...
For Europeans, this enters the realms of actual revulsion. Curb that consumption!
3. Selecting Food
I love American optimism in all situations, but particularly when choosing which foods to eat: I wish that I too could eat without regard for the physical consequences. I see steaks wrapped in bacon, then covered in butter; I see cuts of meat served as single portions so large that they could feed a small family of tigers; I see beverages filled with modified corn starch and sweetening agents. It looks like a wonderland, where the food we select will have no observable effect on our bodies... but that's not quite the case.
Back at school, the "fat kid" in most classes used to be the one singled out and humiliated. It's not pleasant behaviour in children, and obviously needs to be halted if it's encountered, but it was almost ubiquitous. Children love to ridicule the flaws in others - perhaps it's an evolutionary thing. However, its commonplace presence alone indicated that the "fat kid" used to be unusual.
It used to be
unusual
to be overweight.
Certainly in the UK, as people begin to eat poorer foods and take less responsibility for their bodies, it's not unusual to be overweight any more. (Amusingly, in the "classroom" of European nations, the "skinny kids" of France and Italy now ridicule the "fat kid" which is England.)
Entering the US feels as if the situation is further exacerbated here. To see someone "normal" in weight, looking around a dining hall filled with hundreds of people, or a conference dinner filled with delegates, is really rather unusual.
It doesn't take a genius to realise that eating more calories than the body requires leads to the accumulation of fat. Portions in the US are about double or triple European sizes, and so I suspect that this culturally-instituted factor makes it harder to fight chubbiness, as an American. If your school serves you grossly large portions of food, as do your restaurants, your friends, and perhaps even your parents, it surely must be difficult to take only the food you require.
Europeans simply eat less. There's a great book out there (pictured above) which makes exactly this point. It's important to realise, given that a lot of us live sedentary lives, stuck in front of computers.
Europeans are wholly unpleasant in many other areas, but I think we're generally less fat. Particularly those darned French (pictured below, ignoring the fact that Maria Callas is Greek).
OK, that's it for now. I was about to get onto dress sense and conversations, but I don't think there's enough ink left in my computer.