I don't drink much green wulong, but when I do it's either tieguanyin from my wife's hometown in Mainland China, or Taiwanese leaves from
Teamasters
. This ruanzhi [soft-branch] rolled tea is from the same Dayuling region as my favourite old 2004 leaf, the last of which we toasted
Nada
with on
his departure
several weeks ago. [Dayu is an ancient mythological? emperor, Ling refers to the ridge that takes his name.]
The rolled balls (in all their ballesque glory, below) are dark and dense, which I take to be a good sign. The aroma is superbly buttery.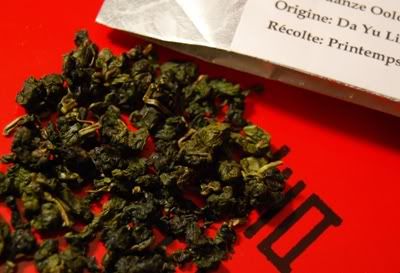 An extraordinarily clear soup shines a brilliant yellow-green (below), the kind of colour tea that moved Lin Yutang to write so often in
The Importance of Living
and
My Country and My People
(both essential reading).
The aroma builds to a sustained crescendo in the wenxiangbei; I sniff large nosefuls as if sipping from the brew.
The soup itself has a penetrating sensation in the mouth, that tingles the lips and tongue, which I usually take as evidence of healthy leaves and good growing conditions. Though not attaining the unscalable heights of my beloved 2004 Dayuling, this is accomplished tea: the roast is light and almond-like, skilfully blended with the buttery characteristics of the leaf.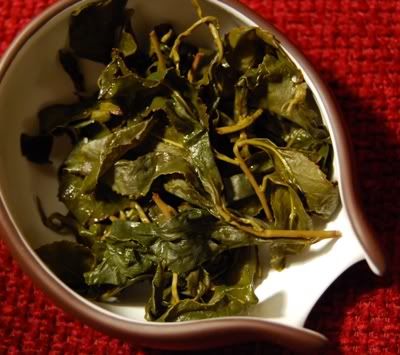 Beautiful triple-leaf stems (shown above) testify to careful picking and handling. I enjoyed this tea very much indeed - thanks muchly to SE for a sincere treat.