Bainian [100 year] gucha [ancient tea]. A bold claim. I rather like Shuangjiang Mengku products, and so I'm very much looking forward to trying this tea.
Copious, extravagant, deluxe thanks to ST for posting the sample all the way from Singapore. (My dear wife was equally impressed, because she collects colourful foreign stamps...)
The leaves (below) are rich and tobacco-like in scent, a fine start. They are tippy and small, but not too small: I see larger leaves and segments in the blend, raising my hopes of a complex, enjoyable cup. It is pretty to look upon, being covered in silver fur. Some darkening of the leaves has occurred, but without the true orange/red of age.
Correspondingly, the soup (shown below) is just beginning to turn orange. It has a long, low aroma of sweetness in the wenxiangbei [aroma cup].
This is a "genre tea": if you liked the
2001 Menghai "Special Edition"
, you might enjoy this one. I did (very much), so I do. From the first sip, it has a meaty, almost barbecued, flavour, with green tobacco underneath. There is a hint of hongcha about it, which presumably derives from some cheeky early oxidation prior to steaming. That's fine, it's very tasty.
Flavour aside, this tea is seriously narcotic. My body reels and swoons with an ubercalming sensation. It feels as if the blood pressure is being dramatically lowered, as if my feet were in a hot footbath. It makes me breathe out a deep sigh. The feeling is pronounced, highly significant, and really very enjoyable. Is this legal?
In conjunction with the superb soothing quality is a brightening, enlivening sensation (perhaps from the caffeine). This is the magic of pu'er: it pulls you down and soothes, but it simultaneously pulls you up and energises.
I feel as if I have taken a draught of magic potion.
Later infusions see the pleasant, vibrant soup dimming a little in flavour (as anticipated), and yet that narcotic soothing sensation continues unabated.
Highly enjoyable, and worthwhile pursuing.
---
Addendum
26 May, 2008
Still tasty.
Note to self: Houde,$37.50.
---
Addendum
June, 2013
This cake was consumed the morning after a Very Serious interview. I couldn't sleep, woke long before dawn, and needed some excellent tea to see me through. I went to the centre of my "Shuangjiang Mengku" stack.
The leaves are long and, now, dark brown in colour.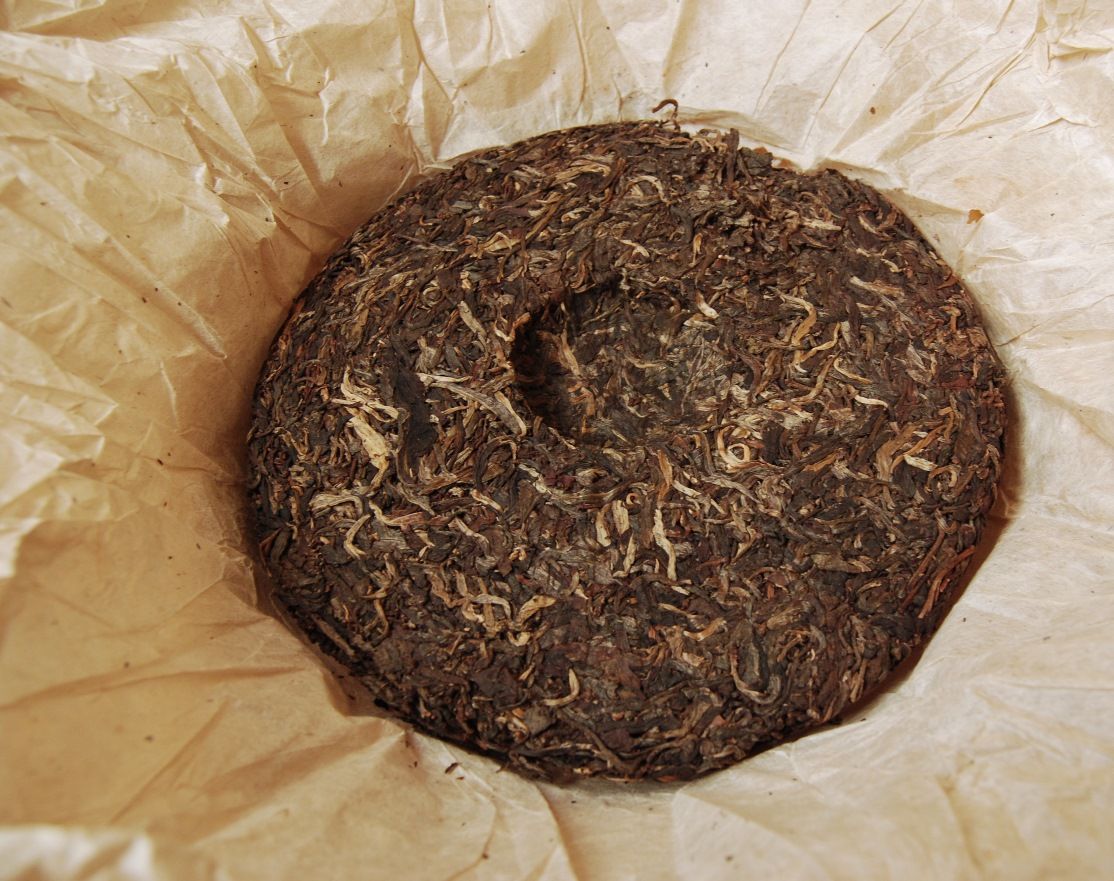 Happily, someone actually seems to have performed a lab test on this tea. At least, I'd like to think they have - the documentation suggests a test was performed, as far as we trust Chinese documentation. (Heh.)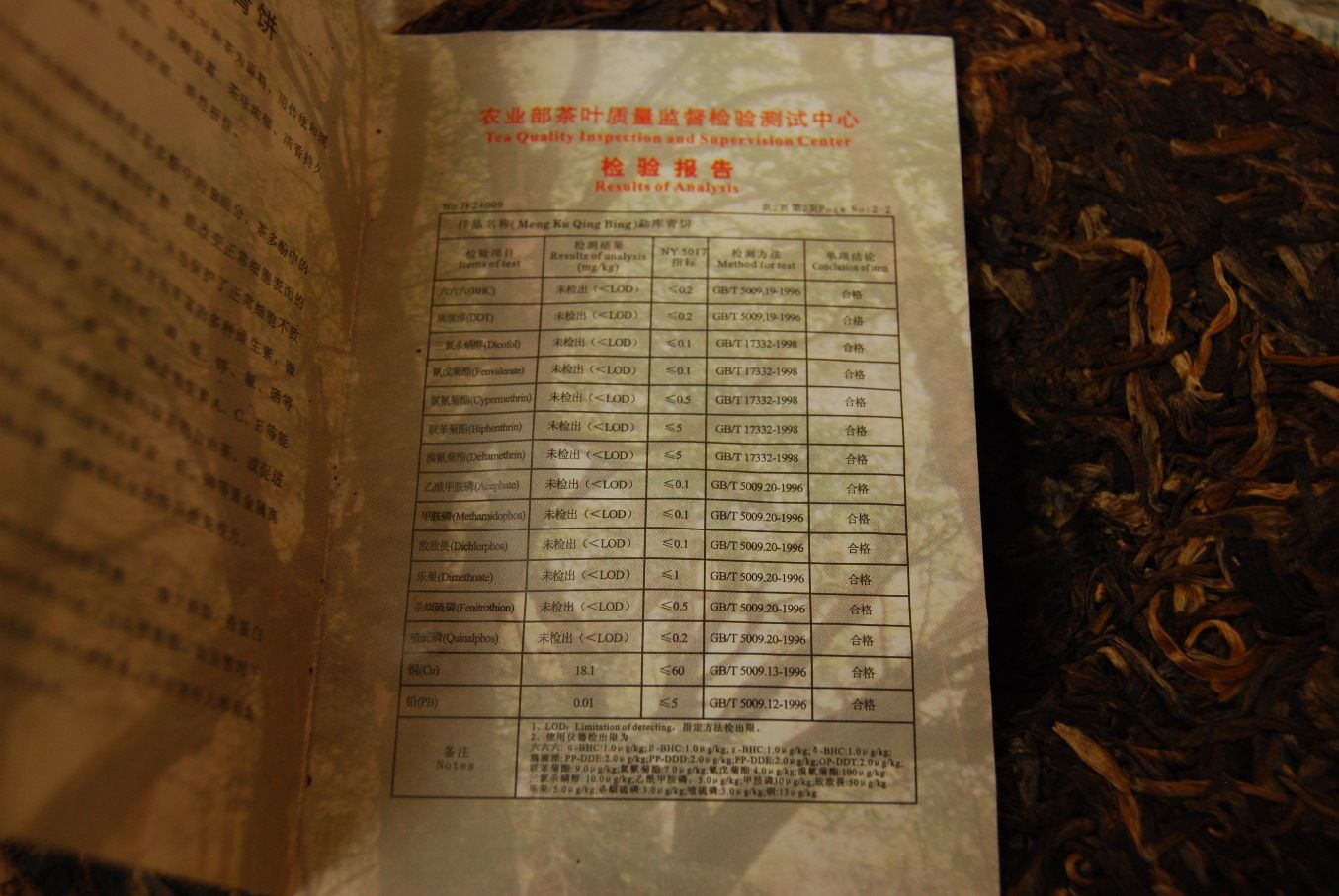 As I separate the leaves from the cake, I constantly run over phrases from the interview in my mind, wishing I had said this, wishing I hadn't said that. At the time of drinking, I had not yet found out the result of the interview, and was hanging in "limbo".
This cake did much to soothe my mind. The heavy and spicy nose rapidly becomes sweet; the colour, likewise, is as you might expect, being a heavy orange. Deep and rich in its tobacco character, this has a clean and energetic body, with a good huigan [returning sweetness].
It seems that I had a good day back in 2008, when I asked ST to kindly buy a trio of them for me! They have aged well, being smooth and precise, and rather woody. They are not "premium" cakes, but you don't expect such things from Shuangjiang Mengku: what they provide, they provide at excellent value. "Aging potential remains", I noted in my journal.