Here's a fun one. I do so enjoy exploring the outer reaches of the pu'ersphere.

The wrapper, shown above, has "Yiban Xinxiang" [one segment, heart-scent], which Lei dismisses as "vulgar teenager-language". A vulgar, cloyingly-sentimental pu'er wrapper, who would have thought...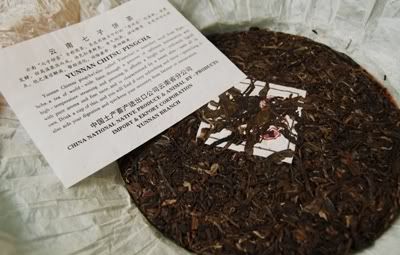 What else do we know about this mysterious tea? The Kunming Tailian factory literally means "Taiwan ally", which gives us some indication of the factory's purpose. This is fine by me, as I enjoy Taiwanese pu'er as much as any other. Just don't mention "scholar tea" around me and I'll be fine.
*Grinds teeth*.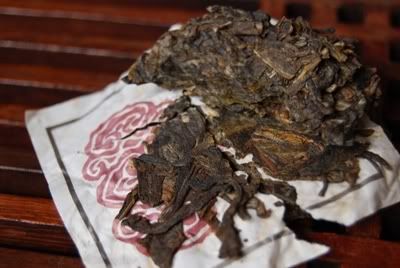 The factory has since become part of the modern Yibang Chamasi company, that tea producer trading off the reputation of Dynastic pu'er administration centres, but nonetheless the creator of some
fun little teas
.
The leaves are long, and all manner of colour from silver tips, through green and brown basis leaves, to the inclusion of some yellow leaves (normally removed by producers, but always welcome in my cakes).
The low, sour aroma about the leaves is unusual, a touch of the Jingmai nuttiness about it.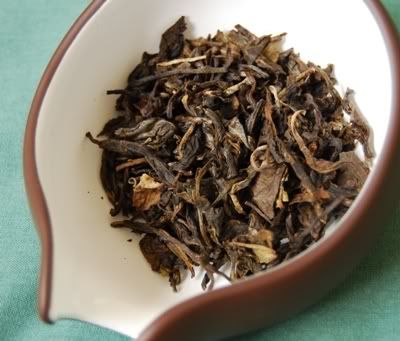 In the wenxiangbei [aroma cup], the "honey" aroma lasts seemingly forever. "Honey" being my shorthand for rugged sweetness combined with a base of broad, lower notes providing the complex sweetness of wild honey.

While I consider the tea, it turns from its initial solid yellow to a deeper orange with surprising rapidity - it is active in contact with the air.

Crikey, it's a thick tea. Thick with copious viscosity. The complexity of the aroma is carried over into the mouth, and this is a chunky, good tea. Entwined with the honey is a challenging, throaty bitterness of the enjoyable variety. Beneath it all, a bedrock of hazelnut flavours that reveal its Jingmai origins.

This tea is as blended in its character as it is in its leaves: some candy, some bitterness, lots of low nuttiness. It all works together, though, and does not give the impression of patchwork. It is a good blend, which is hard to achieve. There's even some tobacco in there, to keep me happy.
A charming tea, I like it very much.
(Cf.
Ancient Tea Horse Road
.)