It is absurdly bleak today. To make matters worse, I decided it would be a good idea to have a menthol, minty pu'er before heading out into the howling Sunday morning winds towards church. Combined with the mintiness of the Proraso smeared gratuitously all over my freshly-shaven chops, this meant I was minty on the inside and on the outside, in the icy wind. Highly painful.

This is quite a famous cake, as far as I can tell. I've seen photographs of it all over the place, at least. I'm often happy with the higher-end output from Shuangjiang Mengku factory, so thought that this one would be a safe bet.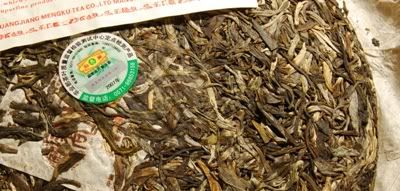 This cake ($24 for 500g) allegedly won the "2006 Expo Tea Award" in Kunming. I take Mainland Chinese tea competitions about as seriously as claims to being "arbor king" [qiaomuwang], and this tea has both such attributes! The leaves are from Bingdao [Ice Island], that area famed for its minty terroire. I had high hopes of detecting any real qiaomu leaves in this cake, given their mintiness.

Above:
it is the superfine product among Pu'er (crude).
Chinglish makes me very happy, and I speak it on a regular basis.
What a funny tea this is. I don't actually like it, per se, but it's got some graces. Foremost among these is its trademarked Shuangjiang Mengku sweet-mushroom nature, which I enjoy. This is imparted from some lovely leaves, being a blend all the way from tips to yellow-leaves and stems. It's an eclectic mix, and all the better for it, giving a straight yellow brew.
Good texture, good huigan - so far, so good.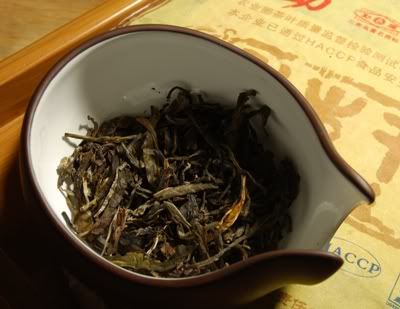 Unfortunately, it is also quite sour. The sourness starts in the base of the tea, underneath all that Mengku finery, then swells to dominate the back of the throat. It's not very pleasant, and in many sittings I have not found a configuration that manages to avoid it - no matter the variation of leaf quantity, water quantity, or brewing times, that sourness sits atop it all.
I have not come across a cake with any age that has this particular variety of sourness, and so I hope that it ages out - there is plenty of real content waiting underneath to provide complexity of flavour and texture in the throat should it do so.
It's active and energetic, and has a certain low-level mintiness to it, but the sourness prevents me from enjoying it - and enjoying tea is my priority. So,
au revoir
, Qiaomuwang, and see you in a few years.
(Cf.
MattCha
.)