I like old things, knackered things, decrepit wastrels, and dented, battered items of all kinds. There's something definitely
sabi
and perhaps even a little
wabi
about such artifacts.
So, I was fully geared up for nostalgic rapture when faced with this inexpensive tuocha from the 1990s, bought from Nadacha. At just £15, bijou alarms bells were ringing, but I silenced them soon enough.

Wrapper-less and naked, it reclined in louche fashion all pouting desirability and potential charms. However, it had absolutely no aroma of any kind.

I was taken aback by the size and integrity of the leaves, being accustomed to the usual Xiaguan-esque ubermulch from which tuocha are typically constructed. This example has some long, luxurious leaves in its blend (pictured below).

Even after rinsing, the aroma is quiet - excepting whopping great big quantities of shicang [wet storehouse].

While the soup comes out a deep orange-brown, indicating that it has not reached the depth of "proper old pu'er", it looks pleasant. Concerningly, the aroma in the wenxiangbei [aroma cup] is merely... warm. Perhaps, in the distance, a little vague sweetness.

I was not conservative with the quantity of leaf, given the quietness of the dry leaves, and so the body of the tea has a thick texture. However, it is absent much in the way of charm or flavour, delivering a faint shicang sweetness - but otherwise, very little. This emptiness was quite a surprise.

As infusions passed, it did evolve into a slightly more pronounced sweetness, but I found myself having to perform extraordinarily long infusions almost from the start in order to coax much out of this reticent fellow. In order to obtain flavour, I had to begin overlapping my infusions after the fourth: letting the next brew while I enjoyed the current one.

The fifth infusion entirely blocked my filter! I didn't fair well with this tea, despite its abnormally chunky leaves (shown below).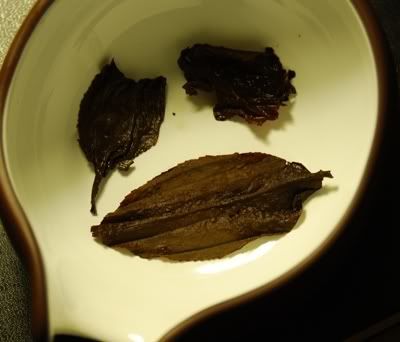 What this tea does have is a very pleasant, calming chaqi. It soothes, hums a lullaby, and almost causes me to slide into slumber.
Fairly priced, and perhaps interesting for its chaqi, I didn't find much to excite me in this little chap. Later infusions (10+) show a roughness in the throat that didn't really endear itself to me.
This tea reminded me of tired old wet-stored maocha.
Sabi
only goes so far - the item has to be solid. It is a good lesson in what storage should not be: an erosion, an exhaustion, an expiration.