I may have previously given the impression that I think Xizihao tea is for ladyboys.
Now don't get me wrong, while some of their productions are no doubt very popular with the transgender hospitality industry of Bangkok, there are a goodly number of "raw" Xizihao cakes out there.
They don't come much more raw than this cake from Pashashan (a.k.a. Mengpashashan).
Firstly, we need to unpack the typically mighty Xizihao name.
Pasha / Mengpasha is a mountain infrequently identified by pu'er producers. There was a
2006 Haiwan version
of this mountain's leaves, which was one of the first teas that I bought in quantity. Funnily enough, I can remember the latter cake very clearly, even though I've not tried it since 2007. Taste memory is a strange thing. Everything I've ever had that's been associated with Mengpashashan has been Hardcore with a capital "H".
The "Laozhai" [laow-djai] part of the name simply means "old village". Xizihao are far too cool for the usual "zhengshan" [proper mountain].
Similarly, Xizihao are far too cool for the usual "chawang" [tea king], and so the final phrase of this cake's unwieldy name is "Dianhuang" [dee'an hwang], meaning "Yunnan Emperor". Brilliantly humble.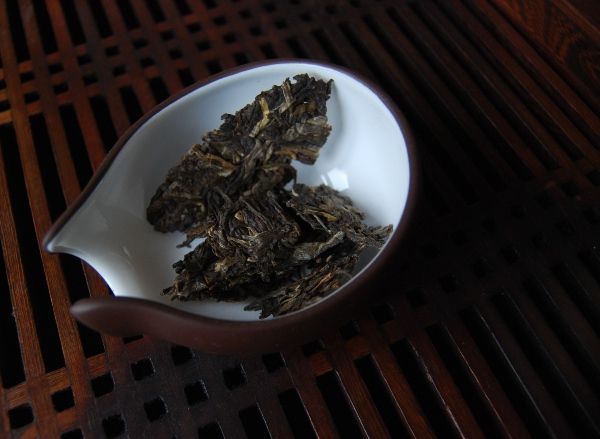 It's a pretty cake, which makes me concerned that we might need to file this under "ladyboy", but such worries are assuaged the minute that the pungent, rancorous, acrid stench of the leaves assaults my nostrils. In a good way.
This tea does not go quietly into the night.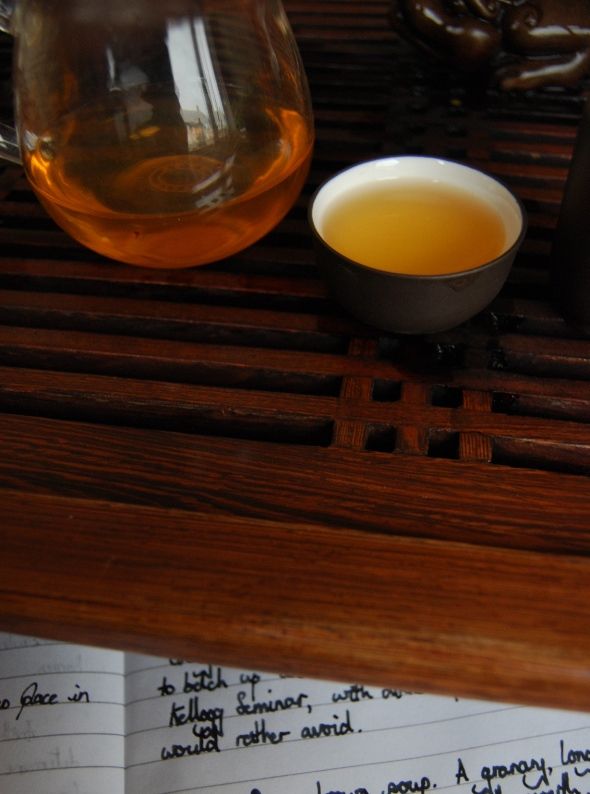 Like the older Haiwan cake, this has a fat, uncompromised, savoury character. Also like the Haiwan cake, it is entirely powerful, and sits in the teacup shouting obscenities at me. I rather like it. This tea puts up a good fight.
But there can be only one.
I take a few hours off in the morning to teach this cake who's boss. It's a close-run battle, but it gives up before I do, after some 15 infusions.
Throughout, I am impressed by the fatness of its body, the chunkiness with which it dominates the mouth, and that acrid, tart, "Who's the daddy" kuwei that squats in the throat like an illegal tenant, and just won't leave.
Kudos to Sanhetang for making a sincere, unmonkeyed cake. Initial (intense) smokiness soon subsides, leaving a long, challenging tea.
This isn't one for the casual pu'ercha drinker - if you're a part-time sailor on the pu'ercha seas, then I'd recommend stable blends, or the sweet, gentle charms of the usual Yiwu / Laobanzhang / Nannuo / etc. ranges.
If, on the other hand, you're a grizzled old swine that fancies a bit of tea-table pugilism, then this is the tea for you.
N.B. this cake is no longer available at Houde, and so I have no idea of its cost. I wouldn't pay more than about $60-$75 for this, given its decent, but not entirely captivating, quality.