Long-time readers of this humble site may recall my affections for the
1998 Menghai "Kongque"
, a charming old tuocha that I bought for a pittance at
Yunnan Sourcing
, ages ago. I had little disposable income at the time, because I was spending half of each week travelling to see my new girlfriend, a very pretty Chinese lady whom I'd just met at a conference, and who was clearly way out of my league.
With little money to spare, every purchase counted, and I treasured every tea that came my way. Such careful buying is a healthy state to cultivate, and I try to hold onto the buying habits of my previous self.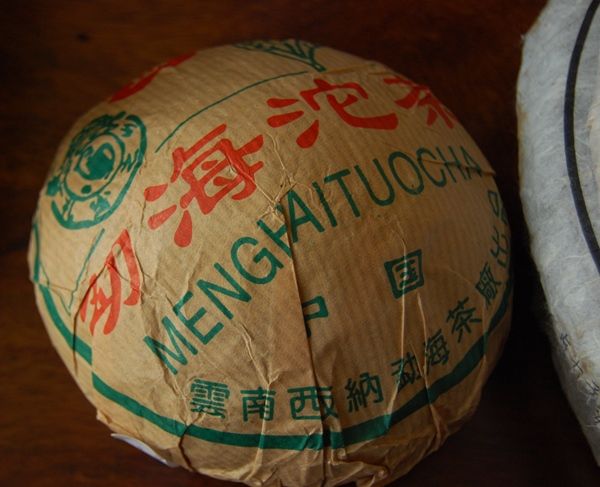 Imagine my delight, then, when my Singaporean teachum, the extraordinarily generous Keng, sent me this 2004 version from the same series. "Kongque" [approximately, kong-ch'ooer] is the Zhonglish name for a peacock. It has long been one of the highest-grade tuocha productions from one of my favourite factories, the eternally-mighty Menghai.
The little red ribbon that has been pressed into the leaves is Menghai's subtle way of saying "aww yeah". I imagine an elderly, experienced Menghai blender pronouncing that phrase in a Chinese accent, and it pleases me.
You may be able to tell from the images that this is much larger than my original, beloved 1998 Kongque, weighing in at 250g instead of 100g. I prefer the larger size - of course, they last longer, but they also have more of a critical mass from which to develop a healthy maturity.
Unlike the crushed melange of Xiaguan tuocha, this is a mostly whole-leaf affair, made from tiddly little tip-leaves. The colour is already turning a rusty orange, and I am reminded that Singaporean storage seems to be intensely successful.
Hallelujah: it has the sweet, bookish aroma of shicang [wet store]. I am in seventh heaven, and water has yet to hit the leaves.
The soup is heavy orange, which is clean, smooth and sharp in character. It is a good age, because it has a mouth-watering bitterness from its youth, and an old-honeylike sweetness from its age.
The shicang aroma is much less obvious when brewed, and I suspect that any shicang has occurred prior to its migration to Singapore, where it has probably received a drier treatment. It is pinewood, sharp, and highly enjoyable - just as one would expect from one of Menghai's better productions.
Kongque will always have a special place in my heart.
---
Addendum
February, 2013
This big tuocha has hot and humid darkness - sweet, long, and most satisfying. It has an "incompressible" body, filled with hot straw and sweetness. The kuwei is solid, which challenges and provides continued interest.