A while ago,
China Chadao
very kindly provided me with a bag of delicious Zhimingdu xiaobing, which made excellent testers of various regions. Today, I catch up by publishing my notes on another pair from this bag of delights.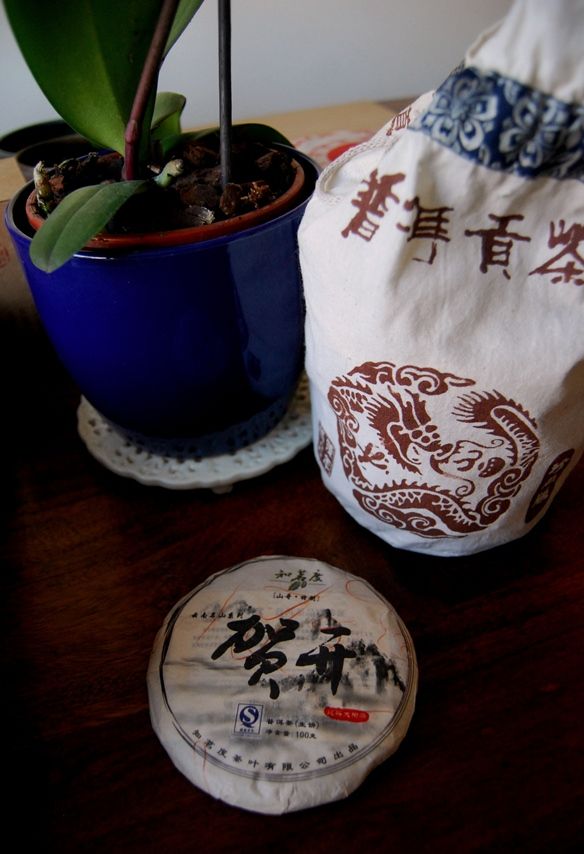 The Hekai is a piffling $8 at China Chadao, and Hekai is in the northern region of Nannuo - presumably, not all that far from Bama, where the 2010 Hailanghao cake was obtained. Pictured below, the small leaves may be seen to be tightly compressed into the xiaobing, as are the cakes throughout this series.
Some careful work with a sharp implement prizes away enough leaf for a session, but they don't give up without a fight.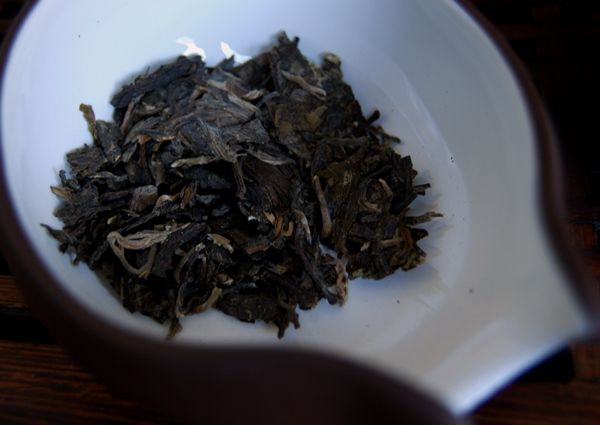 The resultant yellow soup has an excellent aroma of old honey. It is sweet and clean in character, and combines granary notes with my imagined notion of Nannuo floral flavours. It is a very solid little "taster" cake that balances well the desire to have an introduction to many regions, of a suitable quality, while making the cakes affordable. Great fun, and quite instructive.
The Bingdao version, shown below, appears to have sold out at China Chadao. Again, it is highly compressed, and I give myself several hand-wounds before getting my leaves free. I am a clumsy man, and not the kind of person that should be playing with sharp items.
The small, tippy leaves have a decent aroma of fresh green, combined with sweet fruits. However, the flavour changes gear, and speeds into a citric, sweet-leather body. Both are enjoyable aspects, however. It is a compact, clean, tidy tea with a small kuwei [good bitterness] in its finish that leaves me with a feeling of tobacco.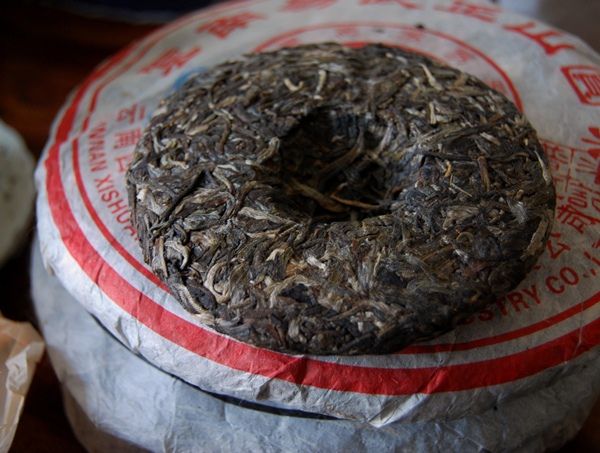 It becomes a touch aggressive, with acidity waiting to surprise the unwary drinker in later infusions. Recognisably Mengku-region, given its tobacco-sweetness, but not immensely enthralling.
That written, it is more-ish, and another good, inexpensive taster of the region. Similarly good fun to the rest of the series.
I wouldn't complain if such xiaobing series became more common...