Good tea can come from the most unexpected of places.
I know that writing in a second language can be a pain; some days, I wonder about my ability to write even in my first language. So, I try to help others with their writing when time allows. This particular tea was an unexpected gift given by a Chinese colleague whose abstracts for some forthcoming publications I had revised. His English was really very good, and so my additions were but minor tweaks around the edges.
His gift was this charming little box of hongcha. "This is some of the best!" he grinned.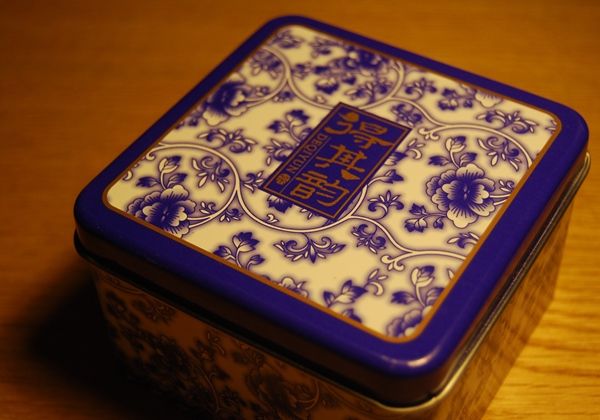 I got excited about the tea; my dear wife was rather more interested in the pretty box, pictured above - and who can blame her? It has the style of a charming piece of porcelain. I understand that its destiny is to store something of infinitely greater value to her than tea: her critically-important supply of "Werther's Originals" toffees.
If I've recently sent you a box of samples, then you may have a packet included as shown above. It reads "Tongmuguan Jinjunmei", where Tongmuguan [tong moo gwan] is a pass in the Xingcun [shing-tsun] Village area of Chongan County, where lapsang souchong originates.
Jinjunmei means "Golden Handsome Eyebrow", and refers to the crescent-shape of the leaves, as pictured below. It is (in)famous for its rather extortionate price, and so I am very grateful to my colleague for such a gift. Indeed, it far exceeds my paltry contribution to his abstracts...
One aspect of this tea that doesn't come across in the above photograph is precisely how tiny are these leaves. They really are insy-winsy, being about 2 or 3mm in length. The "grade" must be extraordinarily high, because I don't believe that I've ever seen tea leaves this small, from any genre of tea. With pu'ercha, for example, the "grade" matters little, and cakes made entirely of small leaves may be missing out on some of the robust characteristics imparted from a robust blend of all leaf sizes. However, in hongcha and lucha, high "grade" (i.e., tiny leaves) can make a difference in terms of potency and definition of character. There is a reason, after all, why such comically small leaves attract such high buying prices, and it cannot be explained entirely by tea-buying fashions.
Drinking hongcha is an excellent excuse to dust off my beautiful Xishi pot (originally bought from
Teamasters
). I don't drink a huge amount of hongcha, but when I do, my little Xishi comes along with me. Such sessions are a special treat for me - I am happy with even the most rudimentary of hongcha, and so you can imagine my elation when trying such a great example.
This hongcha is not sweet. It is not the dainty, feminine affair that we might expect from its fussy little leaves. Instead, it is a masculine, robust, complexity of bass flavours wrapped up in an almost gelatinously thick soup. It reminds me of the hongcha version of good, old pu'ercha, in its texture and huigan [returning sweetness in the throat].
The little leaves continue to give thick, complex, malty, sweet infusions throughout the morning, leaving me impressed by the longevity of such small things. The comparison with good pu'ercha remains as the infusions pass, with its thickness and satisfactory grip on the throat. There are not many hongcha in this style, and it is quite an education to drink such a tipple.
This reminds me to hunt out my colleague from his laboratory, and tell him exactly how much I have enjoyed his generous gift. Of course, getting into his laboratory is a feat in itself: he is a tissue engineer, and they don't like unsterile sorts such as me, wandering in without a white coat and protective apparatus...