One of my favourite Chinese books (which I can read only in translation) is
Hongloumeng
[hong-loh-mung], literally "Red Mansion Dream", but often translated as "Dream of the Red Chamber" or other variants. It is an 18th-century romantic story of life in a good Chinese family, with all of its intrigue, romance, and breadth-of-character. While it is true that translations often fail to capture the essence of an original text, the Penguin version ("Story of the Stone") and the official Beijing University Press version are both excellent, and each runs to four or five volumes. When we consider that the original Chinese text is contained in a single volume, it shows the necessary expansion that occurs when translating Chinese to English.
(Chinese is a very dense language, in which a few symbols can convey as much as a whole line of English. I think of n-ary encoding schemes: Chinese symbols have a high information density per symbol, and so, at the same symbol (baud) rate as English, manage a much bandwidth. I like to compare spoken Chinese to the QAM/QPSK communication of a modem. The information rate is high in Chinese, but it results in significantly increased likelihood of data corruption when individual symbols are parsed: witness a Chinese person trying to convey an abstract meaning in a small number of characters, where they often have to resort to adding additional context. "Your name is Lei? Like the flower? Or like thunder?" They often then draw the character on the hand for additional context. Chinese works perfectly, when written - spoken, it is a little more susceptible to the limits of information theory...)
So, Hongloumeng. One of the characters finds herself a little worse for wear, after consuming too much alcohol, and is prescribed some pu'ercha to remedy the situation. I wonder if this is partly responsible for the claim that pu'ercha is "good for fatigue and the effects of alcohol" which so often appears on neipiao [inner tickets] in bingcha.
It is something that often comes to mind on those (now reasonably rare occasions) when I find myself nursing a sore head in the morning, slumped over my tea-table, like the reprobate that I am. My dear wife is very forgiving.
The night before drinking this tea, I had been to a "farewell" dinner for the graduating year of engineering students (all six of them) at my old college. The senior engineering tutor was very generous in extending me an invitation; I think it's because I tend to lose to him at pool in the bar, in the small hours after formal events. To say that he is viciously competitive would be something of an understatement. He's charming, but he'll happily attempt to destroy you over any competitive game to hand. He's like a muscular, Australian version of Oddjob, crushing dice into powder using his bare hands.
The after-dinner conversation with the graduating students went long, in the common room afterwards, accompanied by unnumbered bottles of variously dodgy spirits. By the time they come to leave, the students and their two or three tutors tend to know each other very well; I'd taught them mathematics, and had some good fun doing so. Against tradition, some of them even managed first-class degrees. There wasn't a single "gentleman's third" in sight.
After all that liquid socialising, the tea-table seemed most welcoming. I headed over to a recent delivery from
THE JAKUB
, and came to settle on this Xiaguan "jiaji". Modern Xiaguan may taste like the wrong end of a spent cigar, but the older stuff (let's say pre-2006ish) can be very reliable. Like The Mighty Menghai, good old Xiaguan have collected a huge amount of blending expertise over the years. Older "XG" products are usually very reliable.
When the head is pounding, you look for reliability. Now is not the time for dodgy, insipid ladytea. It's time to take Hongloumeng's recommendation, and drink something that'll "do you right".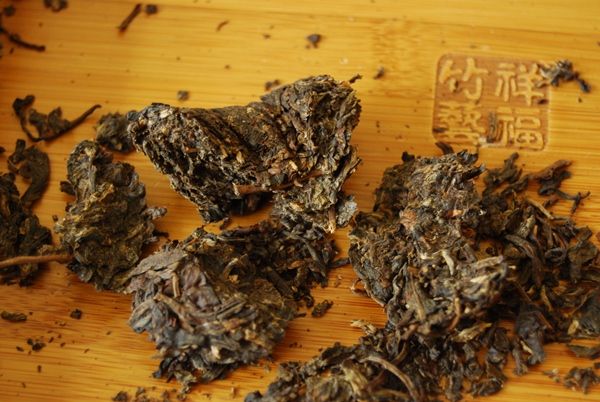 One of the charms of Xiaguan is its uncompromising nature. You can't separate the leaves from the superdense fusion that is the tuocha compression? Perhaps you'd like to go back to your tieguanyin, mademoiselle. Xiaguan tuocha redefines what it means to cram matter into small volumes. I remain convinced that, if the 16+ dimensions of superstring theory are to be found, the core of a Xiaguan tuocha would be a sensible place to begin the search: where matter is do dense, that the dimensions have collapsed in on themselves, into a latent subdimension of unknowable density.
Looking at the photograph of the nuggety fusion of this "jiaji" [top grade] tuocha, I can almost see those hidden dimensions, nestled between the compressed leaves. The leaves, typically, are tiny. I enjoy the humid sweetness that manages to escape the gravity-warping field of the leaves.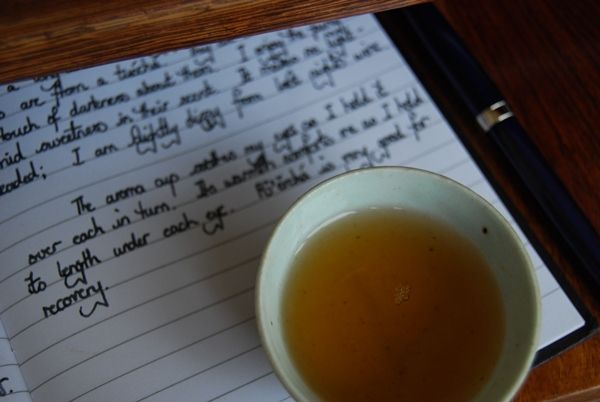 The aroma cup soothes my eyes as I hold it over each in turn. Its warmth comforts me as I hold its length under each eye. Pu'ercha is very good for recovery.
This 2003 version brews a proper orange, as pictured above, and you will be expecting to read that it has a strong, pinewood-like body. Its long sweetness burrows through my muddy, turbid mind, bringing me a small quantum of peace. Peace, that is, until the beeps of the washing machine arriving at the end of its cycle pierce my ears at an ironically amusing time. On the inside, I scream.
Xiaguan potency marches on for many infusions: it doesn't change very much, not developing anything other than robust, heavy sweetness, but that's what we've come to appreciate. You don't drink Xiaguan tuocha for its complex floral femininity. You drink it to have your throat and mind scoured clean of all evils. It is a rite of purification.
Love your Xiaguan. It'll take care of you, when you need it most.