With gratitude to Elven, teachum of Singaporean origin, this article concerns a 2003 Xiaguan tuocha.
This may or may not be related to the
2003 "Jiaji"
or the enormous box of
2003 tuocha
so generously provided by Woogie back in 2009. These are mere points of reference, however, and each time with a tea should be taken as if it were the first.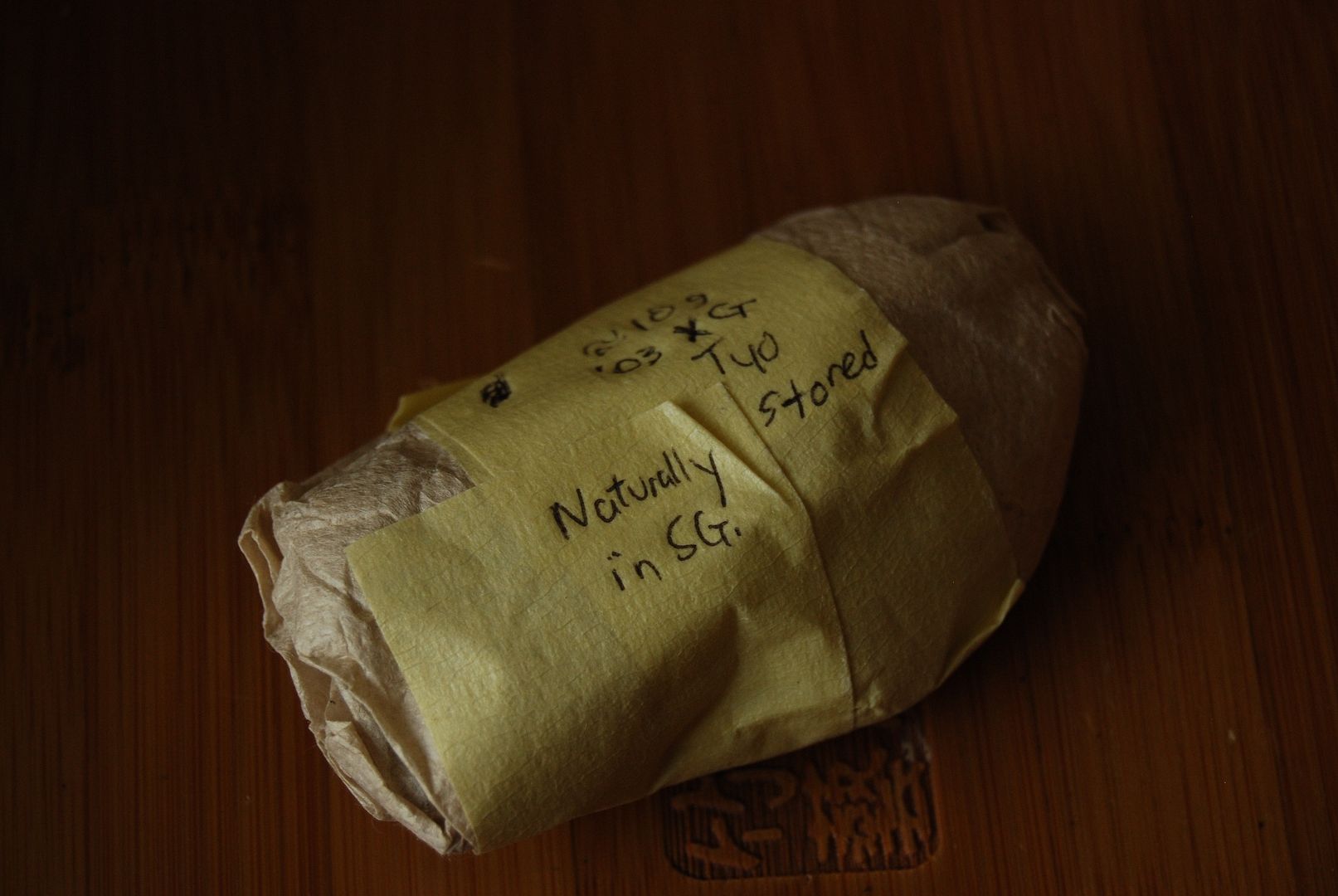 The comfortable wrapping reveals a charming nugget of Xiaguan superdense matter. Just as I unwrap the tea, my mother, who is visiting, takes my excellently boisterous sons out to the park, causing an unfamiliar silence to descend on the house.
By accident, I use filtered tap-water for the first infusion, the result of which is chalky in the mouth. (I usually prime a tea by rinsing the teaware, and then performing the rinse of the leaves, with an initial boil of filtered tap-water, before switching to spring water for the first infusion proper. This is merely because it feels somehow disrespectful to use bottled water for the menial task of cleaning and rinsing. Yes, I am strange. Comfortingly, the fact that you are reading this web-site also suggests that, I am afraid to say, you are likewise strange, Gentle Reader. This is something to be celebrated.)
Switching to proper water, the second infusion unpacks the full spectrum of robust Xiaguan wood, giving a broad, clean character with that well-defined, slightly dry, profile of Xiaguan with which I am always glad to share a morning.

I don't know if Xiaguan procure their leaves from their native Dali diqu*, but seem to recall reading such a thing somewhere, in some distant point of the past. This results in a very definite "house style" for Xiaguan, which is entirely dissimilar to the modern-day genre of smoky, post-Baoyan blackness that recent Xiaguan "special productions" have tended to demonstrate. That house style is, quite possibly, something to do with the terroire of Dali, in that cakes from neighbouring north-east Lincang diqu and northern Simao diqu have something similar about them.
*Yes, it's actually a zizhizhou.
It is not exalted in any way, but not every tea has to be exalted: its warm charms are most welcome, the familiarity of an old friend. It swells to show a very respectable thickness in its body, during later infusions, which is a good sign compared with "tired" teas that merely fade away.
My journal has "It is hard to ignore this solid little pu'ercha", which is entirely fair: its stable, almost floral, characteristics keep bringing my attention back to the tea-table, like a good Zen session.

Thanks again to Elven for the opportunity to try this charming little fellow.