This is the "
Taihe
" [supreme peace]
shengpu
bing
from
Zitenglu
[purple thatched-cottage] Tea Factory.
It is listed as "
Tzu
Teng
Ru" in
First Steps to Chinese

Puerh

Tea
[pictured - thanks, VL], where it seems that it also makes claims to "Big Mountain" and "Thousand Year Ancient Tea Tree" status - take those for what you will, of course.
Looking at the photograph of the wrapper, it clearly shows "
Liu
Da
Cha
Shan
" company - I wonder if that is the eponymous "6FTM".
This tea apparently hails from
Zhuyu
region, a harvesting area "close to
Yiwu
". The party that provided this tea [who shall remain mysteriously nameless] indicates that it is characterised by a lack of real flavour, but a very significant sensation in the throat.
Caledonian

Springs @ 100C in 12cl

shengpu

pot; ~5-6g; 1 rinse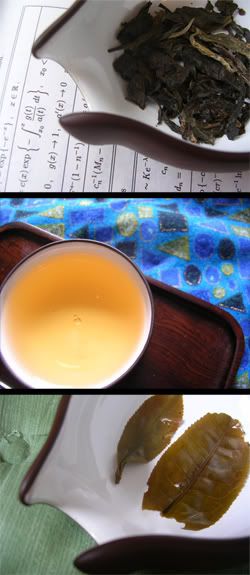 Dry leaves:
Big, flat leaves, with one or two truly whopping silver tips. A good, bass aroma of tobacco. All signs point to "yes", as that modern-day Yijing, the Magic 8-Ball, might say.
3s, 6s, 7s, 12s, 15s, 20s:
On pouring out the first brew, I immediately think that this is one of those "brown"
shengpu
(for want of a better description), usually characterised by low, sour flavours. Sure enough, this is born out in the
beidixiang
, which is fully sour, turning nicely sweet in the
lengxiang
. So too, the colour of the soup is creamy brown.
Alone with Mozart's
Requiem
, the body of this tea feels hauntingly empty - a
great
big, noticeable hollow exists right through the centre of the tea, sitting atop a quiet bass of sour "tea". True to form, as it impacts with the throat, a grain-sweet sensation erupts making my mouth water.
The quality of the tea seems decent: it has a smooth oiliness, it lasts fairly long in the mouth and nose (patience!), yet it remains highly odd and unorthodox. Happily, this kind of unorthodox is fine by my tastes.
I celebrate my finding of a
Cavalleria
Rusticana
libretto from the second-hand bookshop next to College with my classic
DG
recording, and this tea is a fine accompaniment: rustic and enjoyable.
Around the fifth infusion, it becomes much simpler - but it is an ending that I enjoy, being that undercurrent of "tea" coming to the fore.
Wet leaves:
Huge, whole, strong, green. Good stuff.
Overall:
A fairly basic tea, with a solid, sweet
huigan
. I would be happy to own a
bing
or two for the sake of variety. Amusing enough, in its special way.