One of the great aspects of tea that, for me, elevates it to the heights of wine and cheese is its variety, and the fun to be had in the exploration of its fascinating sub-genres.
Long-suffering readers (bless you) may recall my encounter with one of the corners of the tea-map, the
2006

Huangzhixiang
dancong
from
TeaCuppa
. Today's tea was obtained by CB [thanks again] from Royal Tea Garden, and makes for a potentially informative repeat visit to this most curious instance of the
dancong
area.
Was the
TeaCuppa
tea an oddity in itself, or is the
huangzhixiang
genre really that unusual? This "second opinion" is of great interest to me, in building up a so-called tasting memory for the various
dancong
types.
For notes on
huangzhixiang
[Cape Jasmine scent]
dancong
itself, I refer you to the previous link.
Caledonian

Springs @ 90C in 10cl

dancong

pot; ~5g leaf; 1 rinse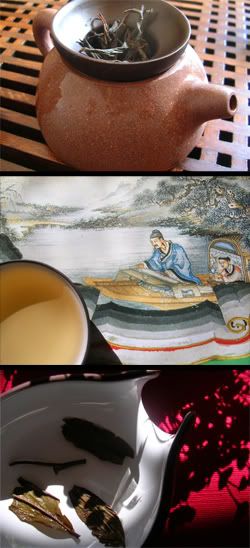 Dry leaves:
Twisted, 3-4cm, with a few stems. This is the "second grade", sold by Royal Tea Garden. Mostly dark, with some more lightly-oxidised parts. A light, sweet, floral scent hangs about the
chahe
.
12s, 15s, 20s, 25s, 30s, 35s, 40s:
Remarkably, this does in fact behave similarly to the
TeaCuppa
example: it has a sweet, caramel
beidixiang
, followed by a candy, white-sugar
lengxiang
- I rather like it. The soup is bright and yellow.
This has none of the frontal
ku
of the
TeaCuppa
leaf - here the power remains at the back of the throat, and it makes for a more enjoyable tasting experience. However, the unusual combination of dainty flowers and punchy
ku
is very much still present, making me wonder if this is the true characteristic of the genre.
It is lightly floral in flavour and scent, reminiscent of small,
unforceful
flowers of which the
huangzhizi
is a type.
It has a smooth body, which is quite thin. It turns a corner after the third infusion, which gradually fades gracefully, without the feeling of breaking apart that afflicts so many lesser teas.
I notice that my tendency to get impatient with floral
dancong
is abating, and by consistently being conservative with my infusion times, this tea stretches well to seven infusions. Usually, I start increasing the brewing time once it "turns the corner", and invariably end up with a fairly strong finish which often cracks apart. I'm learning to treat these end-stages of
dancong
more carefully.
Wet leaves:
Not the best grade, nor the worst. Quite fragile.
Overall:
Good for the price, because this is a very inexpensive tea - it's not outstanding, but it's pleasant. A fascinating extension to my tongue's ability to navigate through the maze of
dancong
varieties.