Poor
Tearoma
. After the pasting that they suffered in my article concerning their 1999 CNNP 8582, perhaps this sample from two years later will redress the balance.
Perhaps.
I was wary of the 1999's green appearance and character, as if it were an incorrectly-sent sample. Surely, this 2001 version will be better.
Hmm. Problems are afoot once again. Despite the red hint added by the colour-correction of my camera in the morning light, this cake does look, once again, rather green. The blend looks like an 8582, and yet somehow it seems as if it has been aged for no more than four or so years.
Again, the buttery scent of the leaves gives me the feeling of very recent Yunnan Sourcing or Essence of Tea cakes, in which the wok may still be detected.
Woe betide: the brew is a flat yellow, as may come across in these images. This has more guts than the empty and rather pointless 1999 version, but comes with a basis of uninteresting sour straw. Where is the charm and the character of 8582?
If 7542 is a high-class escort, then this 8582 is a Bangkok ladyboy: trying hard to be pretty, but with an unpleasant surprise awaiting the unwary.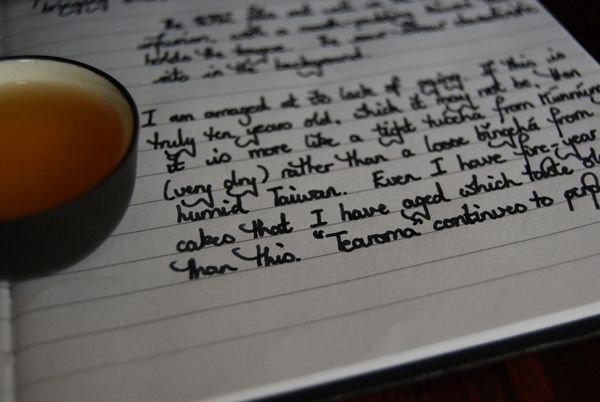 I am amazed at its lack of aging. If this is truly ten years old, then it is more like a tight tuocha from Kunming (very dry) rather than a loose bingcha from Taiwan. Even I have five-year-old cakes that I have aged which taste older than this. Tearoma continues to perplex me.